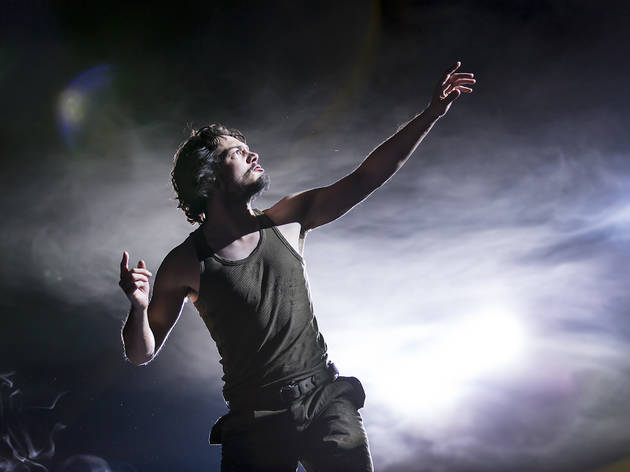 In the last week, the National Theatre has given us a brilliant revival in the Lyttelton ('Scenes from an Execution) and a first rate new play in the Cottesloe ('This House'). So let's not get too snarky about 'Damned by Despair', a rare wobble for Britain's flagship theatre.
Make no mistake, though: Bijan Sheibani's production of this seventeenth-century Spanish morality adventure is fairly awful. Not entirely awful: the acting is generally good, in particular Bertie Carvel, hugely watchable as soulful sociopath Enrico, and Rory Keenan, who grabs most of the laughs as long-suffering former hermit Pedrisco.
But what they and the rest of the ensemble have to work with is pretty risible. Frank McGuinness's adaptation of Spanish dramatist Tirso de Molina's 1635 morality play about the intertwined fates of a hermit (Sebastian Armesto) and a hoodlum (Carvel) is awkward: stodgy slabs of old-fashioned English mixed with incongruous modern zingers. Sheibani has to take most of the blame, though.
Every 15 minutes or so he seems to wake up and remember that he wanted to direct a tongue-in-cheek adventure romp, but for the most part – and even with half an hour shaved off since first preview – 'Damned by Despair' is static, turgid and po-faced, taking the Old Testament morality of the source material entirely at face value.
The decision to set matters in a gangster-filled modern Italy might have worked if the production was more fun; instead the contemporary setting just serves to underscore how irrelevant to modern values Molina's play is.
Rating Breakdown
5 star:

3

4 star:

4

3 star:

5

2 star:

4

1 star:

23