Off-West End theatre
Think beyond theatreland with our guide to London's best off-West End theatre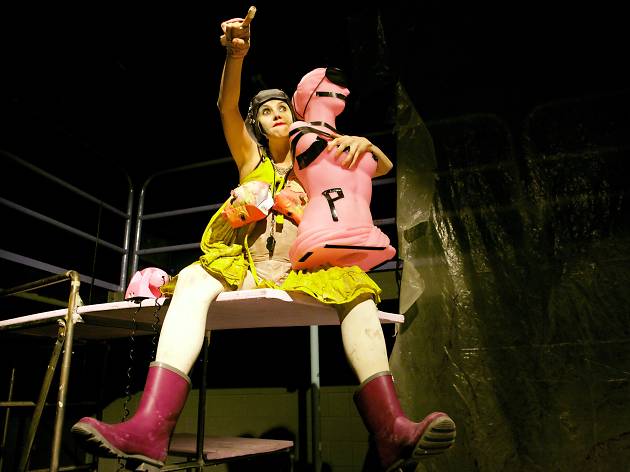 London's off-West End theatre scene is a bustling, vibrant hub of new shows and revivals all performed at subsidised theatres. Here's Time Out's guide, including reviews, tickets and theatre information for the off-West End shows that even the most traditional theatre-goer would be sorry to miss.
Central London off-West End theatre
Katie is a hen. Richard is a stag. And after one awkward drunken encounter they can't stop meeting. This award-winning two-hander stumbles through a romance in furiously punny rhyming couplets. The first time round, the play's authors Katie Bonna and Richard Marsh played themselves. This time, Ayesha Antoine and Felix Scott introduce themselves (slightly weirdly) using the authors' names. Under Pia Furtado's direction, they flit between a whole wedding party's worth of characters, and land one-liners with aplomb. This might be poetry, but it's definitely not pretentious. Instead, it's ingeniously ordinary, a whole box set of Richard Curtis films chopped up and served in a kind of verbal buffet of wedding snogs, drunken clinches, awkward poshos, and uncharacteristically flamboyant declarations of love.  And as these two horny thirtysomethings booze and rut their way through a series of heterosexual rites of passage, each drunken fuck-up gets the crowd rooting for them to get together a little harder: Richard's 'Shall I tell her?' gets a resounding audience 'Yes!'. It's properly good fun. But its warts-and-all honesty sometimes feels a bit sad, as well as sappy. Like the slightly weird way that Richard teases Katie for being too drunk to remember their first encounter. Or the sudden appearance of Katie's frenzied baby hunger, which seems to motivate her eventual 'Yes' just as much as the gluten-free croissants he brings her. So the love story didn't quite get me all gooey-
Book now
Read more
South London off-West End theatre
A young nurse turns scandalous cabaret star in this 1940s-set drama about illicit gay love, sex and showbusiness. She just needs a little help from songwriter George and the wealthy Sir Frank Conner - who fall in love over their plans for her stardom. Matthew Bugg's hit touring musical pitches up at The Vaults with a cast led by singer and comedian Tamar Broadbent as the title's 'Miss Nightingale' - she'll be singing her way through a toe-tapping score of original wartime-style songs. 
Read more
East London off-West End theatre
West London off-West End theatre
This review is from 'Grounded's April 2014 run at the Gate The First World War was a century ago and times have changed. Where war once meant hordes of young men sacrificing their lives in foreign lands, now both women and men can take part in the battle, some from the safety of a trailer park near Las Vegas. George Brant's superb, intense play demonstrates how no matter where you're conducting it, war grates on the heart, soul and mind. His protagonist is The Pilot, a rough, tough woman F-16 flyer for the US Air Force who loves 'the blue' and the thrill of flight. When she gets pregnant on leave she starts a family and is happy, but it's not long before she's raring to get back to work. When she does, things are different. She is reassigned to 'pilot' drones – remotely controlled stealth bombers operated from the desert a few miles from the Vegas Strip. Lucy Ellinson returns as The Pilot after the show's hit runs in Edinburgh and London last year, and she is devastatingly good. Her relaxed, jokey manner occasionally breaks, hinting at a taught energy which she increasingly loses control of as The Pilot struggles to reconcile her two worlds – one where she bombs 'the guilty' in 12-hour shifts, the other where she returns home each night to be a wife and mother. Though we are never quite sure what's going to happen until it does, Ellinson makes this journey feel determined somehow, like one of the Greek myths she frequently references. The Pilot is a tragic figure, alone on h
Read more