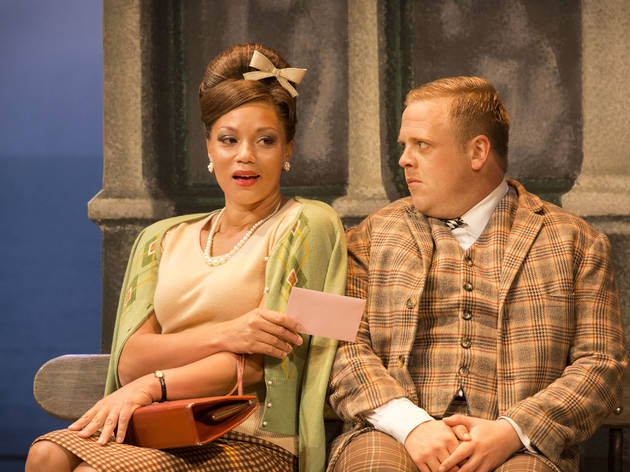 1/6
© Johan Persson
'One Man, Two Guvnors'
2/6
© Johan Persson
'One Man, Two Guvnors'
3/6
© Johan Persson
'One Man, Two Guvnors'
4/6
© Johan Persson
'One Man, Two Guvnors'
5/6
© Johan Persson
'One Man, Two Guvnors'
6/6
© Johan Persson
'One Man, Two Guvnors'
This review is from December 2011.
The National's big hit starring James Corden has slimmed down for its West End transfer, but it is still a ton of fun. 
Reliably outrageous writer Richard Bean has relocated Carlo Goldoni's Italian farce 'The Servant of Two Masters' to dodgy 1960s Brighton, where he has souped it up with puns, surrealism, drag, cockney dolls, cartoonish conmen, Benny Hill-style chases and lashings of slapstick, sadism and smut. The result is a sharply styled tribute to retro British comedy: the perfect get-away vehicle to escape the blues.
The plot has more funny turns than Tom Edden's show-stealing geriatric waiter-with-a-pacemaker. Director Nicolas Hytner makes Bean's play a joyride – with audience participation and a quiff-happy live skiffle band – lending it the ease of a variety show. 
Corden plays Francis: a two-bit goon tying himself in knots to prevent the two bosses he's two-timing from finding out about each other. His real job is to compere the funny business, which he does with amazing dexterity, rolling round the stage like a barrel of laughs. He wins us over by being a plaintive everybloke with an impressively pointless bag of party tricks, like playing a high-speed xylophone solo in a fez or backflipping over an armchair to catch a peanut in his gob (credit to physical comedy director Cal McCrystal). 
There are no weak links in Hytner's ensemble. Fred Ridgway is dismally funny as two-bit gangster Charlie 'the Duck' Clench; Jemima Rooper is fantastically gruff as Rachel Crabbe who, for reasons too complicated to explain, spends most of the show in a Ringo wig impersonating her dead brother. 
Martyn Ellis is marvellous as aspiring actor Harry Dangle, stalking the postcard-bright streets of Brighton like a fey preying mantis. The lamppost-limbed Oliver Chris is sublime as S&M-loving posho Stanley Stubbers, Bean's subtlest caricature, drawling lines like 'First names are for girls and Norwegians' with patrician aplomb. 
There are some brilliantly deranged bon mots: 'Love passes through marriage faster than shit through a small dog,' avers Charlie 'the Duck'. Less corpsing and more subtlety would perfect it but it remains a great night out: a knowing modern tribute to vintage end-of-the-pier fun.
By Matt Trueman