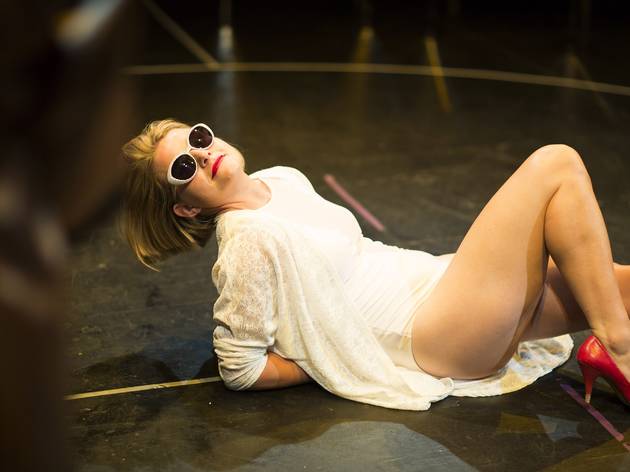 Playwright Mark Ravenhill is so staggeringly prolific that he's probably already written one play today, and is contemplating whether to go out for dinner this evening, or write a second play. And if that's an exaggeration, it's a fact that after being inspired by 'Show 1' and 'Show 2' last autumn, Ravenhill has managed to write and get a new play produced by the Lyric Hammersmith's Secret Theatre rep company ahead of two playwrights officially in the company.
Prosaically, I'm sure one reason 'Show 6' (which is actually its real name, by the way) was produced so quickly is that it only requires a cast of three, and is consequently liberated from the need to work in all ten members of the acting company.
'Show 6' then, is a sort of implicit dystopia, set amongst the loathsome one percent of a drug-addled future world that seems to echo both modern Britain and Pinochet-era Latin America. Resplendent in flip-flops and a pair of truly horrible gold shorts, Steven Webb's protagonist wakes up one morning with a stonking hangover and the gradual remembrance that last night, he and his friend (Cara Horgan) drove into 'the favela' and ran over 'a chav'.
Initially he finds this hilarious, but slowly recalls that said chav imparted some information that totally freaked him out. He tracks her down, determined to find out what the thing was, only to be told that his real parents were arrested in an anti-democratic coup that took place in his childhood, information about which has been entirely suppressed. Webb decides he believes her wholeheartedly, he and Horgan conclude they can remember the coup, then sets about rescuing his real dad. Violently.
Ravenhill's increasingly surreal play would seem to be open to numerous interpretations; I think mine is that it's a satire on the constructed realities of the privileged, that the protagonists' facile swapping of one system of belief in how the world works for another is a gesture lacking worth or conviction.
Staged in the round in Paines Plough's flying saucer-like Roundabout stage, which basically serves as a rather brilliant set in its own right, director Caroline Steinbeis directs at an assured clip, with a brilliantly invested central turn from Webb as a sort of addled, childish yuppie who still manages to be an addled, childish yuppie while believing diametrically opposed things about the world.
Ultimately though, Ravenhill's text, at first alluringly ambiguous, boils over too early, throwing the remaining shreds of narrative and naturalism to the air in a way that may reflect the play's message but muffles its impact. Nonetheless, it's vital, exciting work – I'm looking forward to the company's return to London.
By Andrzej Lukowski
The latest Edinburgh Fringe theatre reviews
Snap up exclusive discounts in London
Time Out's handpicked deals — hurry, they won't be around for long...