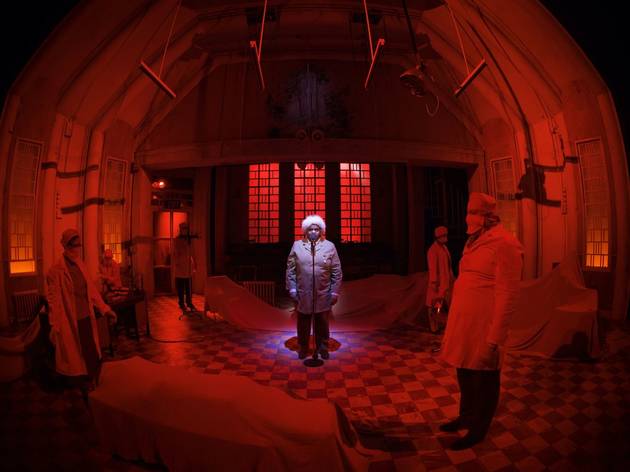 1/9
© Johan Persson
Clive Rowe (Tubb) and the cast of 'The Hothouse'
2/9
© Johan Persson
John Simm (Gibbs) & Indira Varma (Miss Cutts)
3/9
© Johan Persson
Simon Russell Beale (Roote) and John Heffernan (Lush)
4/9
© Johan Persson
Harry Melling (Lamb)
5/9
© Johan Persson
John Simm (Gibbs) & Simon Russell Beale (Roote)
6/9
© Johan Persson
Simon Russell Beale (Roote) and John Simm (Gibbs)
7/9
© Johan Persson
Simon Russell Beale (Roote)
8/9
© Johan Persson
Simon Russell Beale (Roote)
9/9
© Johan Persson
Christopher Timothy (Lobb)
If the recent West End revival of Harold Pinter's 'Old Times' made you want to leap on stage and demand the cast stopped talking in glacial non sequiturs until somebody explained what the hell was going on, don't give up on the greatest British playwright of the twentieth century just yet.
Pinter was an actor before he was a writer, and 'The Hothouse' – written in 1958 but not staged until 1980 – bears the mark of the populist rep comedies he'd honed his craft with. Given a berserk, full-throttle revival by Jamie Lloyd, the second entry in the Trafalgar Transformed season (after the James McAvoy 'Macbeth') comes across like a pleasingly deranged, Orton-esque hybrid of old fashioned English farce and Pinter's brutal '80s satires.
There are few sights more reassuring in theatre than the great Simon Russell Beale hamming it up, and with his bulging eyes, wriggling moustache and turbocharged, nonsensical rants he has an OTT ball here as Roote, the deeply confused and outrageously self-pitying warden of a strangely non-specific institution.
He is not having a good day: according to his prissy, insect-like deputy Gibbs (a deeply creepy John Simm), one of the institution's nameless 'inmates' has just died, and another has just given birth to a child – neither things that should 'technically' be possible.
The play is a broad satire on totalitarian regimes, one that suggests the decay and collapse of corrupt regimes is inevitable… as is their replacement.
Russell Beale recently played Stalin in the NT's 'Collaborators', and it's easy to see his Roote as a sort of Uncle Joe on the verge of a nervous breakdown. But he's also mad as Gaddafi and as in denial as Saddam: there's a definite post Arab Spring resonance to the play. Yet it's also inescapably British – with their short public school boy surnames and strange English tics, it's hard not to think of Westminster and attendant clowns.
Lloyd's production does not, it has to be said, feel ultra-politicised, and the first half feels more like a great series of comic turns than anything else. Not that that's a bad thing – Russell Beale is a hoot, John Heffernan lights up the stage as smooth-talking sycophant Lush, and Harry Melling puts in a supremely game performance as pitiable fall guy Lamb.
It's left to Simm provide most of the menace, and once his dead-eyed Gibbs becomes more dominant the production find its sense of direction.
'The Hothouse' isn't Pinter's best or most elegant work, but Jamie Lloyd and his crack cast make a strong case for it being his most fun.
Andrzej Lukowski
Rating Breakdown
5 star:

1

4 star:

0

3 star:

1

2 star:

0

1 star:

1
First-rate acting does not quite lift this play into a first-rate experience. The interplay between the mad mental care facility director, played by Simon Russell Beale, and his disturbingly controlled and disciplined deputy, played excellently by John Simm, is a marvel to behold. Their interaction is leavened by the hugely entertaining John Heffernan. Although the non-sequetors pile up, the play moves along at a brisk pace with the total time clocking in under two hours. As opposed to "One Flew Over the Cuckoo's Nest", the audience has no encounters with the patients; the perspective is entirely from the staff's point of view. It's said that all organisations rot from the head. This is certainly true in this grim mental health "care" institution in which shocking activity is taking place.
Absolutely splendid play! In my opinion, John Simm and John Heffernan in particular were quite extraordinary. I was seated in the first row, practically on the stage, which made for a fantastically intense experience. Generally, it's just such an intimate theatre where the feeling of being personally included seems much stronger than anywhere else I've been. Especially when you think you get eye contact with the actors. Go and see it while you still have the chance!