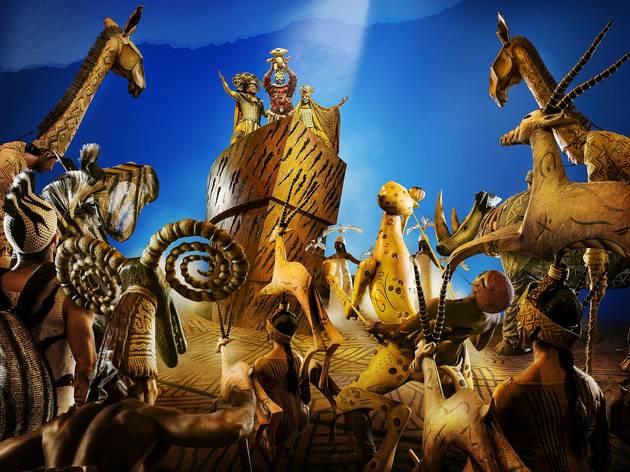 1/8
© Dewynters Photography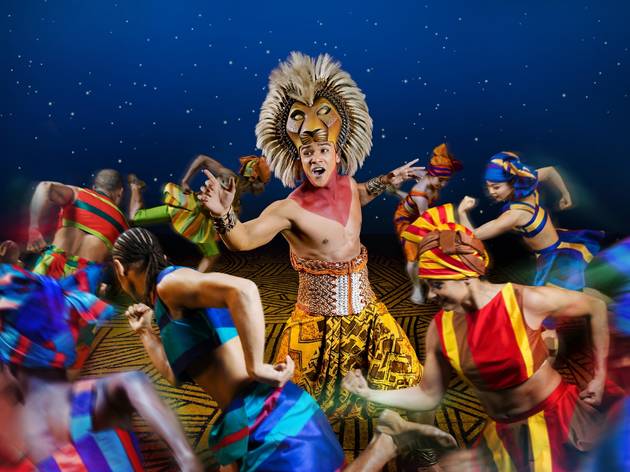 2/8
© Dewynters Photography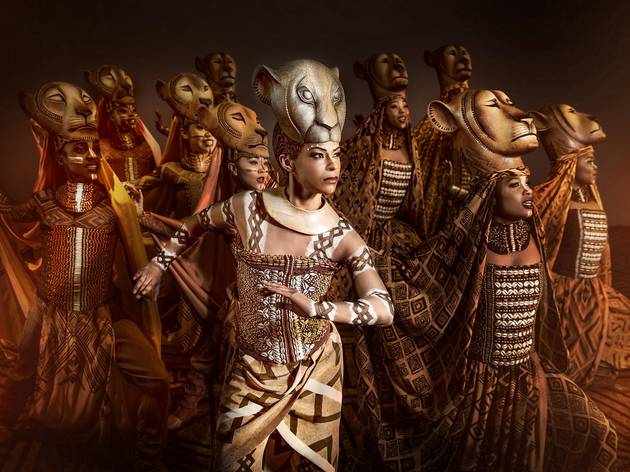 3/8
© Dewynters Photography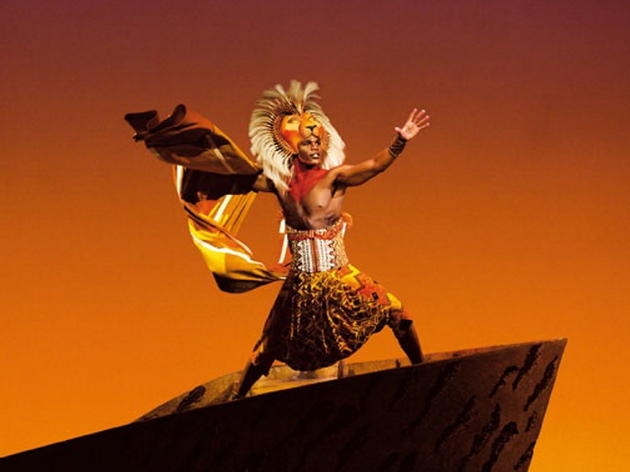 4/8
Johan Persson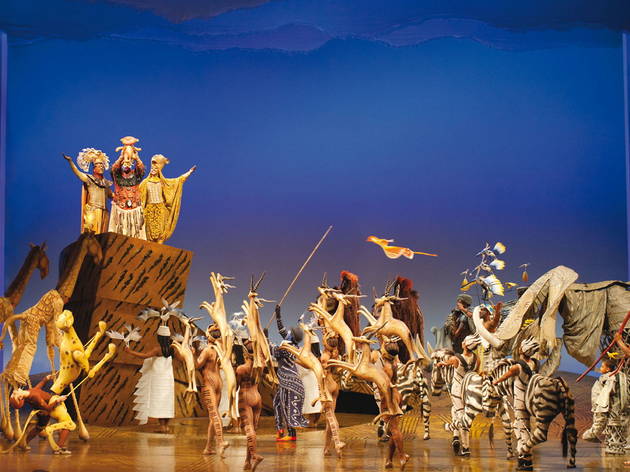 5/8
Brinkhoff/Mögenburg, Hamburg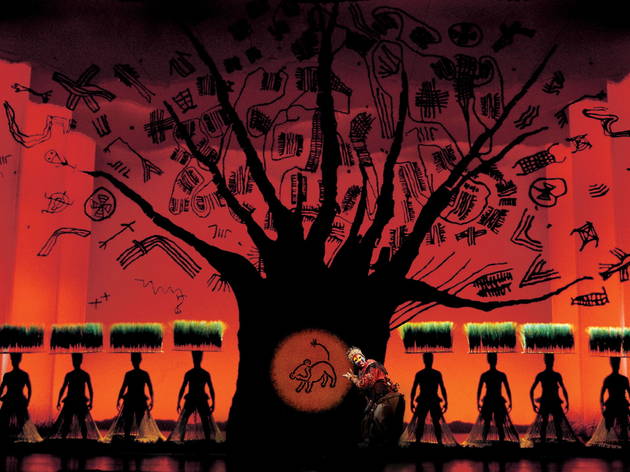 6/8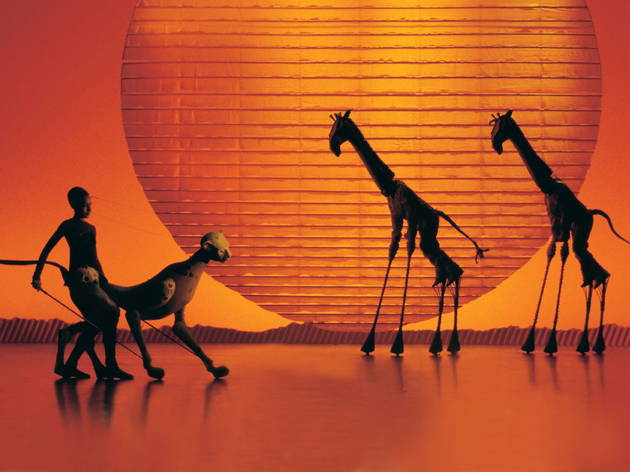 7/8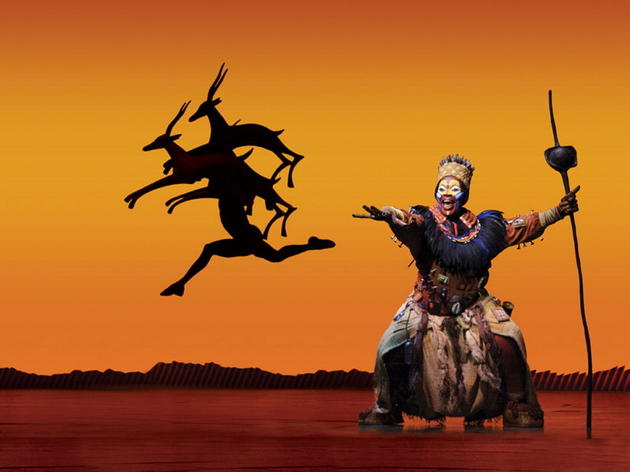 8/8
Kids will go wild for this majestic jungle musical
The posters have been plastered around the London Underground for years – long enough for this show to become the most successful musical of all time – but nothing prepares you for the sheer impact of 'The Lion King's opening sequence.
With the surge of 'Circle Of Life' reverberating through your chest, Julie Taymor's animal creations march on, species by species. Gazelles spring, birds swoop and an elephant and her child lumber through the stalls. It's a cacophonous cavalcade that genuinely stops you breathing. You'd think Noah's Ark had emptied onto the stage.
For a global blockbuster, 'The Lion King's absolute theatricality is astonishing. Techniques from all over the world – African masks, Japanese Kabuki costumes, Malaysian shadow puppetry – are smashed together in an explosion of spectacle. It's perfect for a musical, allowing both distinct flavours and an eclectic carnival spirit.
Admittedly, things deflate when it sacrifices this defiant originality for subservient approximation of the film. Timon and Pumba (Damian Baldet and Keith Bookman), though impressively like their screen counterparts, step into the savannah from a different dimension.
The hyena-infested elephant's graveyard swaps menace for goofiness and the famous stampede scene, so delicately handled and moving in the film, is merely ticked off with a sigh of relief.
The familiarity of the film is a root cause of the show's commercial success. But, ironically, 'The Lion King' can't afford such compromises. Its plot is thin enough to turn your brain to mulch and the score, which sits Elton John and Tim Rice's pop anthems with Lebo M's African-inspired additions, remains disjointed. Amongst the current cast, Andile Gumbi's Simba is too limply wholesome, but George Asprey and Shaun Escoffery are aptly majestic as Scar and Mufasa.
Nonetheless Taymor's theatrical fireworks, backed up by Donald Holder's oft-unsung, emotive lighting, are more than draw enough. 'The Lion King' is a show that demands to be seen.
This review is from 2011. The cast of 'The Lion King' currently includes Shaun Escoffery (Mustafa), George Asprey (Scar), Brown Lindiwe Mkhize (Rafiki), Howard Gossington (Zazu), Richard Frame (Timon), Keith Bookman (Pumbaa), Nick Afoa (Simba) and Ava Brennan (Nala).
How to get cheap tickets: a limited number of day seats for each night's performance will go on sale at the box office every morning from 10am, priced £20-£25 each. In person only.
Venue name:
Lyceum Theatre
Contact:
Address:
21
Wellington Street
London
WC2E 7RQ

Transport:
Tube: Covent Garden/Embankment
Price:
£23-£200.25. Runs 2hr 20min
Event website:
http://www.lionking.co.uk
Average User Rating
4.2 / 5
Rating Breakdown
5 star:

53

4 star:

9

3 star:

9

2 star:

5

1 star:

5
Bought tickets online and only found seats that were not together. Half term program for my big boys (11 and 13 year old) and me. When I collected the tickets at the box office I was simply informed that we could not attend the theartre beacuse seats were not together. I was told there is a policy at the theater that under 16s cannot sit alone! No notice was given at the purchase of individual seats!!!
Amazing how the manager could do nothing to help. Worst customer service ever!!! 15/02/2018
We were simply given refund for tickets but absolutely nothing to compensate the lost day, travel and frustration. Another family was facing the same situation.
How can they treat clients soooo badly?
Faultless Disney adaptation for the Westend stage. Amazing use of puppetry to animate the African widlife, adorable leads & those incredible Elton John songs everyone knows & loves combine to make a superior production that can be enjoyed by kids & adults alike.
As a production it is beautiful to look at and the set / costume designs are very impressive. However, my sister and I both felt a little underwhelmed by the performances, we never experienced that 'wow' moment. I thoroughly enjoyed Mufasa's rendition of He Lives in You, it was beautiful and emotionally stirring. I was so disappointed with Be Prepared, which I was anticipating would be the show stopping performance and it was the song I was looking forward to the most but it didn't meet my expectations.
The Lion King suffers from over-hype. It's certainly not the worst show we've seen, but we have seen better at a more affordable price.
Side note (spoiler alert): I felt the additional subplot of Scar wanting to marry Nala uncomfortable and unnecessary. Nala didn't really need to feel like she was banished from Pride Rock, they could've easily followed the film's plot by having her in the same area as Simba because hunting in the pride lands was scare, hence needing to hunt further afield and running into Simba. (end of spoiler)
If you can get a good deal on this I would recommend seeing it for the costumes and the sets, which are truly impressive, but I personally don't feel this is enough for a good show.
I know a lot of people adored this stage performance so perhaps you will too. My sister and I however, left feeling disappointed, underwhelmed and a little bored, which is a shame as I went in expecting to love this.
Personally, I would recommend seeing Aladdin instead (which I did love and found far more entertaining). However, this is only a matter of personal opinion and taste.
Without a doubt the best theatre show I ever saw. I mean.. Where do I need to start? I don't have anything negative to say. Absolutely amazing, perfect for young and old. I've seen the show a few months back and I have been recommending it to everyone since then and I will keep doing. An absolute must-see!
It was an amazing show but....
I thought the one liners and the added extras were naff and not needed for that film, I wanted to transport myself to Africa then we had silly jokes about Brexit, singing songs , sorry spoilt it and not needed.
A fantastic show with lots of talent.
Cut out the silly one liners.
WOW, and yes indeed, it was the best musical performance (Lyceum London) what I have ever seen around the globe! I went for elven eleven times, just for this! Sometime I just booked a flight just to dive deeply in this fairytale and fantasy, Unfortunately the quality of performance has lost a little bit it's passion over the years. As know Africa very well for many years I also saw that Lions King has absolutely nothing to do with the reality, finally it's just a fairytale!
not impressed with the singing quality. was really excited and it was just not a good performance by the actors that played Simba and Scar. Great costume design though
I paid a lot of money for tickets to this show and consequently I was a bit weary and my expectations were high. I have to say that this play was absolutely amazing and exceeded my expectations by far!
The staging is definitely one of the best ones I have seen in the London theatre scene and the acting was powerful. The scenes, sets and costumes were excellent and exotic and manage to bring the Disney story to live.
Discover it yourself, I will not disclose anything about set ups, just this comment: when I left the room, I had the impression my money (a lot of money) had been 300% well invested.
What an amazing experience! The actors, the musicians, the special effects, the people behind the lights...everything was perfect! It was funny, it was sad, it was soo realistic! I liked it so much that I will definitely see it again! Thank you for the great performance!
Such a special movie for a 6-year old me, which turned into a great musical 22 years later. I loved every single characterization, specially the way you built the hyenas and the impalas. Great representation, awesome theatre! I'm already recommending to all of my friends, believing their inner child will reemerge. I will definitely watch more musicals!

Where and how do I start!? Lion King is down right, hands down the best show I have ever seen in the most beautiful Theatre in Covent Garden 'The Lyceum'. The Lion King is a truly spectacular show and I was fully immersed before the show had even started. The atmosphere is incredible and the detail is breathtaking. It was even better than I had expected after many years of anticipating. I am a huge Disney fan and I fail to say anything negative about the whole experience. It truly was seamless, beautiful and beyond impressive from the incredibly detailed costumes, the phenomenal props and remarkable orchestra. I came close to tears! The Lion King is honestly the most amazing experience in London.
#LondonTastemaker
Photo taken from the Grand Circle Row B 13-14
My expectations for this show were really high, even just from the way it's advertised around London. But nothing prepares you for the impact of the first scene of this musical, I was literally in awe for what took place as soon as the actors-animals entered the stage one after the other.
While the child inside of you rejoice for what your eyes are seeing, it's almost impossible not to be amazed by the high fidelity original soundtrack played by the orchestra under the stage and by the two percussionists.
5/5 on all fronts for me.
Totally outstanding. A must see for all
One of the best musicals I've every watched. It's visually delightful and the music will have you humming all the way home.
Phe-nom-me-nal! I've even watched this twice (most likely because I'm a Lion King fanatic) but it truly is well reenacted by the cast for this. The youngn's who play child Simba and Nala were so great, I was actually surprised to see such perfect acting and singing skills at such a young age - even to the grown up versions who did full justice to the film. Rafiki was played a lady and since it's my fave character, I was thrilled and absolutely in tears from laughter as to how she played him!

It's a wonderful colourful experience and you'll be singing your socks off with them for sure.
Oh, and you're likely to fall in love with the guy who plays Scar, plenty of chuckes were due to him.