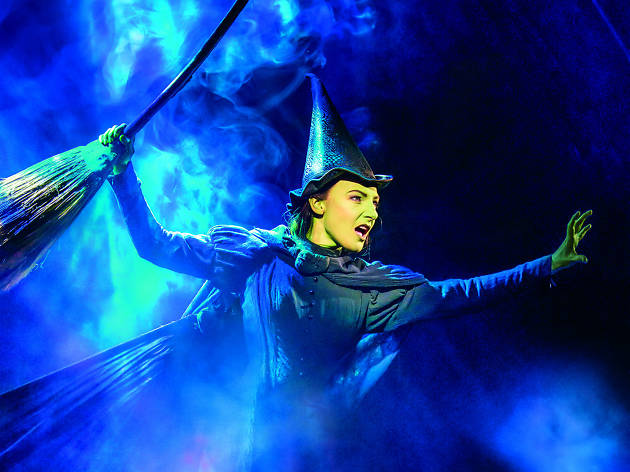 The musical witches of this 'Wizard of Oz' prequel are still casting a spell over the West End
The film world continues its love affair with werewolves, vampires and all things 'Twilight'. But theatre types have always known witches are where it's at. After its 2006 opening at Apollo Victoria, Oz prequel 'Wicked' continues to fill this massive theatre with an international crowd of voracious consumers (glass of champagne and a choccy for £16 anyone?). But this stylish and bombastic musical still delivers, sailing over its patchy score thanks to a gravity-defying performance from its current leading lady Rachel Tucker, as the intense green-skinned undergrad who goes on to become the Wicked Witch of the West.
'Wicked' is a spectacle that rises or falls around its central performance. In the midst of a gigantic production full of bangs, bells and whistles Tucker, with her small frame and searing vocal ability, simply flies off with the show.
She's closely followed by Gina Beck, who plays good girl, Glinda. Glinda and Elphaba's relationship forms the heart of this story and, as the Good Witch, Beck is a consummate clown, playing up the silliness of her character at every turn. But she can raise a tear, too, and her final duet with Tucker, 'For Good', is genuinely heart-rending.
The Tim Burton-inspired ensemble oscillate between the hypnotic and grotesque and a sweet but thin voiced Matt Willis charms as the rather superfluous Prince. As in classical ballet, this is all about the women and, even by previous lead Idina Menzel's standards, they are in soaring form here.
This review is from 2015. The current cast of 'Wicked' as of Jan 30 2017 features Willemijn Verkaik in the lead role, who joins the London cast after playing Elphaba in Broadway, Holland and Germany. She stars alongside Suzie Mathers (Glinda), Sue Kelvin (Madame Morrible) and Mark Curry (The Wizard). Check offical website for full cast details.
How to get cheap tickets: a limited number of front row stalls day seats for night's performance will go on sale at the box office every morning from 10.30am, priced £29.50 each. In person only.
Average User Rating
4.2 / 5
Rating Breakdown
5 star:

56

4 star:

26

3 star:

9

2 star:

8

1 star:

3
We went to last Saturday night's show. The theatre is directly opposite Victoria tube station so easy to get to and find. We got to the theatre at 7.15pm which allowed plenty of time.
I really enjoyed this fun show - Emma Hatton is a great Elphaba, with an amazing voice! Best moment for me was the 'Defying Gravity' number just before the interval. I did sometimes struggle hearing the words in some songs but the story itself was easy to keep up with and there were many good references to the Wizard of Oz film! The cast was great and the costumes were stunning!
I didn't leave this show feeling speechless as I did when I went to see the Lion King but I did thoroughly enjoy it and would recommend it!.
Limp songs and eye rolling performances. Really disappointed.
I love everything about this show- it's just a perfect West End experience- great costumes, songs, script & sets. It's big, brash & totally entertaining. I've now seen it 4 times & it gets better every time!!
Looks great, shame about the story-line. Songs are less than memorable and a fair bit of the dialogue and singing is screechy. The plot lost me in places or maybe I just didn't care. Overall nothing to write home about. Cannot see for the life of me why it won so many awards
I spontaneously bought tickets for it, but I am glad in the end there was no regrets and I absolutely loved the show.
At first I was worried, because I can't recall Wizard Of Oz at all. But not to worry- as it is a back story of a back story I didn't have any problems because of that.
Enjoyed the show 100% and loved the relatable characters and great performances.
Loved this show, the songs were great, all the ain actors have amazing voices!!
Saw the show last night with my 10 year old boy and we both loved it - it was such a treat. All actors were amazing, voices were great and the lighting and stage sets also amazing but the costumes were something else. Great work the Wicked team - excellent execution we loved it.
Slow and meandering first half. Didn't stick around after the interval.
Lacked pizazz or any sort of wickedness! Wasn't what I was expecting.
I have seen this show 4 times and it never gets old. The costumes are amazing, like the set, and the cast + ensemble is phenomenal!
A pretty good production with a very convincing Elphaba, I definitely wouldn't say I had the best seats in the building, but even from my obscure position in the audience, I still could enjoy the stunning voices of most of the cast (particularly Emma Hatton who played Elphaba). I even cried when she sang 'Defying Gravity' - so i think this one is a winner!
I'm not the biggest fan of musicals, but given what I have heard about it, (mostly very positive), I decided to give it a go.
The theatre is small but you do get a good view of the stage. I was up in the gods, and other than the acoustics being a little load at times, I was happy with the seat. The story is a little on the thin side and a tad cliche. But, the actors and staging was decent.
For a non musical fan, there are plenty of laughs to enjoy and it is worth a trip. Plenty of good deals on at the moment too.
Savannah has broken her leg so is out for a bit.
It was a great show and the music was spellbinding. The leading actresses had exceptional voices. A great night out!
Show More