101 things to do in London
Discover the city with our list of the very best things to do and things to see in London, for visitors and locals alike. From lunch-hour wonders to full-blown days out, this is your ultimate checklist of London's best bits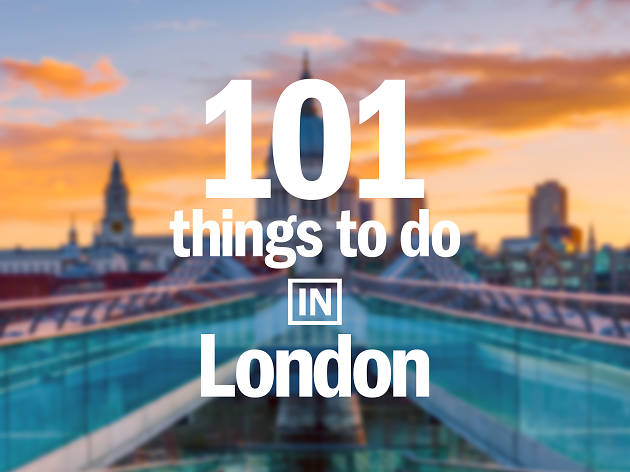 We're all completely spoilt for brilliant things to do in London. From picture-postcard attractions to hotspots in odd spots, by day and by night, from high art to wildlife, there are, in fact, so many more than 101 things to do in London. But we think this list (updated for 2018 and always hotly debated in the Time Out office) is a good place to start.
Whether you've lived here all your life or just touched down at the airport (if so, check out our best hotels list), our city checklist will help you find something new at London's landmarks, get a taste for the West End even when you can't get a ticket for a show, travel the world through a hundred amazing cuisines, and discover new parts of town you've never even heard of before. And, if you think you've got the energy to go beyond 101, check out our tips for secret London, our favourite London attractions, the capital's best museums or see what's happening right now in our London events calendar. Enjoy!
By Ellie Walker-Arnott, Katie McCabe, Phoebe Trimingham, Laura Lee Davies, Oliver Keens, Kitty Drake, Tom Howells, James Manning, Nick Thompson and Katherine Lovage.
101 things to do in London: classic
101 things to do in London: quirky
101 things to do in London: eating and drinking
101 things to do in London: culture hotspots
Looking for something to do in London today?
Your comprehensive guide to the biggest and best events and activities happening across London this year.
Read more
Plan a stay in London
In coming up with this list of the 100 best hotels in London, we considered a heady mix of factors – from definables like design, location, service, amenities, architecture, and value for money, to less tangible elements like ambience, history and the character of the reception cat. Then we factored in what we think Time Out readers would want from a hotel. So, a definitive list of the best hotels in London with something for everyone? We think so.
Read more