London events calendar
Your month-by-month guide to the best events and cultural happenings in London over the year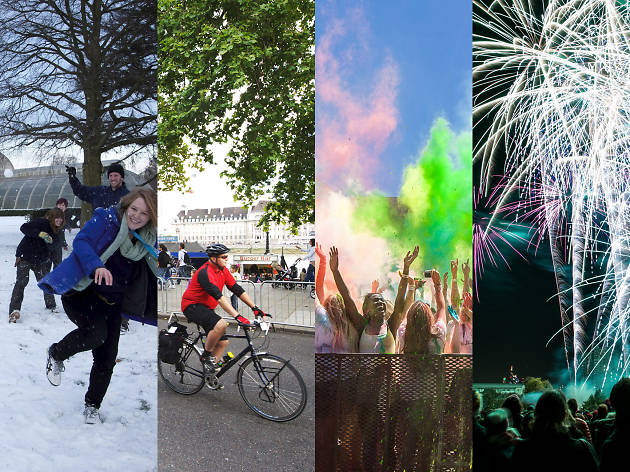 Here's your comprehensive guide to the biggest and best events and activities across London for the whole of 2017, from the best theatre openings to great new art exhibitions to the latest essential gigs and tons of other things to do around the city.
Sure, those summer months and even Christmas may seem far off at the moment, but get planning now using our monthly calendars and you'll be ahead of the game when it comes to booking tickets and knowing what to see over the year.
If you're looking for instant cultural gratification, just check our pick of things to do in London this week and over the weekend. Now, go forth and enjoy London!
The best events in London by month
Find things to do all year round
Sponsored listing
Hanger SW6
There's a crusade happening just around the corner from Fulham Broadway: to reintroduce the masses to an almost forgotten cut of beef, the flank, or 'hanger' steak. No other cut is available at Hanger and it's the main focus of the menu, treated with almost religious reverence. Decor is equally single-minded: unfussy and minimal. Starters and desserts are distractions, really – salt beef croquettes and charred piquillo peppers were perfectly nice if not breathtaking; later, a pecan pie came in the same category. Pre-epiphany, sides appeared before the mains and excellent triple-cooked chips had almost gone by the time the meat arrived. The spiced mac and cheese had a kick but needed a stronger cheese for the base sauce. And so to Hanger's icon. They recommend serving it medium-rare, but we were assured medium is also fine and it was. I went large and received an enormous 12-inch strip, the meat sliced into thick juicy slabs. It was melt-in-the-mouth tender. Absolute heaven. I was an immediate convert. The burger – barely minced chunks of supremely good steak precariously held together by blue cheese and caramelised onions – was also 'de-flipping-licious' according to my companion. Then, when our plates were empty, we considered the sheer value for money, shook our heads in amazement and gave thanks. Here endeth the lesson. Amen.
Venue says: "25 percent off all food for our new menu launching next week. Offer available May 23-28!"