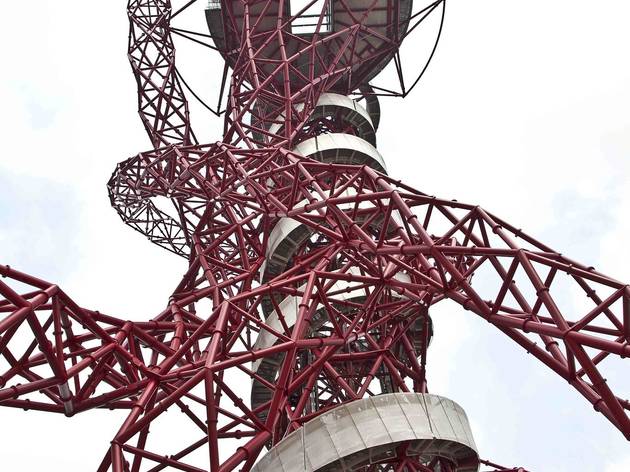 The Olympic Park's been off-limits to the public since the Paralympic Games Closing Ceremony in September last year. But the promised transformation of the place – an important part of our successful bid to host the Games – is starting to take shape, and new behind-the-scenes tours reveal a taste of what we've go to look forward to.
Once you're togged up in high visibility vest and hard hat at the site office there's a short bus drive through the south of what will reopen as the Queen Elizabeth Olympic Park. On the way, there's a live commentary – preceded by a recorded safety spiel from Boris Johnson, who is of course widely known as a paragon of sensible behaviour. But what of the view? Well, the area's very much a building site again, with some sporting venues coming down and others being rehabilitated for their new role in the community. At the moment the Basketball Arena is being dismantled, while the wings of Zaha Hadid's Aquatics Centre are being removed and glass walls installed in their place.
The main draw on the tour is an early post-Games opportunity to scale Anish Kapoor's blazing red tower, the 114.5m ArcelorMittal Orbit. The UK's largest sculpture is in the South Plaza, a sporting, cultural and entertainment hub-to-be (opening in spring 2014) which will have outdoor rooms designed by James Corner and planted to a scheme by Piet Oudolf (two hot international names in gardening responsible for the High Line in New York.
No one would claim that Anish Kapoor's monument was an instant hit but, viewed as part of the east London skyline rather than in isolation, it seems now to hold its own. And, as you'll discover on the tour, viewed from below, the structure evokes 'Marsyas', Kapoor's vast 2002 installation for the Tate Turbine Hall. The viewing platforms certainly provide great views down into the stadium – now confirmed as West Ham United FC's new home ground – as well as across to the city, Canary Wharf and the river.
Within the tower there are displays explaining the ambitious plan for the park and the five new residential neighbourhoods on the site, which will boast new schools and health centres as well as unrivalled sporting facilities. Meanwhile, two of Kapoor's vast concave mirrors, installed on the viewing platform, are an irresistible invitation to hop around until you're in exactly the right spot to see yourself – and London behind you – flip upside down.