Royal Academy Summer Exhibition 2013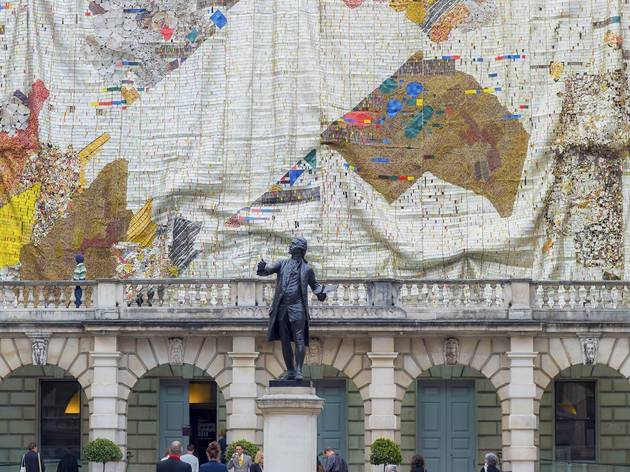 1/7
by El Anatsui
photo: © Benedict Johnson, courtesy Royal Academy of Arts
2/7
by Grayson Perry
'Expulsion from Number 8 Eden Close'. © Grayson Perry; Photo: © Stephen White
3/7
by Marina Abramović
© Marina Abramović, courtesy Marina Abramović and Sean Kelly Gallery, New York
4/7
by Mimmo Paladino
© Mimmo Paladino, courtesy Royal Academy of Arts
5/7
by Julian Opie
© Julian Opie and Lisson Gallery
6/7
by Anthony Caro
© Barford Sculptures Ltd. Photography: John Hammond
7/7
by Rineke Dijkstra
Courtesy of the Marian Goodman Gallery, New York and Paris
For its annual, open-submission 'Summer Exhibition', the Royal Academy sticks to the simple formula of exhibiting well-known artists alongside unknowns. It's a winning idea. And when the majority of works are for sale – ranging from the reasonable to the ludicrous – to support the Royal Academy's Schools bursaries scheme, the knowledge that your purchase will support the talents of tomorrow makes it even more rewarding.
Without the intimidating atmosphere of some commercial galleries, the show allows visitors to peruse hundreds of artworks, some densely hung salon-style, steered by either the exhaustive guidebook that divulges artist and price, or by the sheer pleasure of appreciating art for art's sake. This isn't about revealing the latest art trend or the hottest young artist – that's what the RA Schools show is about. Here there is space for more traditional themes, like landscape and the nude, and the appreciation of all manner of mediums – from oil to steel – along with rooms dedicated to portraiture, photography and architecture.
A shining glory is El Anatsui's wall-hanging sculpture made from thousands of aluminium bottletops, which adorns the Academy's facade. Creating a sense of intrigue and excitement, it's the ideal introduction. Another highlight is Grayson Perry's tapestries. The six fabric works add an injection of twentieth-century reflection, inspired by Hogarth's infamous 'A Rake's Progress' prints. You can even download an app which gives insight to Perry's genius use of symbolism.
Whether you know your Emin from your Opie or wouldn't know a Caro over an Arad, you can't but enjoy this yearly gem. Just remember to wear comfy shoes – 1,270 artworks is a lot of art to take in.
Freire Barnes
Venue name:
Royal Academy of Arts
Contact:
Address:
Burlington House, Piccadilly
London
W1J 0BD

Opening hours:
Mon-Thu, Sat, Sun 10am-6pm; Fri 10am-10pm
Transport:
Tube: Piccadilly Circus
Price:
£10, £9 over-60s and disabled, £8 NUS, £6 12-18s and Income Supports , free under-12s