Sustainable living: 29 small ways to save the planet
You don't need to go and live in a forest to do your bit for the environment. From eco-friendly cocktails to food waste feasts, here's everything you need to know about sustainable living in London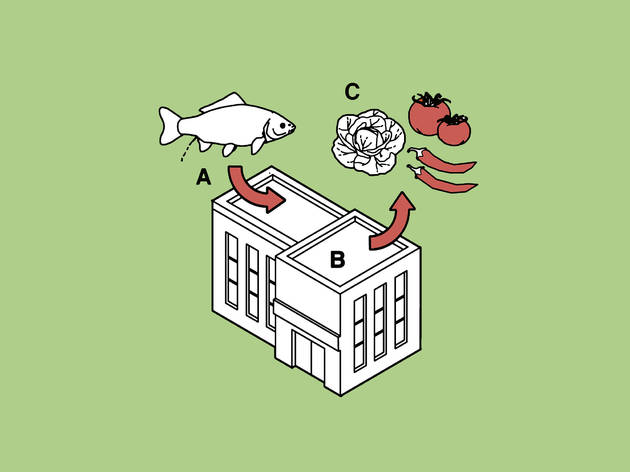 1. Turn foraged fruit into booze
Do your bit for the environment and replenish your booze supplies with anti-food waste organisation Feedback. This volunteer-led programme picks apples from London trees that would otherwise be left to rot, donating some of the bounty to food-waste initiatives and turning the rest into juice. And cider! Cheers to that.
2. Shop plastic-free
Life in plastic, it's fantastic. Or so claimed '90s pop band Aqua. Turns out they were wrong. Avoid excessive packaging by shopping at Hackney's forthcoming Bulk Market which will sell everything by weight and operate a BYOC (bring your own containers) policy so you can just buy what you need. Or head to vegan zero-waste store Hetu in Wandsworth which has a no-unnecessary-plastic rule. Life in tupperware, got a lot of flair? Or something.
Bulk Market, address TBC. 
Hetu, 201 St John's Hill. Wandsworth Town rail.
3. Get your (slightly wonky) five a day
Good looks aren't everything, you know. Hackney-based start-up Rejuce takes fruit and veg that aren't aesthetically pleasing enough to be sold in shops and blends them into delicious cold-pressed juices. Pick up a (recyclable) bottle at festivals and various spots in Hackney Wick, including Crate Brewery. You go, wonky carrots and apples! Flaunt those weird knobbly bits!
4. Learn about sustainable farming on a rooftop
You might associate London's rooftops with summer boozing but there's something cool happening at Stratford's Roof East all year round. The GrowUp Box is an urban fish farm where piscine poo is used to fertilise plants. Take a tour to learn how you can recreate it at home. Warning: rooftops may cause negroni cravings.
Stratford Multi-Storey Car Park, Great Eastern Way. 
Tube: Stratford.
5. Plant trees to freshen London's air
Our city's trees don't just look pretty – they actually clean London's air by absorbing pollutant gases. Volunteer with Trees for Cities and you can help it in its quest to plant a million urban trees by 2020. Sounds like a great way to branch out into volunteering. Sorry.
6. Learn how to fix your stuff
Dodgy laptop? Flickering bedside lamp? Don't bin your broken electricals – fix 'em up with The Restart Project. This social enterprise hosts free events to help Londoners learn to repair anything that 
runs off a plug or battery. Why not test that claim out and take along your vibrator.
7. Stop restaurant food going to waste
Get restaurant food without the hefty price tag via Too Good to Go, an app that allows eateries to sell leftover food (which would otherwise be thrown away) to hungry Londoners. Newly launched Karma offers a similar service. Good for the planet and great for your wallet.
8. Meet the next generation of 
food-waste warriors
A plucky group of primary school children in west London are taking the matter of food waste into their own tiny hands. Bubble & Squeak sees kids collecting surplus produce from local businesses and selling it to the community via their playground. Bring back 'Young Apprentice' immediately!
9. Have a guilt-free night out
Got a date to impress? For innovative and delicious solutions to food waste, head to London drinks superstar Mr Lyan's restaurant Cub, where dishes are crafted from sustainable and would-be waste items, such as whey from Neal's Yard. (Fun fact: the cheesemaking by-product is also used to make coconut cream for cocktails in the basement bar, Super Lyan.) Your crush will leave thinking you're sophisticated and eco-minded, and need never know about the kebab you had on the way home. Whey to go!
153 Hoxton St. Hoxton Overground.
10. Do a 'pay as you feel' food shop
Grab a sarnie or some oddball veg at 
The Bean Shed (Tuesday-Friday). 
A new venture from food-waste crew Save the Date, it sells fruit, veg, toasties, soups and cakes from a hut made of recycled packing crates on a 'pay as you feel' basis. So, it'll cost the aching pain of your recent heartbreak, then.
St John's Hoxton, Pitfield St. Hoxton Overground.
11. Give your skin a caffeine boost
Once they're done delivering your morning caffeine hit, used coffee grounds are usually destined for the bin. That's why Ozone Coffee in Shoreditch approached Haggerston-based skincare brand Montamonta to turn them into a luxe body scrub. Pick up a pot with your next coffee fix. (Just don't drink it.)
12. Share your leftover food
If your fridge is overflowing with food that'll go off before you can eat it, use app Olio to give it away. Share a picture of those bananas/ready meals/mixers from your recent house party and someone will take it off your hands before you can say 'hangover'.
13. Help clean up the Thames
Don your wellies at The Big Count – taking place by Hammersmith Bridge on Saturday March 3 – where Thames21 will be asking people to pick up litter from the foreshore and help gather data to prevent the rubbish returning. It might not sound like most relaxing day out but it's a legit reason to feel smug for at least a month.

14. BYOC (bring your own cup)
Thanks to their pesky plastic linings, throwaway coffee cups are difficult to recycle, so ditch the disposable for a more eco-friendly morning buzz. Pret, Costa, Starbucks and others offer discounts if you bring your own reusable cup along. Good to know if you're that grumpy bastard who never gets a free Pret.
15. Go on an urban bee tour
You might swat them away in the park, but bees play a big role in sustaining our ecosystem. Urban Bees hosts tours twice a month in King's Cross, where you visit beehives, taste London honey, plant bee-friendly seeds and learn how you can help the buzzy critters. Even if they are annoying as hell come summer.

16. Eat chickpea mayo
Inventive Vauxhall-based condiment creator Rubies in the Rubble turns surplus food into tasty sauces, including banana ketchup, tomato relish and even a vegan chipotle mayonnaise made from aquafaba (that's chickpea water, FYI). Just add chips.
17. Swot up on sustainable packaging
Could edible crisp packets be a thing? Maybe. The Museum of Brands, Packaging & Advertising's new exhibition, 'Packaging Innovation Series: Pack the Future', showcases innovative techniques to cut out the dreaded plastic – from plant-based materials to packaging you can eat, like a twenty-first-century cornish pasty.
111-117 Lancaster Rd. Tube: Ladbroke Grove. 
Until Aug 31.
18. Upgrade your wardrobe
Every year, Traid charity shops save 3,000 tonnes of clothing from going to waste. Donate those sparkly disco pants you've been holding on to 'just in case' and pick up something you might actually wear. You can even book for a driver to come and collect the unwanted garms from your house. Ooh, fancy!
19. Go for an eco-pint
A pub powered by fish poo (yeah, that again) sounds unlikely but that's the deal at Long Arm Pub & Brewery. The waste grains from the brewing process are used to feed the fish. Their poo is used to fertilise plants, which are cooked up in the kitchen. Oh, and the scaly eco-warriors end up on the menu too.
20-26 Worship St. Tube: Old St.
20. Heat your home with coffee
London start-up Bio-Bean collects waste coffee grounds from cafés across the city then turns them into fuel. It produces carbon-neutral 'coffee logs' to fuel stoves and fires. It has also created the world's first coffee-derived biodiesel to power London's buses – which is appropriate given that most Londoners are powered by the stuff too.

21. Drink your wine from a box
No longer just the bevvy of choice of pissed festivalgoers, bag-in-box vino is in the spotlight thanks to bar Weino BIB. Boxed wine reduces the carbon footprint of the liquid. Sip on wine on tap at the bar or bring your own bottle to fill up (it conveniently offers milk and detergent on tap to take home too). Sitting under the wine tap with your mouth open is not allowed.
39 Balls Pond Rd. Dalston Kingsland Overground.
22. Donate food to a friendly neighbourhood fridge
Inspired by similar initiatives in other cities, a group of Brixton locals set up a community fridge in 2016 to tackle food waste. People or businesses with surplus food can donate it to The People's Fridge and anyone in need can pick it up. The Community Fridge network is rolling out a similar scheme across the city.
The People's Fridge at Pop Brixton, 49 Brixton Station Rd. 
Tube: Brixton. Find more info on The Community Fridge network
.
23. Cook up a food-waste storm
Whether you're a whizz in the kitchen or struggle with boiling an egg, 
The People's Kitchen will give you hands-on help to create a meal from surplus food. They meet twice a month at Weavers Adventure Playground in Bethnal Green to chop, cook and chat before sitting down to a communal feast. If you're not too full, you can have a go on the slides after.
Viaduct St. Tube: Bethnal Green.
24. Graze on sustainable 
bar snacks
Eco-friendly bar Scout has a no-waste approach to booze, brewing its own ferments and creating cocktails with such wacky ingredients as hay vermouth and burnt beetroot. This approach extends to its bar snacks, which include kohlrabi sauerkraut and fried vegetable skins. It's not 'hilarious' to ask for pork scratchings, btw.
93 Great Eastern St, EC2A 3JD. Tube: Old St.
25. See a play at a truly 
green theatre
Feel cultural and eco-conscious at Dalston's Arcola, which is aiming to be the world's first carbon-neutral theatre. With solar panels generating its electricity, thermal panels heating its tap water and a wood-fired boiler generating its carbon-neutral heating, the theatre is definitely taking eco-culture to the next stage.
24 Ashwin St. Dalston Junction Overground.
26. Spread food around town
Spare a few hours to volunteer with FareShare which collects waste food and distributes it to more than 200 charities and support groups. Sort food in its warehouse or race around the city in a delivery van.
27. Get buzzed on eco-friendly cocktails
It's official: getting pissed is good 
for the planet. At least, it is at no-waste bar Nine Lives in Bermondsey, where they squeeze everything out of the ingredients they use. Literally. Once lemon peel and juice have been used for drinks, they create essential oils from 
the pith for the bar's liqueurs and hand soap, 
then the discarded pulp is used to fertilise the herb garden. About thyme, eh?
8 Holyrood St. Tube: London Bridge.
28. Recycle your old paint
Got a load of half-full paint tins from that home-improvement kick and/or abortive bid for the Turner Prize? Donate them to your local council's re-use and recycling centre. Walthamstow-based charity Forest Recycling Project will then collect them and put them to good use, selling and giving away unwanted paint as an environment-friendly alternative to new stuff.
29. Eat from a skip
No, it's not what you think. 
The Skip Garden, at the north end of Lewis Cubitt Park, has transformed a load of builders' skips, bins and other recycled materials into mini gardens growing veg and herbs – all of which you can sample in its café. Just watch out for Oscar the Grouch.
Tapper Walk. Tube: King's Cross.
Read about our Make London Better campaign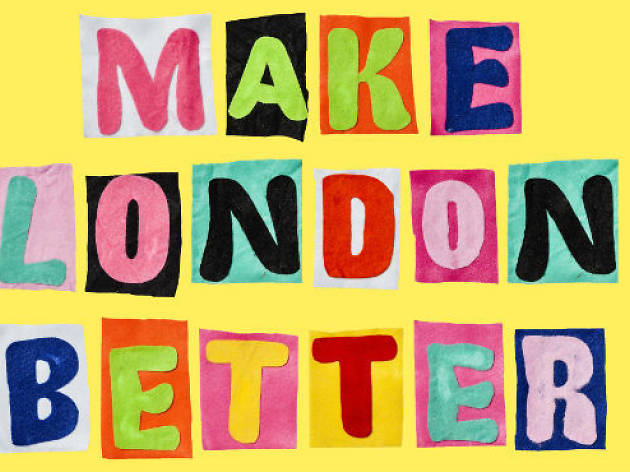 Inspired by the creative projects that we saw popping up around London, we asked you for your ideas of how to make our city a better.
More to explore
Snap up exclusive discounts in London
Time Out's handpicked deals — hurry, they won't be around for long...