Tickets
Buy tickets for London events, theatre, concerts and attractions
Theatre highlights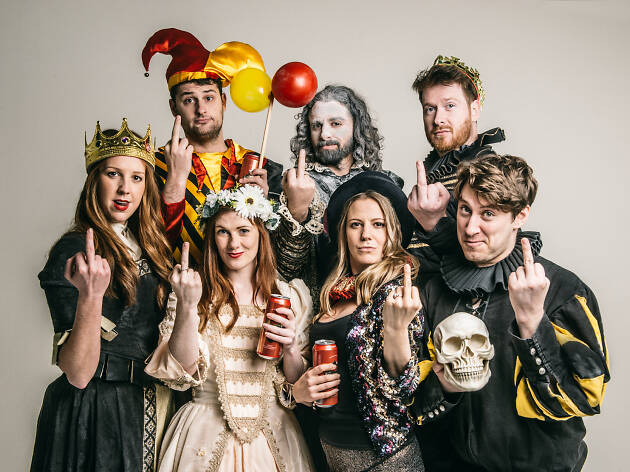 Shit-faced Shakespeare: Hamlet
To drink, or not to drink? The Shit-faced Shakespeare crew finally tackle the Bard's greatest play: as ever, with one member of the company smashed out of their faces. Is it going to be a 'Hamlet' for the ages? Absolutely not. Is it going to be a fun, short 'Hamlet' best watched over a few beers? Aye, there's the rub.
Buy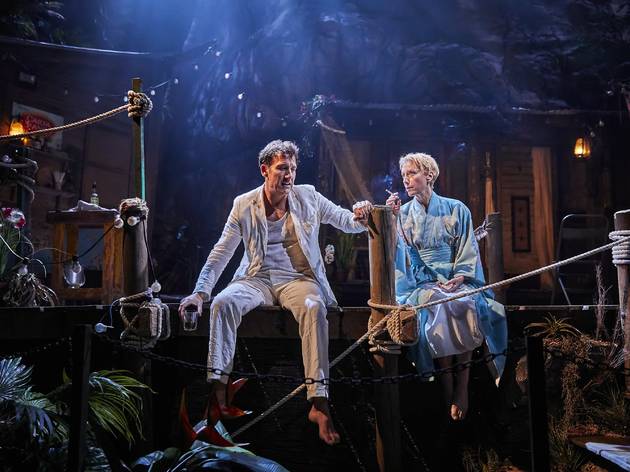 'The Night of the Iguana' review
Interview: Clive Owen – 'I'm a sucker for punishment' Tennessee Williams's wild, cracked, frequently hilarious 1961 drama 'The Night of the Iguana' really doesn't get staged all that often, at least not compared to the big ones. And for a good three-quarters of its hefty running time, James Macdonald's Clive Owen-starring revival makes you wonder what the hell is wrong with people that this is the case.It is '40s Mexico, and at a shabby coastal hotel – set on a vertiginous cliffside, stunningly rendered in Rae Smith's towering set – there is a scene of utter chaos. Reverend Shannon (Owen), a fallen American priest and regular visitor, has returned after a couple of weeks away to discover that the hotel's erstwhile owner – and his friend – has passed away, leaving the struggling business to his epically unbothered widow, Maxine (Anna Gunn).Shannon has other things to worry about, though: he's struggling with his sanity, and has just ditched the coach party of prim American ladies he's supposed to be acting as guide to at the bottom of the mountain, having committed an act of statutory rape on the youngest member of the group. He is losing his shit, basically, and matters are not helped by the obnoxious group of Germans staying at the hotel, who are probably literally Nazis. The only possible lifeline is Hannah Jelkes (Lia Williams), a well-spoken but penniless artist from Nantucket, travelling with her 97-year-old grandfather Nonno (Julian Glover), a frail old poet.If that
Buy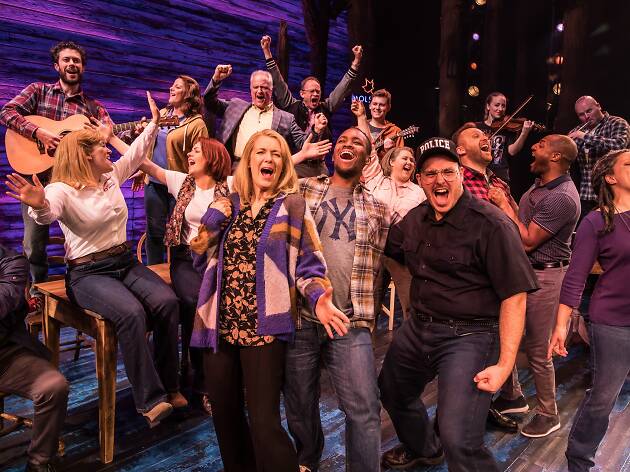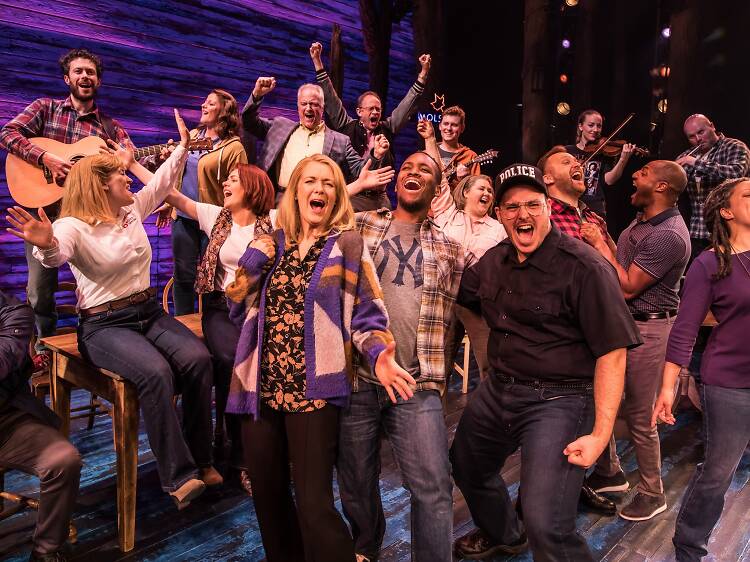 'Come from Away' review
Musicals don't come much more low-key, wholesome or Canadian than 'Come from Away'. Writers Irene Sankoff and David Hein cook up the straightforward world of the Newfoundland town of Gander using a very straightforward set of ingredients. The cast wear sensible shoes and lumberjack shirts. They tramp across a wood-decked stage that evokes the huge skies of their tiny island. They sing their way through a set of folk-tinged songs that tell stories of the five days after 9/11, when 38 planes made emergency landings on the island's huge, disused airstrip. And it's all totally, soul-feedingly wonderful. 'Come from Away' has been a massive sleeper hit across North America, Broadway included, and it's easy to see why: it mixes down-home authenticity with the desperate intensity that comes in times of crisis. This is a moment where 7,000 temporary arrivals join a community of just 9,000 people. Logistics might not be the sexiest of topics for a musical, but one of the many surprising joys of this show is how gripping it makes things like the struggle to rustle up transport at a time when the local school bus drivers were on strike and had to be coaxed into crossing the picket line. Then there are beds, food, medication and interpreters to be sourced for passengers from across the world: one non-English-speaking couple communicates by cross-referencing Bible verses. Based closely on interviews with real Newfoundlanders, this is a picture of a community that stretches itself to bre
Buy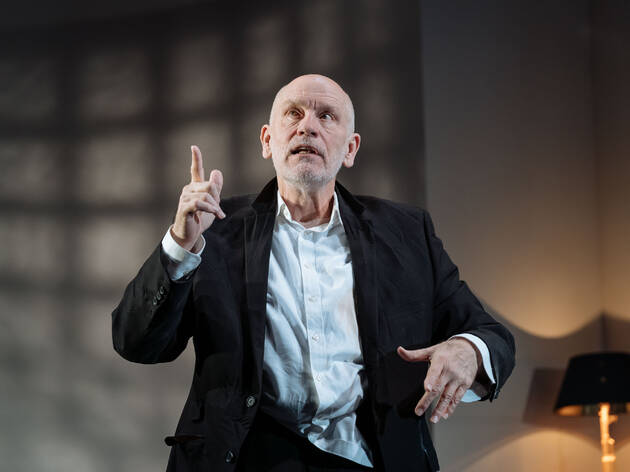 'Bitter Wheat' review
John Malkovich: 'I can't tell you what it is. You can tell me what it is' Really, what is the point? Why stage this? I write with weariness, not anger. Because it's all too tiresome, and too predictable. Turns out, nope, we really didn't need a Harvey Weinstein play, written by a man and from a male perspective. The whole thing leaves you feeling… grubby. David Mamet, once our prime chronicler of macho males and power struggles, has written a play about a movie mogul called Barney Fein. It is scathing and cynical – it doesn't ask for sympathy for Fein. But it does ask that we listen to his story. It does ask that we re-hash all those harrowing #MeToo revelations for entertainment, that we re-stage these abuses of power again, laughing at them perhaps (although it's not that funny) but hardly shedding any new light. Incidentally, Fein's film company is called Find a Light Films, because it sells schmaltzy Oscar-winning entertainments about triumph over adversity, so maybe there's a Mamet mock in here of the idea of a serious, do-gooder #MeToo play. But we certainly don't need this easy satire either. John Malkovich has been tempted back to the West End to star in it, and although he plays Fein as wholly unpleasant, he's not nuanced. Fein is a nasty piece of work all right – but Malkovich's rantings are one-note, even monotonous. He's in a fat suit, and Mamet – who also directs – makes many dispiriting attempts to wring laughs out of the fact that this character is overweig
Buy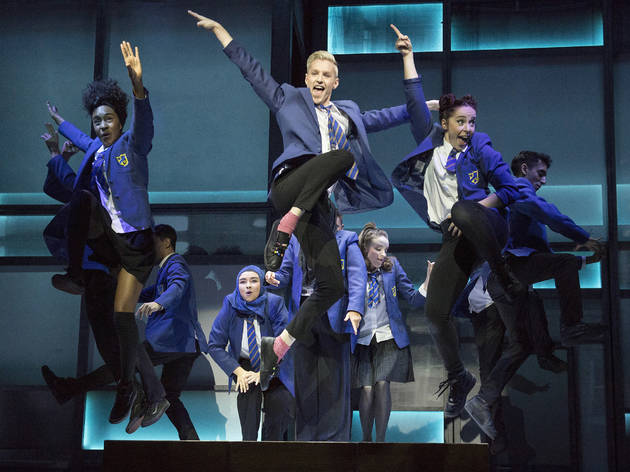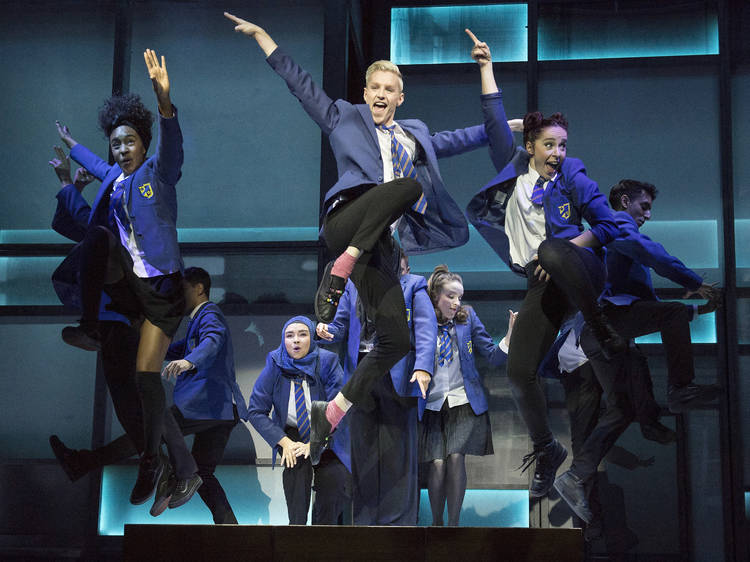 'Everybody's Talking About Jamie' review
'Everybody's Talking About Jamie' is a burst of joy in the heart of the West End. This new British musical, transferring from the Sheffield Crucible, is the real deal. Watch out, tired revivals: there's a new kid in town. Inspired by a 2011 BBC documentary about a teenager who wanted to be a drag queen, the show follows 16-year-old Jamie on his journey to be himself – out of a classroom in a working-class part of Sheffield, away from the bigotry of a deadbeat dad, and into high heels. Director Jonathan Butterell's production is a high-impact blaze of colour, combining video projections with seamless scene changes and a live band above the stage. It captures the frenetic energy of being a teenager. Every element of this show works beautifully together. The music, by The Feeling frontman Dan Gillespie Sells, is a deft mix of irresistibly catchy, pop-honed foot-tappers – try not to hum 'And You Don't Even Know It', I dare you – and truthful, heart-wrenching numbers. This is Sells's first foray into writing for musicals, but he's always excelled at telling stories in song. He is matched by the show's writer and lyricist Tom MacRae. Apart from notable exceptions like Punchdrunk's 'Doctor Who'-themed kids' show 'The Crash of Elysium', he's largely written for TV, but this works well here. His dialogue is punchy, funny and often lands with a sting. While most of the characters exist to orbit Jamie, they still have their own stories and these are crisply told. As Pritti, Jamie'
Buy
Find more hot tickets
Our favourite musicals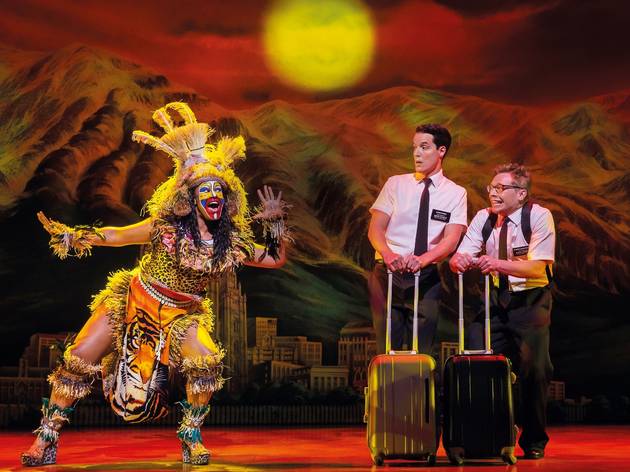 The Book of Mormon review
Brace yourself for a shock: 'South Park' creators Trey Parker and Matt Stone's Broadway-munching musical is not particularly shocking. Sure, there are 'fucks' and 'cunts' and gags about baby rape – but most of it is deployed ironically; beneath it all, this is a big-hearted affair that pays note-perfect homage to the sounds and spirit of Broadway's golden age. The strapping young Latter Day Saints missionaries in 'The Book of Mormon' are as cartoonish as any 'South Park' character, with the endearing alpha-male woodenness of the 'Team America' puppets. In other words, they are loveable, well-intentioned idiots, traversing the globe like groups of pious meerkats, convinced they can convert the heathen through sheer politeness. And if they have doubts, then as Stephen Ashfield's scene-stealingly repressed Elder McKinley declares in glorious faux-Gershwin number 'Turn it Off', 'Don't feel those feelings – hold them in instead!' His advice is ignored by the show's heroes, narcissistic, highly strung Elder Price (Gavin Creel) and dumpy, lying Elder Cunningham (Jared Gertner). The pair are sent to Uganda in an effort to convert a village to Mormonism, a religion that essentially tells the penniless villagers how great distant America is. The locals are not keen: Price cracks and unwisely clashes with a crazed local warlord; Cunningham makes up his own version of Mormonism which involves fucking frogs to cure oneself of Aids. 'The Book of Mormon' is, above all, very funny, breath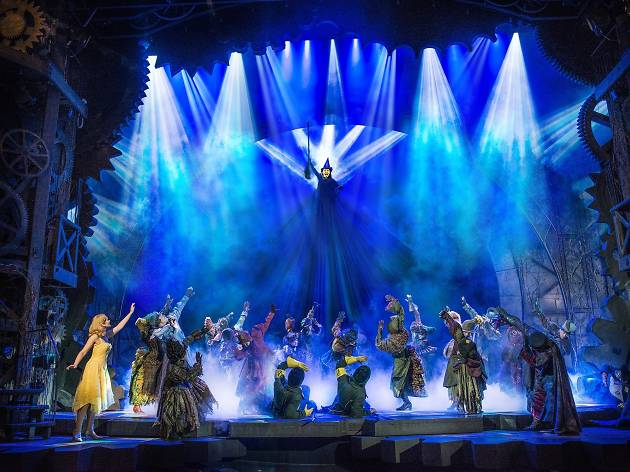 Wicked review
The film world continues its love affair with werewolves, vampires and all things 'Twilight'. But theatre types have always known witches are where it's at. After its 2006 opening at Apollo Victoria, Oz prequel 'Wicked' continues to fill this massive theatre with an international crowd of voracious consumers (glass of champagne and a choccy for £16 anyone?). But this stylish and bombastic musical still delivers, sailing over its patchy score thanks to a gravity-defying performance from its current leading lady Rachel Tucker, as the intense green-skinned undergrad who goes on to become the Wicked Witch of the West. 'Wicked' is a spectacle that rises or falls around its central performance. In the midst of a gigantic production full of bangs, bells and whistles Tucker, with her small frame and searing vocal ability, simply flies off with the show. She's closely followed by Gina Beck, who plays good girl, Glinda. Glinda and Elphaba's relationship forms the heart of this story and, as the Good Witch, Beck is a consummate clown, playing up the silliness of her character at every turn. But she can raise a tear, too, and her final duet with Tucker, 'For Good', is genuinely heart-rending. The Tim Burton-inspired ensemble oscillate between the hypnotic and grotesque and a sweet but thin voiced Matt Willis charms as the rather superfluous Prince. As in classical ballet, this is all about the women and, even by previous lead Idina Menzel's standards, they are in soaring form here. T
Buy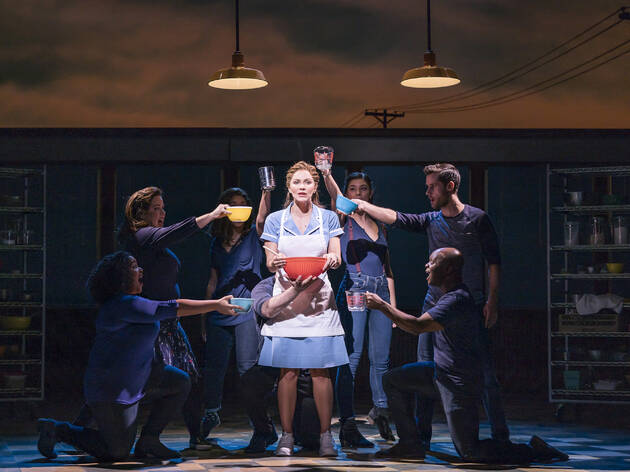 'Waitress' review
Lucie Jones has now taken over from Katharine McPhee in the role of Jenna in 'Waitress'. Blake Harrison and Ashley Roberts have also joined the cast as Ogie and Dawn. The specials board in the diner in 'Waitress' advertises a bacon and blueberry pie. Most of the pies in Diane Paulus's Broadway-conquering show are allegorical: their lurid lists of ingredients are flights of fancy in the mind of Katharine McPhee's titular heroine Jenna, a pie-making prodigy who dreams of escaping her abusive marriage. However, as far as I can tell, the show is serious about the bacon and blueberry one. Bacon. Blueberry. Individually these are reasonable things, but with apologies to American readers, I cannot conceive why anybody in their right mind would even put them on the same level of the fridge, let alone lock them inside a pastry crust. Similarly, 'Waitress' is made from the very finest ingredients, but often they don't actually feel like ingredients that should have been put together. Adapted from Adrienne Shelly's cult 2007 indie flick of the same name, 'Waitress' is a moving musical full of flawed, morally compromised characters of the sort you so rarely get in this type of glossy Broadway show. Everyone, on some level, lets us or themselves down: indeed, the big showstopper, 'She Used to Be Mine' – delivered with exquisitely controlled sorrow by McPhee – is Jenna's bitter ode to her disappointment in herself. There are no heroes here: not Jenna, not her hunky gynaecologist lov
Buy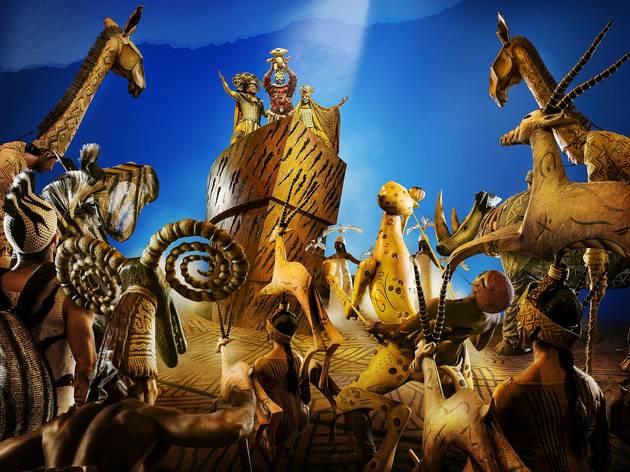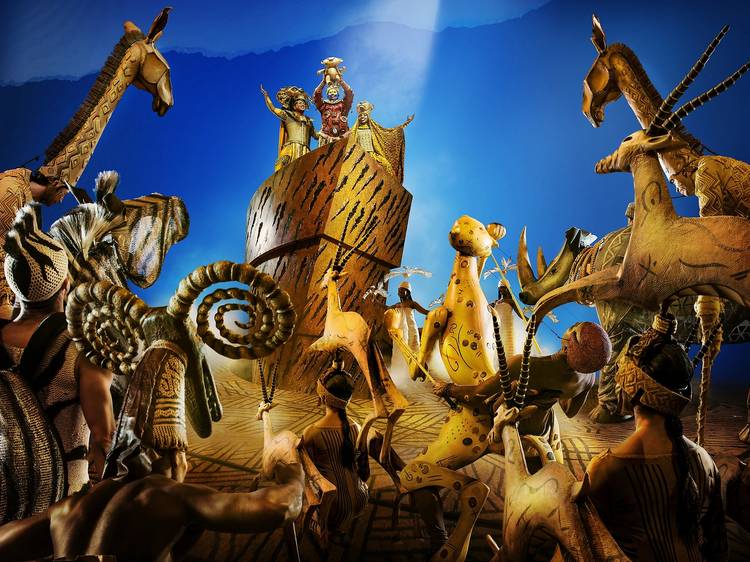 The Lion King
The posters have been plastered around the London Underground for years – long enough for this show to become the most successful musical of all time – but nothing prepares you for the sheer impact of 'The Lion King's opening sequence. With the surge of 'Circle Of Life' reverberating through your chest, Julie Taymor's animal creations march on, species by species. Gazelles spring, birds swoop and an elephant and her child lumber through the stalls. It's a cacophonous cavalcade that genuinely stops you breathing. You'd think Noah's Ark had emptied onto the stage. For a global blockbuster, 'The Lion King's absolute theatricality is astonishing. Techniques from all over the world – African masks, Japanese Kabuki costumes, Malaysian shadow puppetry – are smashed together in an explosion of spectacle. It's perfect for a musical, allowing both distinct flavours and an eclectic carnival spirit. Admittedly, things deflate when it sacrifices this defiant originality for subservient approximation of the film. Timon and Pumba (Damian Baldet and Keith Bookman), though impressively like their screen counterparts, step into the savannah from a different dimension. The hyena-infested elephant's graveyard swaps menace for goofiness and the famous stampede scene, so delicately handled and moving in the film, is merely ticked off with a sigh of relief. The familiarity of the film is a root cause of the show's commercial success. But, ironically, 'The Lion King' can't afford such compromis
Buy
Find more musicals
More great theatre tickets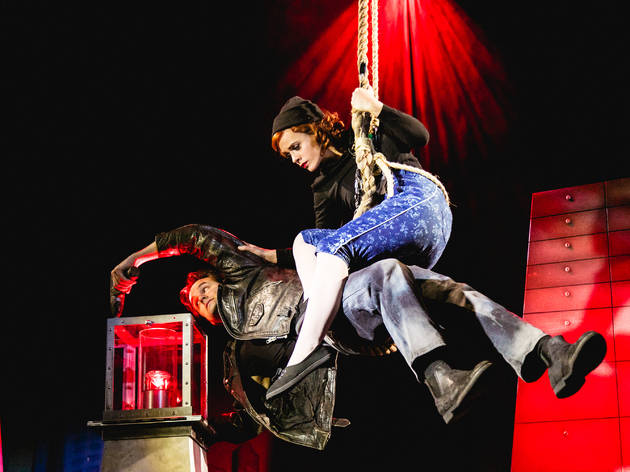 The Comedy About A Bank Robbery
If you're a plucky producer hoping to get your new show into the Criterion Theatre, you're flat out of luck once again. Because less than nine months after 'The 39 Steps' shuttered after almost a decade glowering over Piccadilly Circus, it's now home to the brand new comedy by Mischief Theatre, which, if there's any justice in the theatre world, will run for even longer. 'The Comedy About A Bank Robbery' is the latest play by the bogglingly prolific and talented team behind 'The Play That Goes Wrong' (or more accurately the 'Play That Goes Wrong' franchise) and it's their best and funniest work yet. A genre pastiche, screwball comedy and classic farce that's as clean and clear as its brassy branding, it spins with a manic energy from Two Ronnies-esque wordplay through surreal set-pieces to slapstick stunts prepped to bring the house down. The story of a bungled jewel heist in a sleepy Minneapolis bank branch, it features a host of hilarious but well-drawn characters who roar across the stage and tumble into disaster after disaster, each one more elegantly drawn than the last. The writers' ability to snatch a laugh out of every line, and to intricately prime each scenario with zinging punchlines and pay-offs is stunning, as call-backs and running gags pile up into teetering edifices of absurdity. The entire cast is bang on the money, but Mischief Theatre's own Henry Lewis and Jonathan Sayer are the standouts as booming bank manager Robin Freeboys and hapless loser (and eter
Buy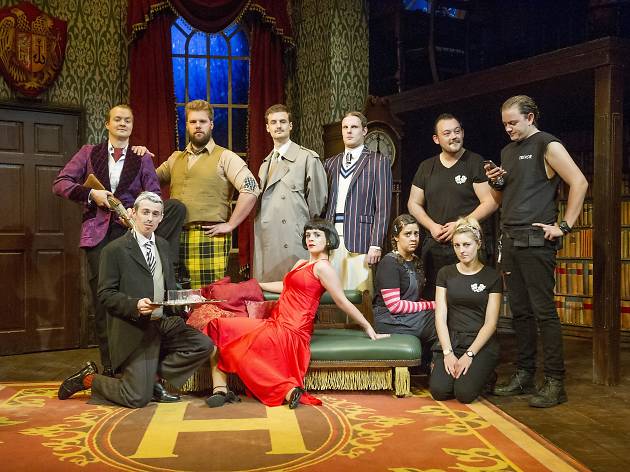 The Play That Goes Wrong
This comedy has, of course, actually done everything right. Produced by LAMDA graduates Mischief Theatre, the show has had successful runs at the Old Red Lion in Islington, Trafalgar Studios, and in Edinburgh; now it's made it all the way to the West End. Amid all the chatter about the overbearing West End dominance of jukebox musicals and film spin-offs, it's cheering to see a dynamic young company land slap-bang in the middle of Theatreland.The show is a farcical play-within-a-play. Cornley Polytechnic Drama Society are mounting a production of a hoary old sub-'Mousetrap' mystery called 'The Murder at Haversham Manor'. From the first moment, in which a hapless stage manager attempts to secure a collapsing mantelpiece, we suspect that things are not going to go to plan. And that, indeed, is the case, as the production shudders painfully into chaos, taking in everything from dropped lines to disintegrating sets, intra-cast fighting, technical malfunctions of the highest order, and an unexpectedly resuscitated corpse.The show sits in a fine tradition of British slapstick, and of plays about theatrical blunders: its debt to Michael Frayn's hilarious 'Noises Off', about the gradual disintegration of a touring rep production, is considerable. This is, to be fair, acknowledged by the play's marketing, which calls it — correctly — '"Fawlty Towers" meets "Noises Off"'. But the trouble is that anyone who has seen, and loved, 'Noises Off', is likely to find the comparison unfavourable
Buy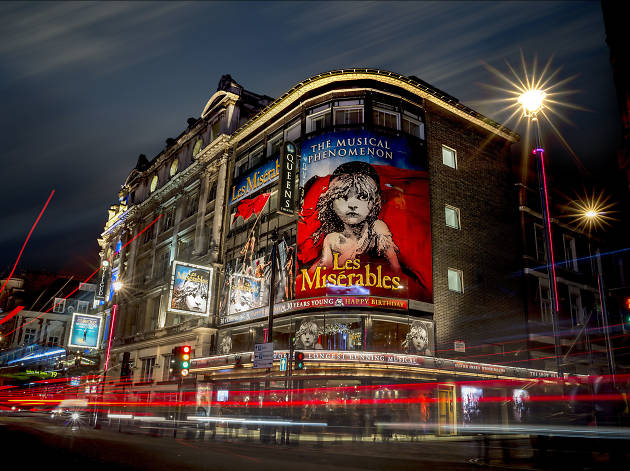 Les Misérables
Well here's an interesting question: is this production of 'Les Misérables' a continuation of the longest-running musical production of all time, following several months' hiatus while its home the Queen's Theatre underwent some much-needed maintainance work? Or it is effectively a new show? It seems super-producer Cameron Mackintosh is pretty much trying to have his cake and eat it: to all intents and purposes this is a new production of the epic Victor Hugo adaptation, first directed by Laurence Connor as a touring incarnation of the show in 2009. It's since been rolled out globally, with London the last place in the world that you could see Trevor Nunn's original RSC production, which finally closed in July 2019, taking the iconic revolve with it. Connor's version is informed by Nunn's, but not Nunn's; nobody seems entirely sure why Mackintosh felt the need to change it, not least Nunn, who has been vocally pissed off at the whole affair. But the artwork and the 'brand' remain consistant, and it's the same basic idea and musical arrangements; bemusing at the entire thing is, we won't begrudge 'Les Mis' one more day – or indeed, another 35 years.
Buy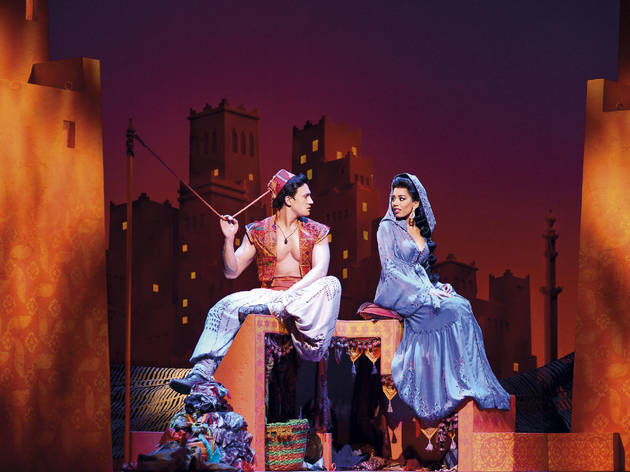 Aladdin review
They don't really have pantomimes in the US, which may explain why the creatives behind this hit Broadway adaptation of Disney's 'Aladdin' made a pantomime, probably without realising. There's no Widow Twankey or Wishee Washee, but Alan Menken's musical gives you the same things as a decent British panto 'Aladdin': lavish set pieces (designer Bob Crowley has done some impressive things); campy, knowing, fourth wall-breaking humour; songs (obvs); a magic carpet sequence; a dull hero (Dean John-Wilson's prominent man-cleavage is the most memorable bit of his performance); a ludicrously OTT villain (Don Gallagher's Jafar laps up the boos at curtain call); and a scene-stealing dame (more later). It's well done, but talk about selling coals to Newcastle: the humour hits the spot with Howard Ashman's dry lyrics, but it lacks the inspired madness of, say, the Hackney Empire panto. Alongside the other big West End Disney musical, Julie Taymor's 'The Lion King', it struggles to establish a distinct, theatrical identity. And my mind boggled at how the diverse, largely British cast has had bland American accents foisted upon them to play Middle Eastern characters. One decision producers won't be regretting is importing star of the Broadway show Trevor Dion Nicholas as Genie. The role could have been something of a poisoned, er, lamp, given Robin Williams's iconic turn in the 1992 film. But glitter-doused Nicholas makes it his own with a kinetic mix of fabulousness and physicality. He
Buy
Time Out Live tickets
Our favourite attractions