Tickets
Buy tickets for London events, theatre, concerts and attractions
Theatre highlights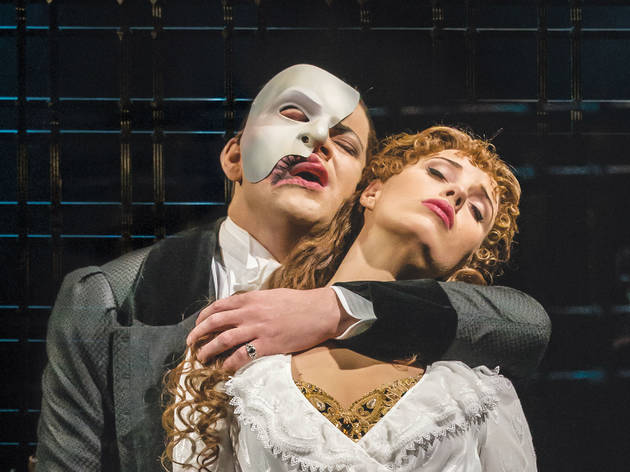 The Phantom of the Opera review
I'm not sure any show 'deserves' to be the most successful entertainment event of all time, but I'll hand it current holder of that title, 'The Phantom of the Opera' – it still works hard for its audience. Sure, chunks of Andrew Lloyd Webber's opus have never left 1986. But whereas describing a musical as 'stuck in the '80s' is usually shorthand for cheap, thin synth orchestration, nothing could be further from the truth here: the portentously swirling keyboards and crunch of hair metal guitar that powers 'Phantom's title song have a black hole-like immensity, sucking you in with sheer juggernaut bombast. Mostly, though, 'Phantom…' remains strong because its high production values haven't been allowed to sag. The late Maria Björnson's design is a heady barrage of ravishing costumes and lavish sets that change frequently, working in everything from pastoral jollity to an ancient Carthaginian theme on the way to the Phantom's stunning underground lair. It's totally OTT – in one scene the Phantom zaps at his nemesis Raul with a staff that fires actual fireballs – and anybody who describes the plot (homicidal lunatic grooms girl) as romantic should probably be put on some sort of register. But its blazingly earnest ridiculousness and campy Grand Guignol story are entirely thrilling when realised with the show's enormous budget. And while Hal Prince's production may have been hailed as rather gauche back in the day, in 2013 it all comes across as rather more tasteful than the a
Buy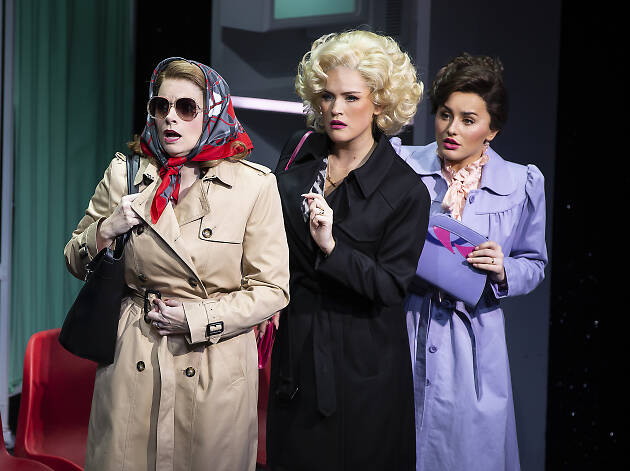 '9 to 5 the Musical' review
Backwoods Barbie, rhinestone queen and all-round country music legend Dolly Parton has her glittering fingerprints all over this musical. She's written all the songs, bar the iconic title track, especially for the show (this definitely isn't a jukebox affair). She's basically in it, as thinly disguised poodle-coiffed doppelgänger Doralee. And in case this escaped you, Parton pops up in video footage to introduce this whole bonkers confection to an audience of mad-keen fans. '9 to 5' is a musical theatre version of the 1980 movie of the same name, which involves Parton, Lily Tomlin and Jane Fonda running round an office and outwitting their dastardly male boss. And although this show started out in LA in 2005, it feels (shudder) pretty post-Weinstein, with its uncompromising focus on male shitness and violent retribution. Doralee (Natalie McQueen) can't so much as climb a stepladder without her sleazy boss theatrically ogling her – and climbing any kind of career ladder is out of the question. Meanwhile Judy (Amber Davies, of 'Love Island' fame) is struggling to get to grips with some delightfully '80s office tech, including a malevolent photocopier that attacks her with sheets of paper. And Violet – played by Caroline Sheen, subbing in for an injured Louise Redknapp who returns to the role next month – is a natural leader who's longing for the promotion she deserves. The plot, when it shows up, is about as ridiculous as these women's ultra-glam interpretation of 'office wea
Buy
The Book of Mormon
Brace yourself for a shock! 'South Park' creators Trey Parker and Matt Stone's broadway smash hit is here.
Buy
The Lion King
The posters have been plastered around the London Underground for years – long enough for this show to become the most successful musical of all time – but nothing prepares you for the sheer impact of 'The Lion King's opening sequence.
Buy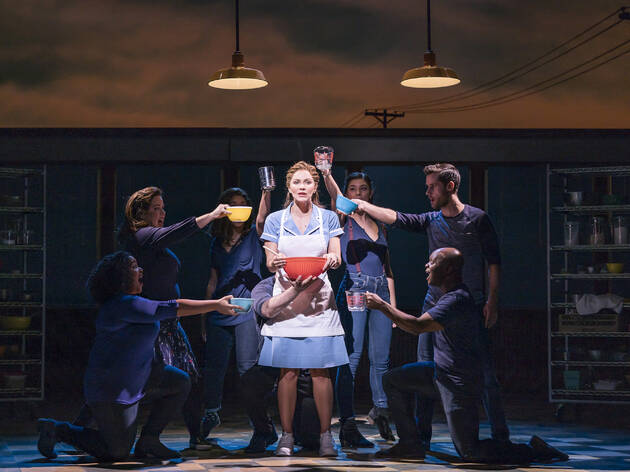 'Waitress' review
Lucie Jones has now taken over from Katharine McPhee in the role of Jenna in 'Waitress'. Blake Harrison and Ashley Roberts have also joined the cast as Ogie and Dawn. The specials board in the diner in 'Waitress' advertises a bacon and blueberry pie. Most of the pies in Diane Paulus's Broadway-conquering show are allegorical: their lurid lists of ingredients are flights of fancy in the mind of Katharine McPhee's titular heroine Jenna, a pie-making prodigy who dreams of escaping her abusive marriage. However, as far as I can tell, the show is serious about the bacon and blueberry one. Bacon. Blueberry. Individually these are reasonable things, but with apologies to American readers, I cannot conceive why anybody in their right mind would even put them on the same level of the fridge, let alone lock them inside a pastry crust. Similarly, 'Waitress' is made from the very finest ingredients, but often they don't actually feel like ingredients that should have been put together. Adapted from Adrienne Shelly's cult 2007 indie flick of the same name, 'Waitress' is a moving musical full of flawed, morally compromised characters of the sort you so rarely get in this type of glossy Broadway show. Everyone, on some level, lets us or themselves down: indeed, the big showstopper, 'She Used to Be Mine' – delivered with exquisitely controlled sorrow by McPhee – is Jenna's bitter ode to her disappointment in herself. There are no heroes here: not Jenna, not her hunky gynaecologist lov
Buy
Find more hot tickets
Our favourite musicals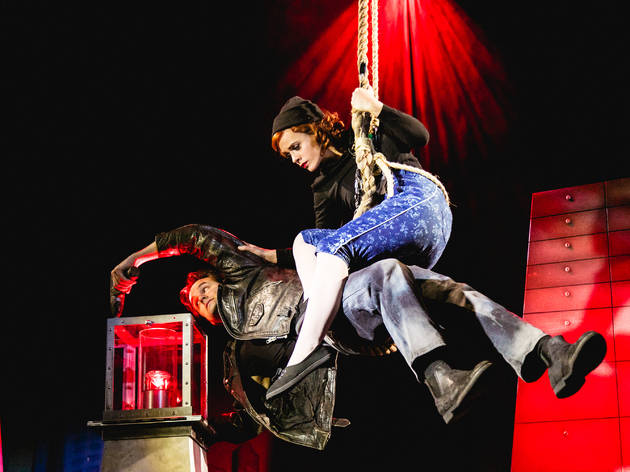 The Comedy About A Bank Robbery
If you're a plucky producer hoping to get your new show into the Criterion Theatre, you're flat out of luck once again. Because less than nine months after 'The 39 Steps' shuttered after almost a decade glowering over Piccadilly Circus, it's now home to the brand new comedy by Mischief Theatre, which, if there's any justice in the theatre world, will run for even longer. 'The Comedy About A Bank Robbery' is the latest play by the bogglingly prolific and talented team behind 'The Play That Goes Wrong' (or more accurately the 'Play That Goes Wrong' franchise) and it's their best and funniest work yet. A genre pastiche, screwball comedy and classic farce that's as clean and clear as its brassy branding, it spins with a manic energy from Two Ronnies-esque wordplay through surreal set-pieces to slapstick stunts prepped to bring the house down. The story of a bungled jewel heist in a sleepy Minneapolis bank branch, it features a host of hilarious but well-drawn characters who roar across the stage and tumble into disaster after disaster, each one more elegantly drawn than the last. The writers' ability to snatch a laugh out of every line, and to intricately prime each scenario with zinging punchlines and pay-offs is stunning, as call-backs and running gags pile up into teetering edifices of absurdity. The entire cast is bang on the money, but Mischief Theatre's own Henry Lewis and Jonathan Sayer are the standouts as booming bank manager Robin Freeboys and hapless loser (and eter
Buy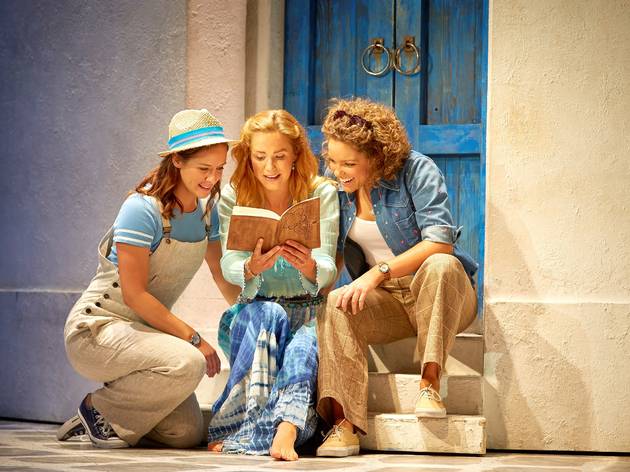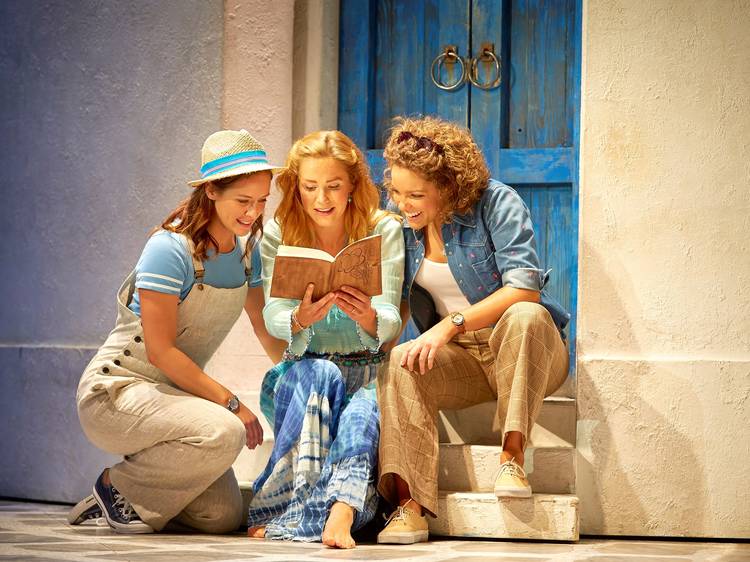 Mamma Mia!
Judy Craymer's bold idea of turning the insanely catchy songs of ABBA into a musical has paid off splendidly, in every sense – box office figures for 'Mamma Mia!' are as eye-watering as its outfits. This is largely because Catherine Johnson had the sense to weave the 1970s into her script, and director Phyllida Lloyd to cast accordingly. Heroine Donna Sheridan lived the free love dream (if only because her boyfriend ran out on her), wound up pregnant and survived to see her daughter, Sophie, reject all her principles in favour of a white wedding and the kind of certainty that comes from knowing which of your mother's three consecutive lovers ought to be walking you down the aisle. If you wanted to, you could see this as a conversation about feminism. But you'll look pretty silly debating patriarchal oppression while on your feet clapping to 'Dancing Queen'. Some of the songs are oddly static, but when the choreography does get going – for instance, when Donna's friend Tanya stylishly quashes a libidinous local puppy in 'Does Your Mother Know?' – it's terrific, and makes great use of props: I wonder if the producers can assure us that no electric drills or hairdryers were harmed in the making of this musical? The current cast appear to have been chosen more for their singing voices than their serious acting ability. But who needs dramatic conviction when you have purest pop to do the convincing for you? Given the songs, a story just about solid enough to stay upright on its
Buy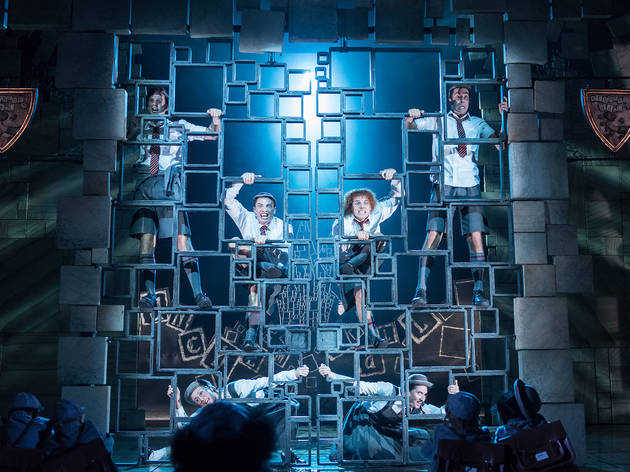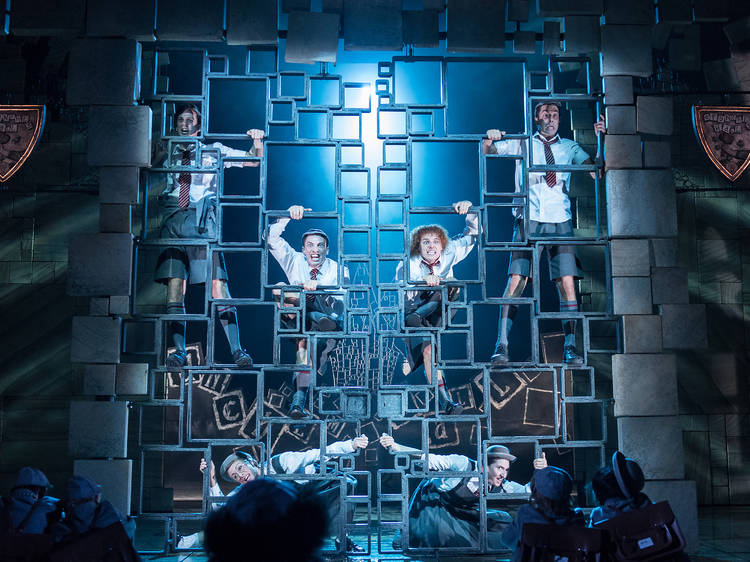 Matilda the Musical review
'My mummy says I'm a miracle,' lisps a pampered mini-me at a purgatorial kiddies' birthday party at the outset of this delicious, treacly-dark family show. The obnoxious ma and pa of its titular, gifted, pint-sized heroine are not, of course, quite so doting. But 'Matilda' must be making its creators, playwright Dennis Kelly and comedian-songsmith Tim Minchin, a very pair of proud parents. Opening to rave reviews in Stratford-upon Avon before transferring to the West End in 2011 and snatching up Olivier Awards with all the alacrity of a sticky-fingered child in a sweetshop, Matthew Warchus's RSC production remains a treat. With hindsight, Kelly and Minchin's musical, born of the 1988 novel by that master of the splendidly grotesque Roald Dahl, is a little too long and, dramatically, a tad wayward. But like the curly-haired little girl in the famous nursery rhyme, when it is good, it is very, very good. And it's even better when it's horrid. The past few months have seen some cast changes, including, alas, the departure of Bertie Carvel's tremendous Miss Trunchbull, headmistress of the dread Crunchem Hall School, former Olympic hammer-thrower and a gorgon of monumental nastiness, complete with scarily Thatcher-esque tics of purse-lipped gentility and faux concern. David Leonard doesn't quite match the squirm-inducing, hair-raising detail of Carvel in the role, but his more butch, granite-faced version is fantastically horrible nonetheless. And if Paul Kaye as Matilda's loat
Buy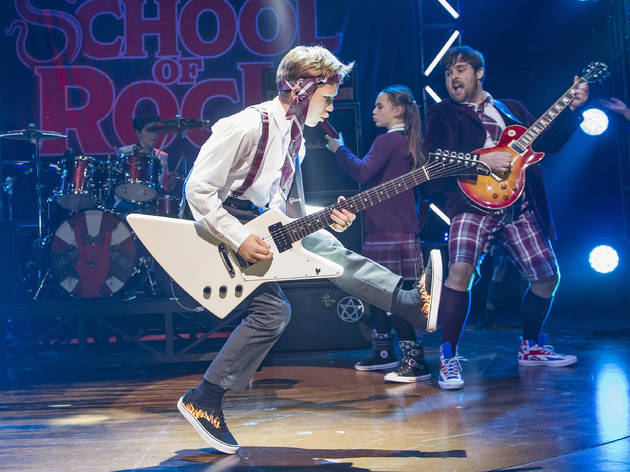 School of Rock - The Musical
It is the ultimate musical about male privilege, a show about an under-qualified,Andrew Lloyd Webber's unexpected Broadway hit moshes over to the West End over-entitled white guy who shambles his way to public adoration by blithely inflicting bankrupt baby boomer values upon a bunch of impressionable people who don't know any better. 'School of Rock – The Musical' is also quite good fun. I dunno if it's the state of the world today, the fact I haven't seen the Jack Black-starring film, the fact that so much has changed – musically and politically – since the film came out in 2003, or simply the knowledge that it's written by Andrew Lloyd Webber and Julian Fellowes, a couple of Tory lords in their late '60s, but I felt a bit politically uneasy about 'School of Rock', which follows schlubby charlatan Dewey (David Fynn) as he masquerades as a teacher and proves a hit by tearing up his sensitive young charges' syllabus and making them play old person music. Its big, catchy number is called 'Stick It to the Man'. Yet there's something both problematic and ironic about the fact that in Laurence Connor's production The Man is represented by two women – Florence Andrews's hard-working, professional headmistress Rosalie and Preeya Kalidas's Patty, a hard-working, professional wife-to-Dewey's best friend Ned – while in the blue corner we have... Dewey, a self-absorbed bum who everything turns out brilliantly for. Despite apparently being somewhere in his thirties – so presumably born around 1980 – Dewey exclusively loves classic rock bands, and mocks
Buy
Find more musicals
More great theatre tickets
Time Out Live tickets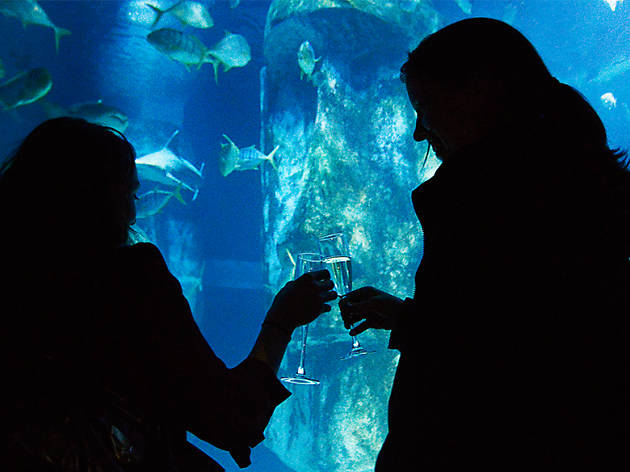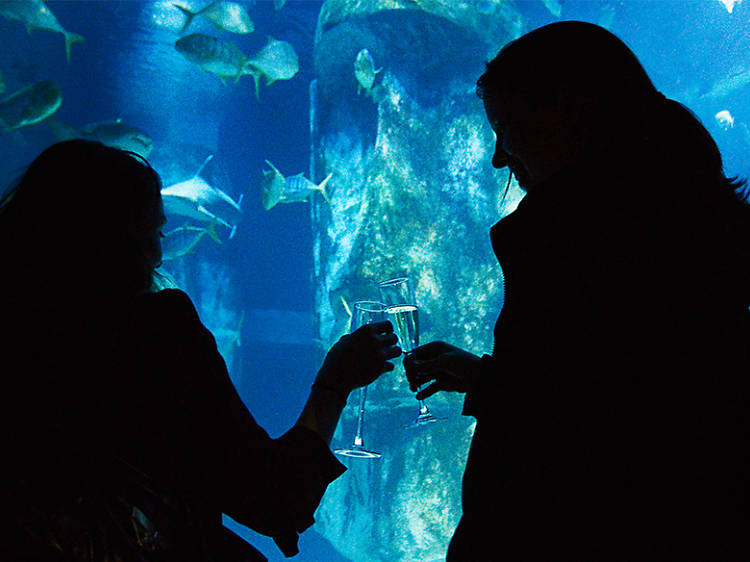 Silent disco at the SEA LIFE London Aquarium
Get down amongst the fishes at this super silent disco
Book now
Our favourite attractions