Tickets
Buy tickets for London events, theatre, concerts and attractions
Theatre highlights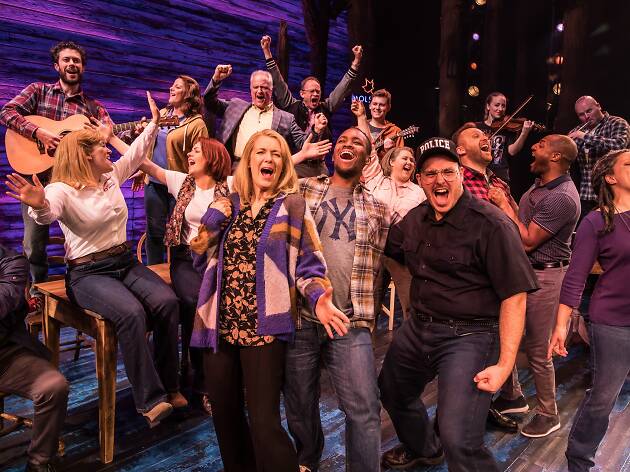 'Come from Away' review
Musicals don't come much more low-key, wholesome or Canadian than 'Come from Away'. Writers Irene Sankoff and David Hein cook up the straightforward world of the Newfoundland town of Gander using a very straightforward set of ingredients. The cast wear sensible shoes and lumberjack shirts. They tramp across a wood-decked stage that evokes the huge skies of their tiny island. They sing their way through a set of folk-tinged songs that tell stories of the five days after 9/11, when 38 planes made emergency landings on the island's huge, disused airstrip. And it's all totally, soul-feedingly wonderful. 'Come from Away' has been a massive sleeper hit across North America, Broadway included, and it's easy to see why: it mixes down-home authenticity with the desperate intensity that comes in times of crisis. This is a moment where 7,000 temporary arrivals join a community of just 9,000 people. Logistics might not be the sexiest of topics for a musical, but one of the many surprising joys of this show is how gripping it makes things like the struggle to rustle up transport at a time when the local school bus drivers were on strike and had to be coaxed into crossing the picket line. Then there are beds, food, medication and interpreters to be sourced for passengers from across the world: one non-English-speaking couple communicates by cross-referencing Bible verses. Based closely on interviews with real Newfoundlanders, this is a picture of a community that stretches itself to bre
Buy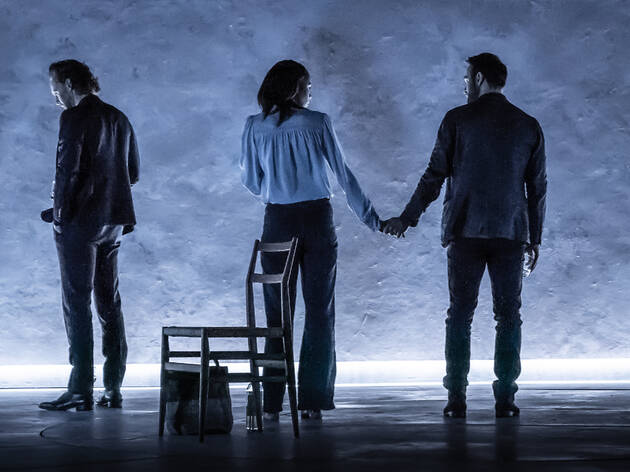 'Betrayal' review
Look: there's a strong chance you're reading this because you're a Tom Hiddleston fan, so here's something for the Tom Hiddleston fans. There is a scene in Jamie Lloyd's production of Harold Pinter's reverse chronology adultery drama 'Betrayal' in which his character, Robert, is told by Zawe Ashton's character Emma – his wife – that she has been having an affair with his best friend Jerry (Charlie Cox) for years. Posh, self-assured Robert's language would suggest he is savagely sanguine about this: but Hiddleston's eyes are heartbreakingly wet. Maybe he's got some sort of clever trick or whatnot, but it's a genuinely remarkable piece of acting, in a genuinely remarkable performance. Really, though, the triumph here belongs to director Jamie Lloyd. Directing 'Betrayal' as the culmination of his Pinter at the Pinter season of all of the late playwright's one-act plays, there have to be very few people alive – or indeed dead – who understand Pinter in the way Lloyd does, and it shows here. 'Betrayal' is notionally Pinter's most accessible play, and is staged frequently, often safe productions with celebrity casts. But I've never seen a version before that has made such sense of it for me, and has been so daring in the staging. Usually, it is taken fairly literally, as a realist drama about an affair. Here, it touches on more fundamental questions of human nature and identity. In a way that absolutely connects 'Betrayal' to the playwright's earlier, stranger work, Lloyd make
Buy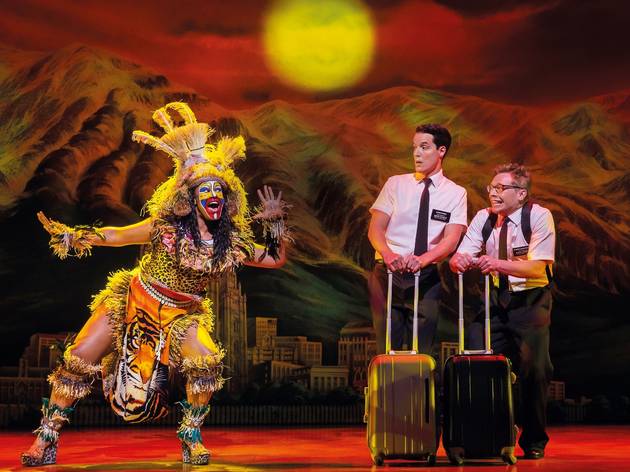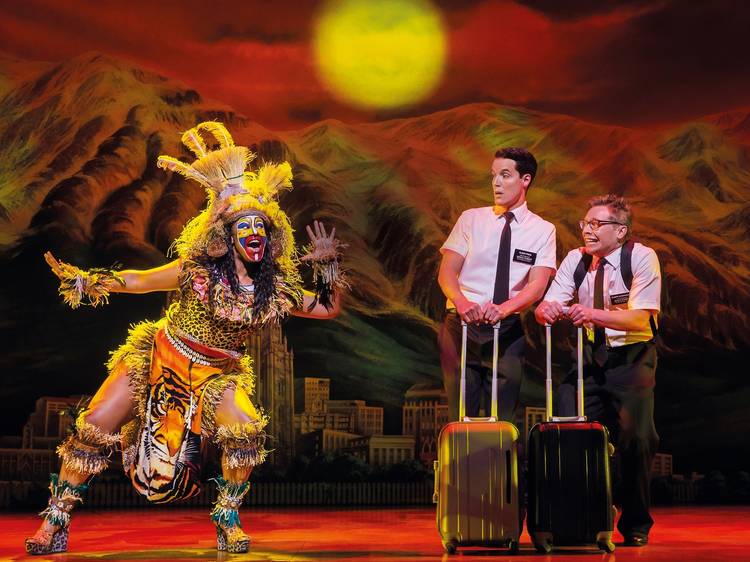 The Book of Mormon review
Brace yourself for a shock: 'South Park' creators Trey Parker and Matt Stone's Broadway-munching musical is not particularly shocking. Sure, there are 'fucks' and 'cunts' and gags about baby rape – but most of it is deployed ironically; beneath it all, this is a big-hearted affair that pays note-perfect homage to the sounds and spirit of Broadway's golden age. The strapping young Latter Day Saints missionaries in 'The Book of Mormon' are as cartoonish as any 'South Park' character, with the endearing alpha-male woodenness of the 'Team America' puppets. In other words, they are loveable, well-intentioned idiots, traversing the globe like groups of pious meerkats, convinced they can convert the heathen through sheer politeness. And if they have doubts, then as Stephen Ashfield's scene-stealingly repressed Elder McKinley declares in glorious faux-Gershwin number 'Turn it Off', 'Don't feel those feelings – hold them in instead!' His advice is ignored by the show's heroes, narcissistic, highly strung Elder Price (Gavin Creel) and dumpy, lying Elder Cunningham (Jared Gertner). The pair are sent to Uganda in an effort to convert a village to Mormonism, a religion that essentially tells the penniless villagers how great distant America is. The locals are not keen: Price cracks and unwisely clashes with a crazed local warlord; Cunningham makes up his own version of Mormonism which involves fucking frogs to cure oneself of Aids. 'The Book of Mormon' is, above all, very funny, breath
Buy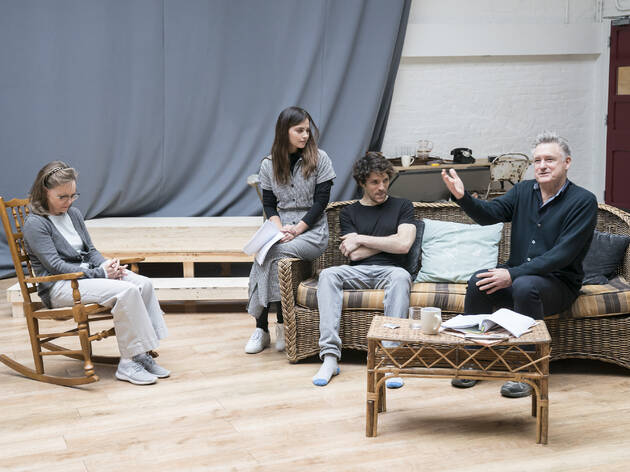 All My Sons
The Old Vic's following up 'An American Clock' with another vintage Arthur Miller play, 'All My Sons' - Miller's tragedy about a shattered family in post-war America, and the patriarch who betrayed them. It's staged by Headlong artistic director Jeremy Herrin, who's been at the helm of a slew of hits including West End political drama 'Labour of Love' and harrowing NT show 'People, Places and Things'. Sally Field, Bill Pullman, Jenna Coleman and Colin Morgan star.
Buy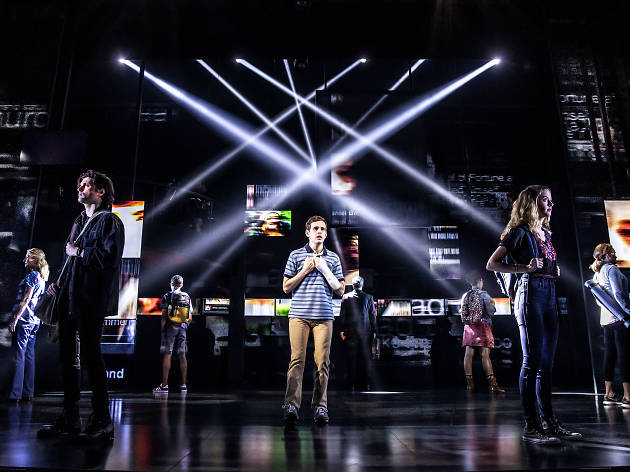 Dear Evan Hansen
It feels like 2019 is the year every single hit Broadway musical of the last three years descends upon London. Following hot on the heels of 'Waitress', '9 to 5' and 'Come from Away', here's tearjerking Tony-winner 'Dear Evan Hansen'. Written by Benj Pasek and Justin Paul, with a book by Steven Levenson, the musical concerns the eponymous troubled teen, who writes himself a series of letters to help him cope with a profoundly difficult time in his life, following the tragic death of a school friend.
Buy
Find more hot tickets
Our favourite musicals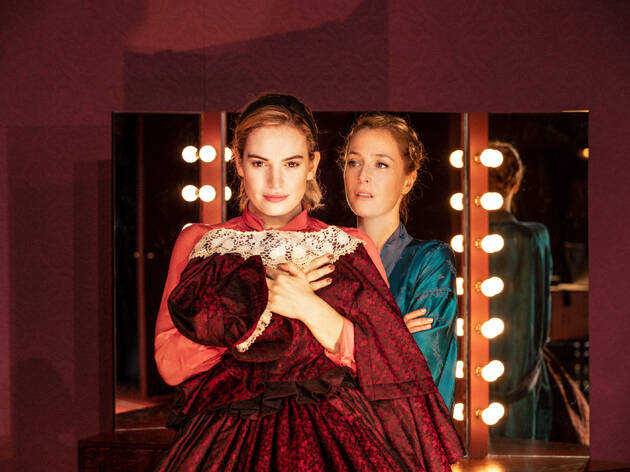 'All About Eve' review
There are 'X-Files' nerds in my life who have spouted a lot of crazy hyperbole about Gillian Anderson over the years. But, wowee: her performance as ageing actress Margo Channing in Ivo van Hove's stage version of 'All About Eve' is absolutely one of those 'I was there' moments.For those who may be unaware, the play – it's essentially Joseph L Mankiewicz's screenplay treated as if it were a theatre text – revolves around Channing, a middle-aged Broadway star still subsisting upon the thirtysomething roles penned for her by shit-hot playwright Lloyd (Rhashan Stone). She is a queen bee, albeit one who maintains her crown via parlous alliances with a series of powerful menfolk who ultimately can't ignore her raw talent. Suddenly, though, everything is thrown into disarray by the arrival of Eve (Lily James), an apparently naive devotee of Margo's whose elaborate machinations propel her first into Margo's household, and then on to become a bitter rival. Written in a very different era, 'All About Eve' is not totally unproblematic in its depiction of female ambition and its relationship to female bodies. But it is still pretty potent, and apt, and you can see why it appealed to van Hove. It's in many ways a play about theatre, and the characters are brilliantly knotty.Anderson's Margo, in particular, rises far above the two-dimensional diva you might expect. She feels like she's in constant combat with a world that wants to throw her away – we see little of her as a monster, a lot
Buy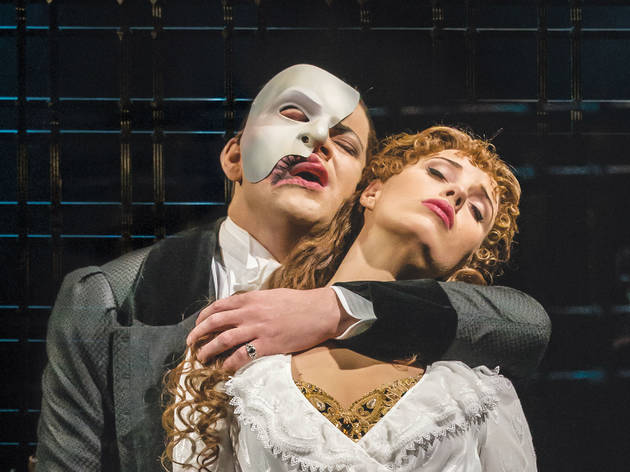 The Phantom of the Opera review
I'm not sure any show 'deserves' to be the most successful entertainment event of all time, but I'll hand it current holder of that title, 'The Phantom of the Opera' – it still works hard for its audience. Sure, chunks of Andrew Lloyd Webber's opus have never left 1986. But whereas describing a musical as 'stuck in the '80s' is usually shorthand for cheap, thin synth orchestration, nothing could be further from the truth here: the portentously swirling keyboards and crunch of hair metal guitar that powers 'Phantom's title song have a black hole-like immensity, sucking you in with sheer juggernaut bombast. Mostly, though, 'Phantom…' remains strong because its high production values haven't been allowed to sag. The late Maria Björnson's design is a heady barrage of ravishing costumes and lavish sets that change frequently, working in everything from pastoral jollity to an ancient Carthaginian theme on the way to the Phantom's stunning underground lair. It's totally OTT – in one scene the Phantom zaps at his nemesis Raul with a staff that fires actual fireballs – and anybody who describes the plot (homicidal lunatic grooms girl) as romantic should probably be put on some sort of register. But its blazingly earnest ridiculousness and campy Grand Guignol story are entirely thrilling when realised with the show's enormous budget. And while Hal Prince's production may have been hailed as rather gauche back in the day, in 2013 it all comes across as rather more tasteful than the a
Buy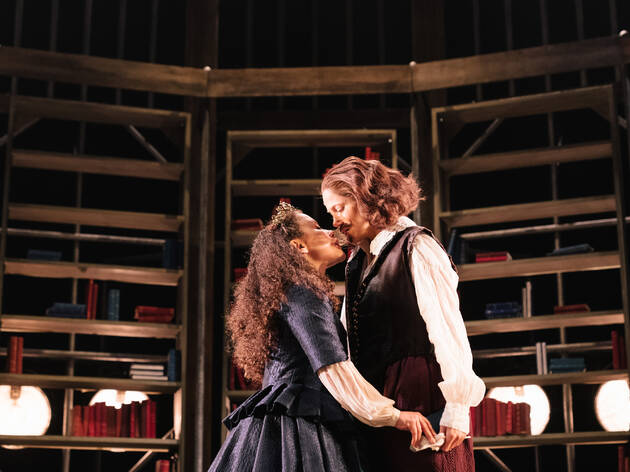 'Emilia' review
Transferring from the Globe, Morgan Lloyd Malcolm's play about the seventeenth-century poet Emilia Bassano Lanier has already been widely heralded as 'rousing' – and it certainly is that. It rouses the audience right to their feet. They whoop and cheer the barnstorming feminist speeches, and literally boo the bad oppressive men. It is incredibly heartening to hear unabashed feminist rhetoric, spoken by a diverse all-female cast, in a commercial theatre space. And Lloyd Malcolm has uncovered a cracking historical character: Emilia was one of the first published female poets, and a possible candidate for the 'Dark Lady' of Shakespeare's sonnets. She provides a clear way in for discussing the centuries-long silencing of women, the oppression they have faced – and still face today. And you're never far from a totally topical line, the mix of past and present underlined by Lloyd Malcolm's use of cheerfully anachronistic slangy contemporary phrases. It can be really fun; this is a gently meta-theatrical and very jolly historical romp of a show, in the mould of 'Nell Gwyn' or 'Shakespeare in Love'. The winkingly modern perspective on the nonsense men spouted and women were expected to put up with is frequently amusing. But the writing and delivery can also be dreadfully on the nose. Our problems are not the same as those of women 400 years ago. It makes the feminist arguments broad and, well, pretty basic. Emilia is too often a cipher rather than a living breathing character. She
Buy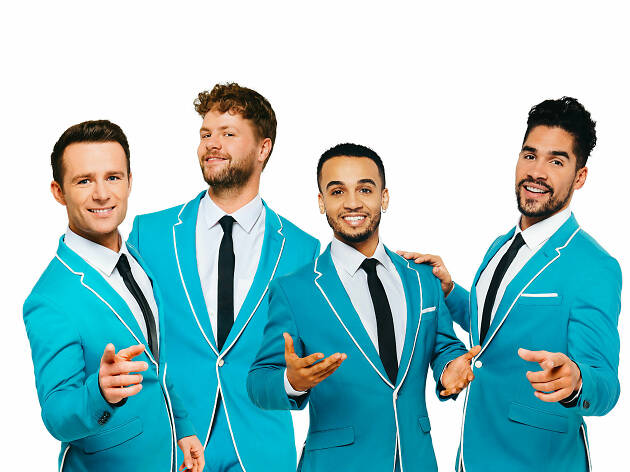 Rip It Up – The 60s
Probably more like a posh tribute band than anything so organised as a jukebox musical, 'Rip It Up – The 60s' features three erstwhile boyband types – McFly's Harry Judd, JLS's Aston Merrygold and The Wanted's Jay McGuinness – and, for some reason, Olympic gymnast Louis Smith join forces for a celebration of all things '60s. Merrygold and McGuinness will sing, Judd will drum, and Smith will perform 'the amazing gymnastic feats that made him one of our most successful Olympians' as they tackle the hits of pop music's greatest decade, from The Beatles and the Stones to James Brown and The Supremes. It sounds bizarre, but clearly it's going to be banger after banger, and if you're into the music of the decade plus gymnastics, it should be a treat.
Buy
Find more musicals
More great theatre tickets
Time Out Live tickets
Our favourite attractions