20 amazing things to do in Florence
Museums, restaurants, cafés, shops and more in Italy's culture capital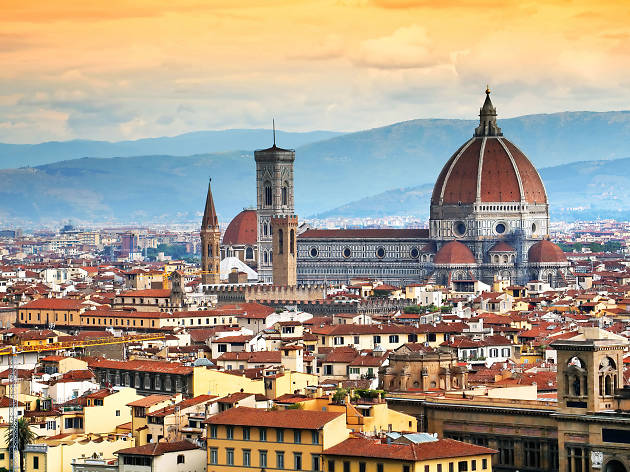 A recent study by Italian economists revealed that the richest families in Florence today are the same as they were in 1427. That's just one of the ways that this incredible city hasn't changed in hundreds of years: the skyline is still dominated by the gobsmacking fifteenth-century dome of Santa Maria del Fiore, the museums are packed with world-famous Renaissance art produced virtually around the corner, and the tourists who've been flocking here since the eighteenth century outnumber Florentines every summer – though these days they tend to be more 'Coach Trip' than Grand Tour.
But Florence isn't a Renaissance theme park: it's a living city, with plenty to seduce you even if you think of Michelangelo primarily as a Ninja Turtle. Here are 20 ways to revel in one of the world's most beautiful cities.
20 amazing things to do in Florence
1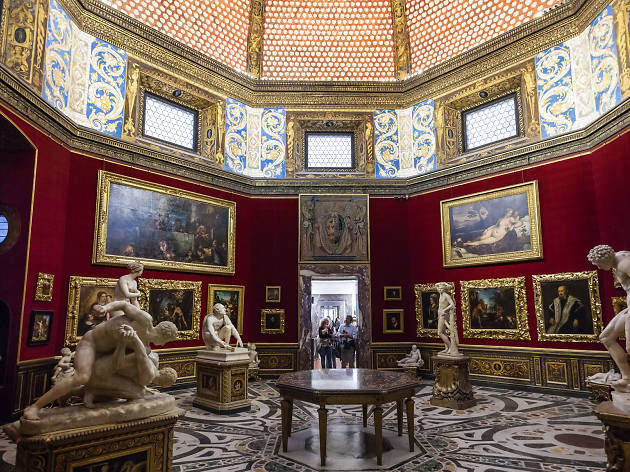 Soak up some Renaissance beauty
In Florence it pays to be an early bird, and that's especially true at the Uffizi: the world's greatest treasure trove of Renaissance art. If you're in early enough and plan your visit carefully, you might get Botticelli's 'Birth of Venus' pretty much to yourself. That's one of the hundreds of iconic pieces in the Uffizi's long, horseshoe-shaped building: you'll need three hours just for the unmissables.
2
Ogle Europe's most gorgeous skyline
It may be thronged with sightseers, tat stalls and buskers, but the Piazzale Michelangelo – across the river in the Oltrarno district – is one of a few places where you can soak up the whole stunning sweep of Florence in one go. From the old city wall in the west to the Duomo, the Arnolfo Tower of the Palazzo Vecchio and the Uffizi across the river, it's an unforgettable panorama. Take pictures, and lots of them.
3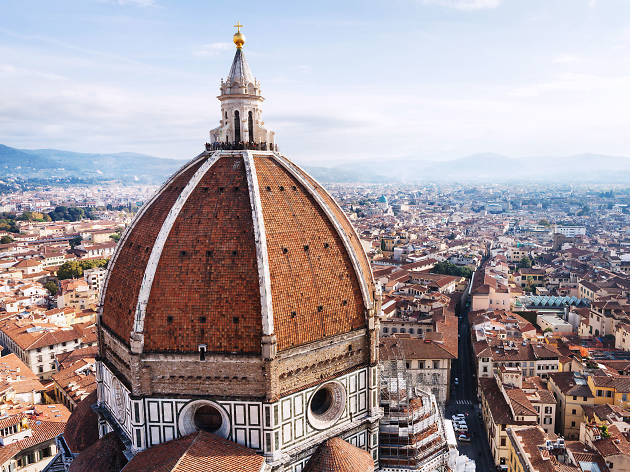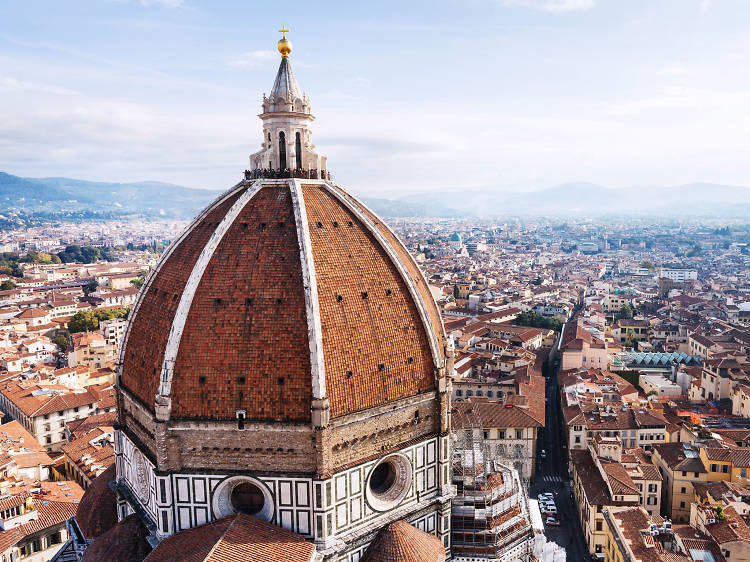 Climb the Duomo (twice)
The Cathedral of Saint Mary of the Flower, better known as Il Duomo di Firenze, is famous for its massive dome – the largest in the world until 1881. If you don't mind 463 steps and some tight spaces, clamber up inside for a great view of the city from the lantern at the very top: the highest point in central Florence. If you're not yet out of puff, then the adjacent Giotto's Campanile (bell tower) offers another spectacular view and a great perspective on the Duomo itself.
4
Haggle for some fresh Tuscan food
Stroll over to the San Lorenzo district, dodge the trashy stalls of the San Lorenzo market and instead duck inside the nineteenth-century Mercato Centrale for two floors of foodie catnip. Ground level is a conventional marketplace with vendors selling wine, fruit, meat, fish, cheese, oil and spices, while the upstairs food court is a handy stop-off for breakfast and coffee or snacks and an aperitivo at – shock, horror – decent prices.
5
Make a date with David
One of Florence's many contradictions: though there are more historic works of art in the Galleria dell'Accademia than you'll find in most entire cities, the queue that forms outside every day is here for one thing only. David stands seventeen feet tall, and he's been endlessly replicated and parodied since the 26-year-old Michelangelo carved him out of a single hefty block of marble 500 years ago. Wait in line and check out his famous curves in person. He's worth it.
6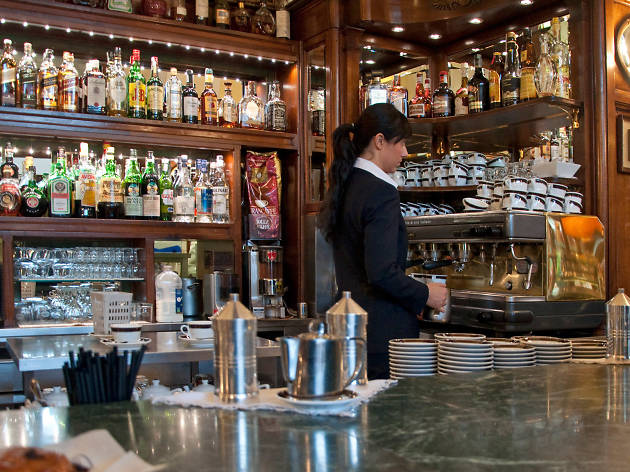 Shop and eat in the old Italian style
In this city where some things never change, there are plenty of businesses still doing things the old way. Visit Da Nerbone, in business since 1872, for an affordable and authentic Tuscan lunch of tripe rolls in the Mercato Centrale. Or stop by Caffé Gilli for coffee and pastries in a swanky, classic setting (with prices to match). It's been in business since 1733, so they must be doing something right.
7
Dine al fresco…
Plenty of local restaurants spill out onto terraces, but there are a few which stand out from the crowd. The Enoteca Pitti Gola e Cantina has a piazza view of the Pitti Palace, the nearby Borgo San Jacopo overlooks the river and the Ponte Vecchio, and 4 Leoni has a quintessential trattoria terrace in Oltrarno. Book ahead if you can, to guarantee dinner with a view.
8
…or swim under the sky
Tourists and summer heat getting to you? Then head to one of the city's impressive outdoor pools. Piscina Comunale Costoli is the best – it's 50 metres long with separate pools for kids and diving, and the admission fee is reduced if you arrive after 3pm. There's also Spiaggia Sull'Arno, a picturesque urban beach on the river with DJs and beach yoga. All that's missing is the sea.
9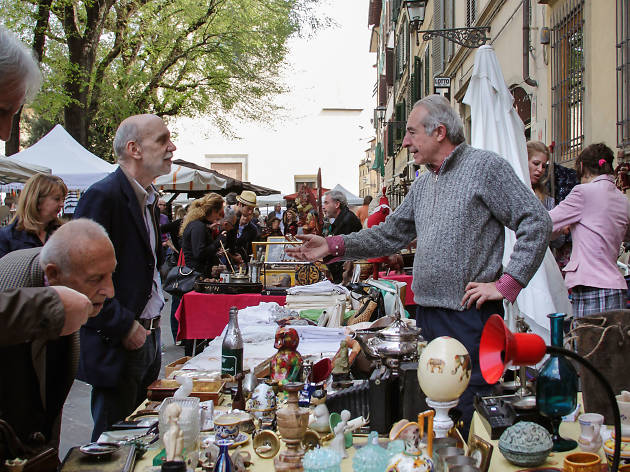 Unwind in the Piazza Santo Spirito
Florence is full of stunning public squares, but what with all the sightseers, not many will give you a proper taste of the city's real cosmopolitan life. For that, cross the river to the bohemian Piazza Santo Spirito: home to a proper street market and bars and restaurants full of locals. Pop into the church for some peace and quiet, or sit on the steps and people-watch.
10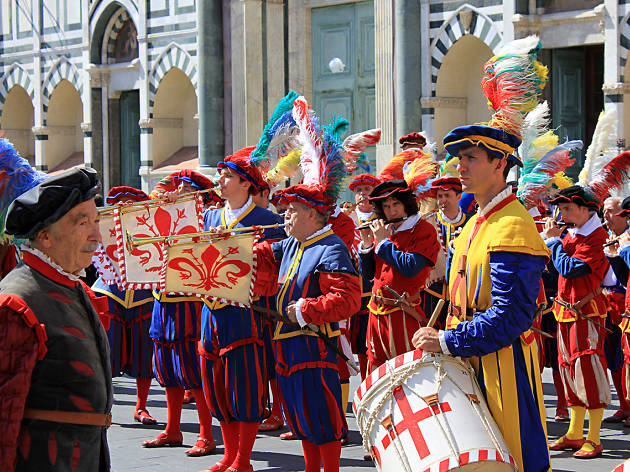 Join in the St John the Baptist celebrations
Most Italian towns go a bit mad for their patron saint's day, and Florence is no exception. If you're visiting on June 24, be prepared for anything from parades in historic dress to medieval football matches, boat races, bonfires and a night marathon, and of course a fireworks display over the river – all in the name of San Giovanni. That's the kind of religion we can get along with.
Show more
Discover more great travel destinations