Here Comes Honey Boo Boo!
Tue May 14, 9-9.30pm, TLC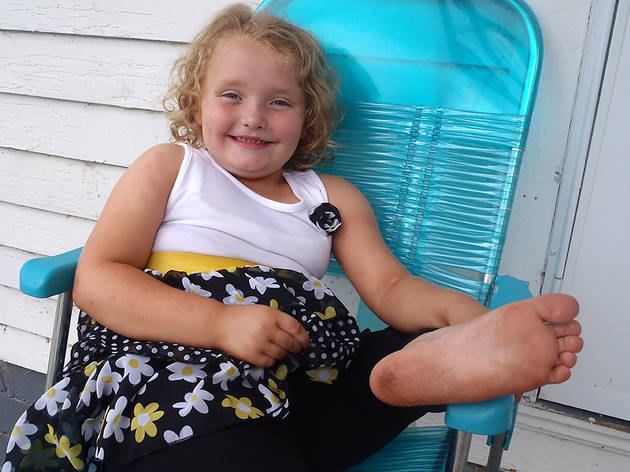 Series one, episode one
Woah! Some proper end-of-days stuff here. In centuries to come, when historians ponder the decline of the American empire and the vulgarising, stupefying effects of Late Capitalism, this will be the kind of thing they cite as symptomatic.

This is reality TV as grim parable. The dysfunction levels are turned up to 11, but with exploitative rather than cautionary intentions. The show focuses on the Thompsons of McIntyre, Georgia. They breakfast on cheeseballs and energy drinks. They enter beauty pageants. They attend the Redneck Games ('like the Olympics but with lots of missing teeth and buttcracks showing'). They think that farting 12-15 times a day will help them lose weight. And the whole deal is orchestrated for maximum, point-and-stare, freak show effect.

Certain TV phenomena work because of their car-crash compulsiveness. But this is one of those car crashes with shin bones sticking out of legs and entrails hanging out of chests and children crying for their dead mothers. The kind of thing you can't forget but wish you'd never seen.
Sponsored listing
Bars and pubs
Recommended
Bloomsbury Club Bar
With a twinkly, cosy, vine-clad terrace beckoning us into The Bloomsbury Club bar from the street, I was taken aback by the frosty manager who said there'd be no space – outside or in – for me and my friend for at least two hours. Perhaps we weren't as preened as the average punter. But on a detour (okay, snoop) around the rest of the hotel we found the indoor section of the bar, where seats were offered up by more friendly waistcoated staff. I'm so glad we persevered. Wood-panelled and dressed to the nines, The Bloomsbury Club oozes plush appeal: English gent's club meets library, the cabinets filled with booze rather than books. The analogy is apt, as the bar takes its inspiration from the group of writers and artists who hung out together in this area in the early twentieth century. There's a drink named after each of the Bloomsbury Set's ten core members, so you can sip on a Virginia Woolf or a Duncan Grant (a gorgeous whisky drink with a maraschino sweetness). The room is decked out with chesterfield armchairs, punctuated by modern, teal velvet stools. A semicircle of high-backed chairs rings the bar, a prime spot where I was able to soak up the expert mixology while peering at a jazz duo twanging at the foot of the room. So plan ahead if you want a seat in one of the leaf-covered alcoves on that alluring terrace. But don't be disheartened if it's full – the indoor bar is the real deal.
Venue says: "This summer our outside bar will be transformed into a Palm Terrace in partnership with Diplomático rum. Very exciting! Join us from June 22"
You might also like