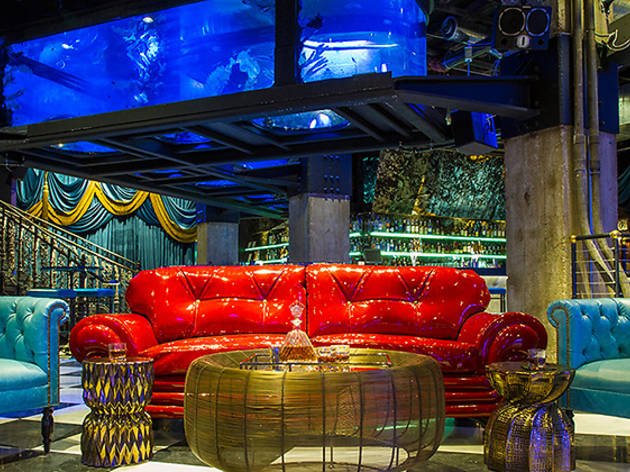 1/11
Photograph: Courtesy Mrs. Fish
Mrs. Fish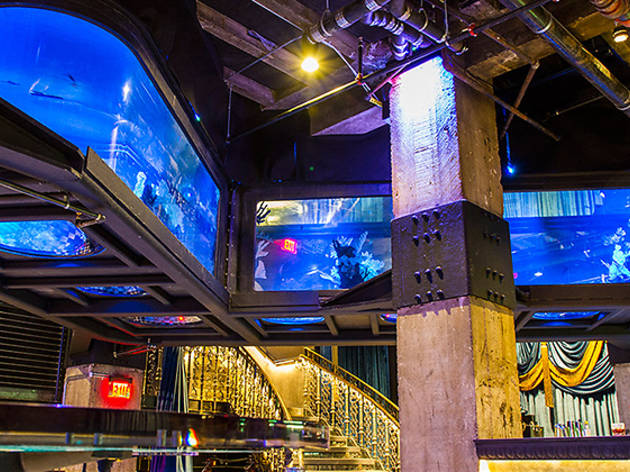 2/11
Photograph: Courtesy Mrs. Fish
Mrs. Fish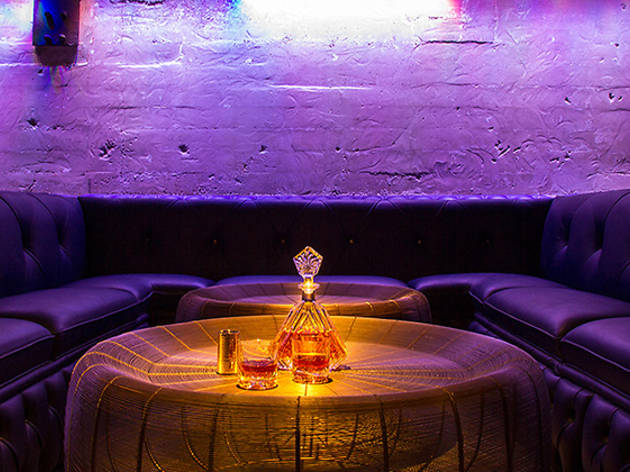 3/11
Photograph: Courtesy Mrs. Fish
Mrs. Fish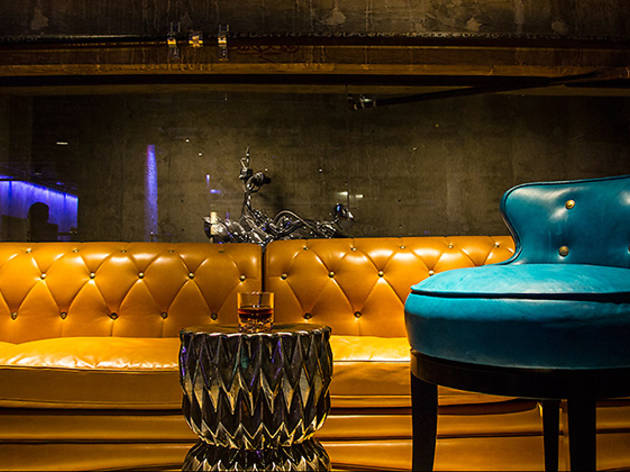 4/11
Photograph: Courtesy Mrs. Fish
Mrs. Fish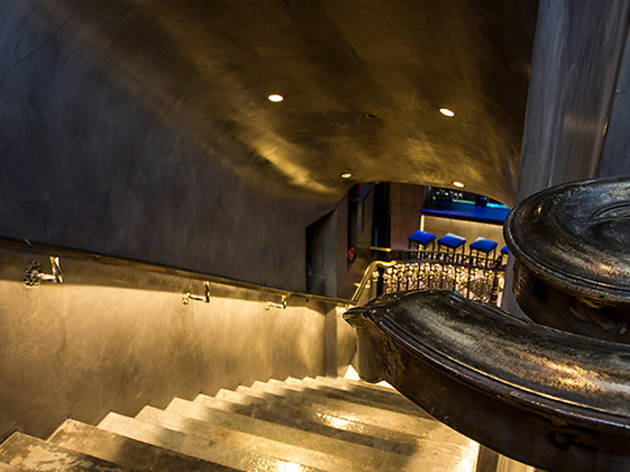 5/11
Photograph: Courtesy Mrs. Fish
Mrs. Fish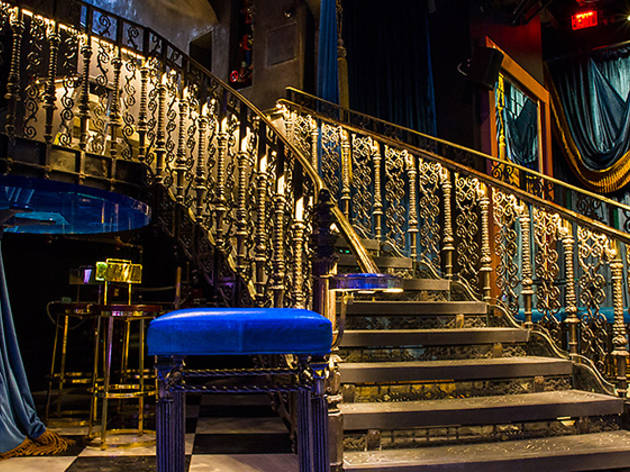 6/11
Photograph: Courtesy Mrs. Fish
Mrs. Fish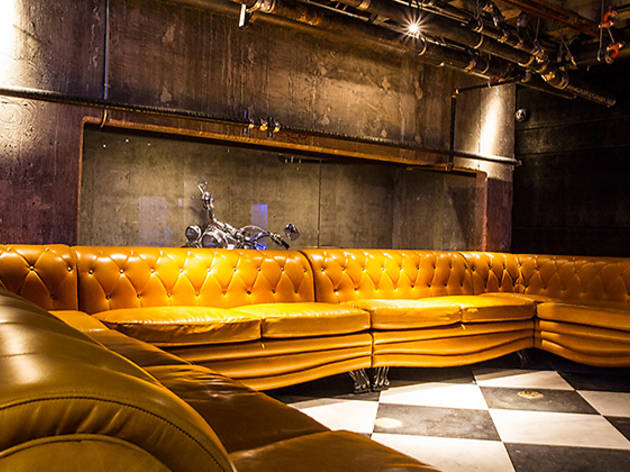 7/11
Photograph: Courtesy Mrs. Fish
Mrs. Fish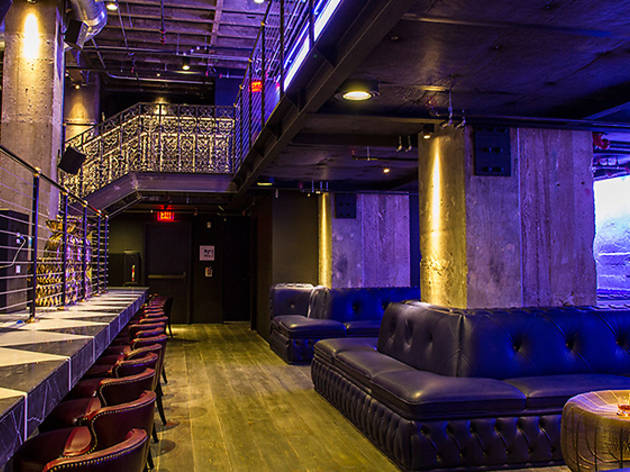 8/11
Photograph: Courtesy Mrs. Fish
Mrs. Fish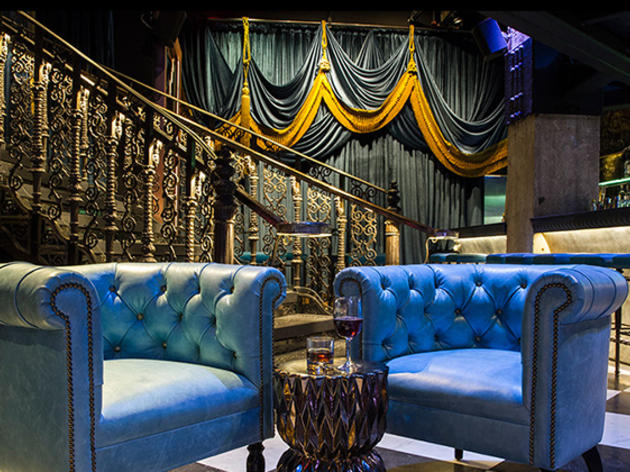 9/11
Photograph: Courtesy Mrs. Fish
Mrs. Fish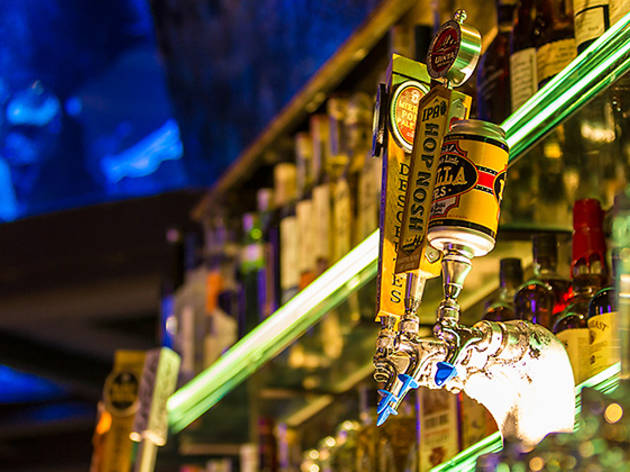 10/11
Photograph: Courtesy Mrs. Fish
Mrs. Fish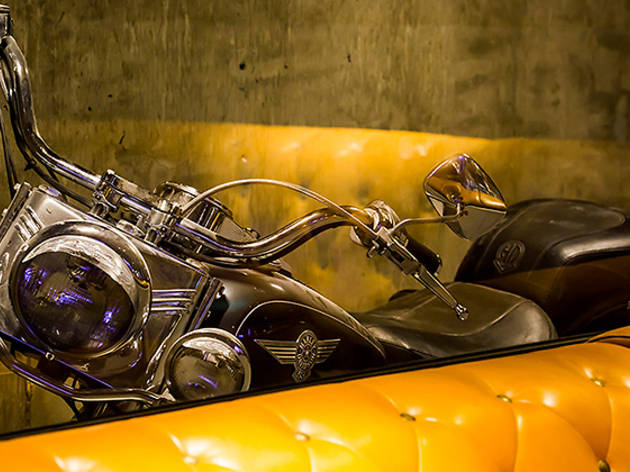 11/11
Photograph: Courtesy Mrs. Fish
Mrs. Fish
Gaudy, overpriced and serving up drinks drowning in sugar, Mrs. Fish flounders Downtown.
Brought to you by the creators of Perch, Mrs. Fish is a new underground aquatic nightmare lodged in the same building as its rooftop predecessor. Rather than taking the elevator up to breathtaking DTLA views, however, the basement-dwelling Mrs. Fish is accessed via an outdoor entrance, complete with velvet ropes and stone-faced security detail to ensure a false sense of exclusivity.
As you descend the staircase, you enter a bizarre, cavernous space bathed in blue light, some emanating from a large overhead fish tank that is clearly the bar's focal point. Given the bar's name, it makes sense. Beyond that, not much else does. A Harley Davidson is inexplicably encased in glass. Brightly-colored, shiny vinyl furniture dots the black and white checkered floor, and industrial-chic concrete walls are draped in gaudy velvet curtains straight from the mind of an early 2000s set dresser. In fact, the entire interior bears an uncanny resemblance to the set of an MTV hidden camera show. Have you been Punk'd?
Vitals
Good for: Celebrating your 21st birthday (or your new fake ID) with sugary, overpriced "mixology" cocktails carefully crafted to the discerning palates of sorority girls. Ditch the Malibu and Smirnoff Ice, don your most sparkly tiara and get ready to party with the dozens of slithery suited men who came here trolling for you after work.
The scene: Originally slated as a "rock and roll" bar, Mrs. Fish feels an awful lot more like a nightclub. Live bands perform nightly on a stage in the center of the space which, as one hostess told us, apparently fills to capacity and gets "pretty crazy" on weekends—a horror we will thankfully have to take her word for. Food is served all night and comes in miniscule, what-the-fuck-inducing portion sizes, like the "Tuna Buoy," a four-piece serving of mediocre sushi that will set you back $15. The namesake aquarium, while initially alluring, offers a disappointing selection of marine life. The least they could do is provide a shark tank for you to hurl yourself into when it all becomes too much.
The playlist: During our visit, a bluegrass duo (complete with harmonica) gave way to a jazz ensemble featuring an awkwardly sensual sax man. In addition to having three live bands a night, we're told DJs are also a regular fixture.
Bartender says: "Do you want me to make you something else?" Not really, but I'll accept your earnest attempt to right these crimes against alcohol and take that whiskey sour. Even if you still charge me for the syrupy Vieux Carre ($14) you just threw out.
Drink this: Is there a polite way of saying "nothing?" Well, we're way past that now, so here goes. Sugar seems to be the common bond throughout Mrs. Fish's cocktail menu, manifesting itself in various candy-colored hangover recipes like the Chilean Breeze ($13), which masks pisco, cucumber and lime with an aggressive helping of agave syrup and jalapeño, and the Poolside ($13), a pale pink monstrosity made with gin, grapefruit juice, coconut puree and elderflower cordial topped with Champagne and a plastic mermaid. We compared the flavor to perfume, cotton candy and coconut soap before settling unanimously on "children's bubble bath." The rest of the menu reads like a series of bad decisions from your sophomore spring break, with innovative touches like vanilla-flavored Stoli and OJ adding a sophisticated flair that somehow justifies each $12-$14 price tag. We'd say opt for beer, but at $8 a pop, you're better off coming up for air.
Venue name:
Mrs. Fish
Contact:
Address:
448 S Hill St
Los Angeles
90013

Opening hours:
Wed 5pm-midnight; Thu-Fri 5pm-2am; Sat 6pm-2am
Do you own this business?