In the House: movie review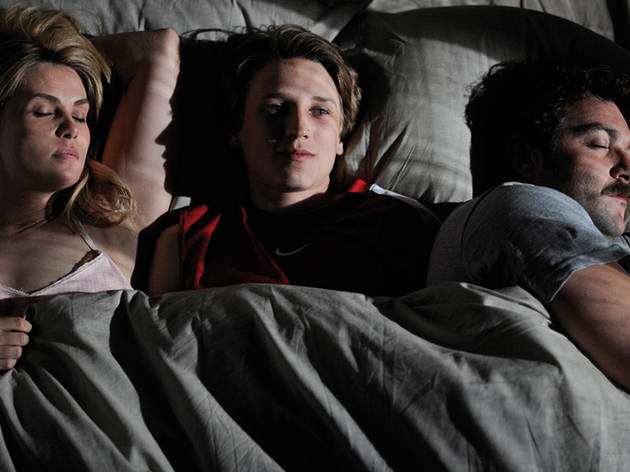 Jaded high-school literature teacher Germain (Fabrice Luchini) becomes fixated on his only student with writing ability, a blond recluse named Claude (Ernst Umhauer) who submits serialized, allegedly true accounts of his devious infiltration into a friend's loving suburban home. Germain becomes so vicariously enthralled by Claude's narrativ—which comes to involve illicit relations with Emmanuelle Seigner's idled mom, natch—that he oversteps his ethical bounds, putting both his job and marriage to an art dealer (Kristin Scott Thomas) at risk.
If nothing else, François Ozon seems reenergized by the puppet-master possibilities afforded by this story-within-a-story setup, emphasizing the source material's theatricality (Juan Mayorga's 2006 play El Chico de Última Fila) while spiritedly calling his own methods into question. The prolific French filmmaker has trodden this ground before (the familial perversions of Water Drops on Burning Rocks; the inchoate intergenerational desire of Swimming Pool), yet such meta-textual playfulness comes at the expense of persuasive human interactions. Characters seem less entrapped by their desires than by plot necessities—a fact that's not redeemed by Ozon's winking self-awareness. It doesn't help that the film's satirical targets are strictly standard issue, from the crumbling facade of middle-class contentment to a precociously creepy only child. Luchini's dependable deadpan goes a long way toward making the puzzle pieces snap pleasingly into place, but as with most such endeavors, In the House is about its own construction and nothing more.
Follow Eric Hynes on Twitter: @eshynes
Release details
| | |
| --- | --- |
| Rated: | R |
| Duration: | 105 mins |
Cast and crew
Director:
François Ozon
Screenwriter:
François Ozon
Cast:
Fabrice Luchini
Kristin Scott Thomas
Ernst Umhauer