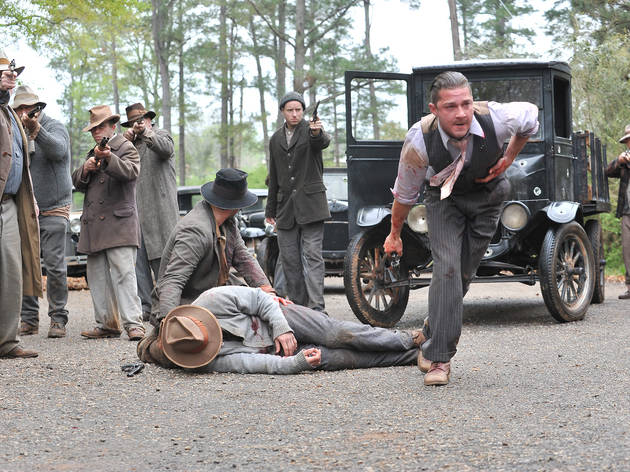 Bland is an odd word to describe anything relating to moonshine, but it's an apt description for this generic bootlegging saga, a lively but forgettable romp through Prohibition-era backwoods Virginia and the colorful thugs who made a mint with their rotgut. The Eighteenth Amendment turns the Bondurant boys—stoic tough-guy Forrest (Tom Hardy), volatile drunkard Howard (Jason Clarke) and impressionable youngster Jack (Shia LaBeouf)—into instant outlaws, pitting them against dirty vice cops demanding a cut of the profits from their now-illegal distillery business. Add boilerplate rhetoric about legal overreach, sprinkle in libertarian values, pepper with gunfire and mix well.
Despite its fish-in-a-barrel self-righteousness, the film's saving grace is a top-shelf group of character actors, including Hardy (grunting out a po-boy accent with Bane-like indecipherability), Gary Oldman as an effortlessly menacing gangster and Guy Pearce, whose deliciously corrupt Fed may be the most dandified G-man ever. Their sporting swaggers are the only reasons Lawless might make an audience tipsy, since too-earnest, ever-furrowed-browed LaBeouf only adds a quickly sobering numbness to the drama.
More startling is that such unremarkable craftsmanship came from the hands of director Hillcoat and screenwriter-musician Nick Cave, who have previously teamed up for distinctly indelible works such as The Proposition. Even the soundtrack is mostly on-the-nose jug-band hokum, except for one cue: a searing old-timey version of the Velvet Underground's "White Light/White Heat," courtesy of octogenarian bluegrass legend Ralph Stanley. If the rest of the movie had the same energy, spontaneity and soul, it would have been more potent than 190-proof hooch.
Release details
| | |
| --- | --- |
| Rated: | R |
| Release date: | Wednesday August 29 2012 |
| Duration: | 115 mins |
Cast and crew
Director:
John Hillcoat
Screenwriter:
Nick Cave
Cast:
Gary Oldman
Tom Hardy
Guy Pearce
Shia LaBeouf