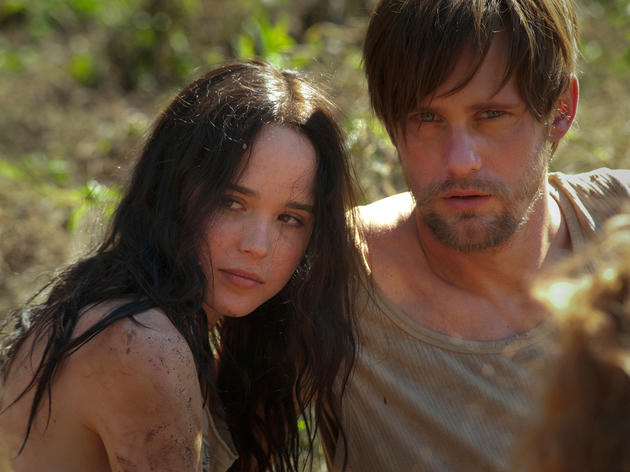 Brit Marling, the mile-a-minute thinker at the heart of the ominous indie spy thriller The East, probably won't find a comfortable niche in Hollywood. Even in her quieter moments with Richard Gere in last year's Arbitrage, she refused to simply be seen; there was always a nervy edge to her. Fortunately for us, fitting in doesn't seem to be the plan. Marling's too good at cowriting and producing her own scripts, in which she shows a geek's interest in cults and sci-fi weirdness. In a perfect world, this unclassifiable talent would be the new fringe-friendly It girl, rather than Greta Gerwig.
Collaborating again with Zal Batmanglij, her director on the apocalyptic-minded Sound of My Voice (2011), Marling plunges deep into the part of a driven private intelligence agent—one who wouldn't stop to smile at James Bond. The way The East roughs out her character, Sarah, in economic strokes is a pleasure in itself: She keeps a puppyish boyfriend in the dark about her work. At bedtime, she prays to Christ for strength. And in a wonderful scene of female toughness, Marling goes step for step with razor-tongued Patricia Clarkson in a job interview that turns out well, despite some arrogance. For her pains, Sarah is handed a new pair of Birkenstocks.
The East turns out to be about eco-activists: not the Phish-loving, hacky-sacking kind but a scarier species that would turn the sin of pollution on an oil exec's house, or lace drug manufacturers' champagne with their own faulty pharmaceuticals. They call themselves the East. Smile, if you like, at the notion of a Fox-funded movie about evil radicals, but don't dismiss it: The story goes to a more thoughtful place than you'd imagine. After dying her hair Hippie Dirty Blond and drifting with a bunch of train-hopping false leads, Sarah is suddenly in with the pursued group itself, at a desiccated mansion in the woods where her front will be tested.
It's during this middle section, taut with long stares and the gamesmanship that comes with being one step ahead (or are we?), that the film really takes off. Playing to her shifty strengths, Marling is in her element, but there's also vivid work from Alexander Skarsgård as the sect's intense, handsome leader and Ellen Page, born to flip out over upcoming "jams." Scenes of bizarre indoctrination are becoming a Batmanglij forte (Sound of My Voice had cinema's most elaborate secret handshake), and Sarah almost blows her gig during a dinner at which she's not hip to the group's eating customs.
Eventually it's go time, and if The East loses a little steam on the grounds of action mechanics (a skill these plots always require), it's never dumb on the subject of covert allegiances. Coming in our moment of recent domestic terror, the movie has a boldness in diving into the whys of political violence. These activists aren't clowns, even if they sometimes bicker like a disorganized family. And kudos to all involved for arriving at a hard-won wisdom of spycraft, something you wouldn't expect from the Sundance crowd: The watchers always have skin in the game.
Follow Joshua Rothkopf on Twitter: @joshrothkopf
Release details
Rated:
PG-13
Release date:
Friday May 31 2013
Duration:
116 mins
Cast and crew
Director:
Zal Batmanglij
Cast:
Ellen Page
Alexander Skarsgard
Brit Marling