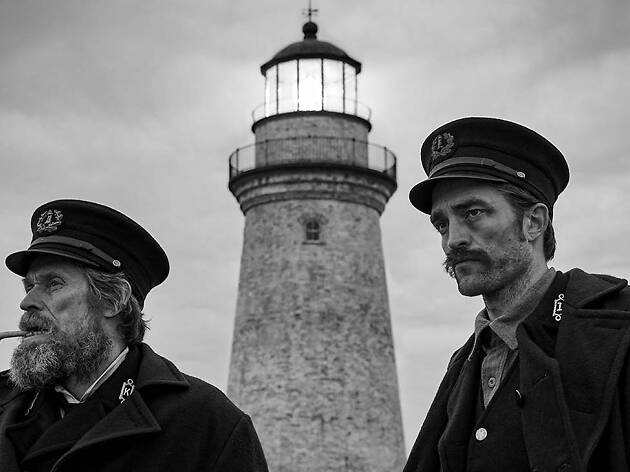 Time Out says
Director Robert Eggers's first film after The Witch is a swirling descent into madness that takes your breath away.
You can almost taste the salt on your lips in the new psychological horror film from The Witch's Robert Eggers, one that will leave even the sturdiest of sea legs shaking. It's a two-handed chamber piece about a pair of lighthouse keepers living on a remote island off the New England coast at the turn of the 20th century and it's lit up by mesmerizing performances by Robert Pattinson and Willem Dafoe.
Dafoe is Tom Wake, an old sea dog with a clay pipe jutting from his thick beard and the chief "wickie" of the lighthouse. He's an amalgam of clichés (which the script wittily acknowledges, including his peg-leg), and he loves gin, sea shanties and cooking lobster. Pattinson plays ex-logger Ephraim Winslow, recently arrived from Canada. He's the strong and silent type who seems to have a skeleton or two in his closet.
Both are men's men—the quarrelsome, petty, tobacco-chomping variety. Dafoe and Pattinson deliver the script (by Eggers and his brother Max) with incredible pathos, sounding like characters who have slipped from the pages of Melville's Moby-Dick. The dialogue is packed with the sort of withering insults worthy of In the Loop's Malcolm Tucker, and they lash like a hailstorm.
Dafoe has a long-established reputation but, for many, Pattinson remains that guy from Twilight, despite sterling work with the likes of David Cronenberg, James Gray and Claire Denis. Those films showcased his talents, but Eggers draws something new from the actor. Pattinson's performance will make you sit up in your seat.
Meanwhile, life on the island isn't going well. Wake barks orders constantly, putting down Winslow at every opportunity. To find personal relief, Winslow heads to the outside store-shed, a small sculpture of a buxom mermaid in one hand, and in the other…well, you get the picture. Soon things start to take a bizarre turn, as Wake insists on taking the nightly "dread watch" and becomes tetchy when Winslow asks to see the lighthouse's lamp. What comes next, set to a mind-spinning score and sound design by Mark Korven, almost defies belief (it's too good to ruin here).
The desolate, lonely environment of the island is captured beautifully in squid-ink blacks and storm-cloud grays, all shot in a boxy 4:3 ratio. There's a vintage horror feel, both embracing conventions of the genre and defying them. Sometimes you'll wonder if you're watching a horror film at all. The Lighthouse leaves you dazed, terrified and elated, and it signals Eggers as one of the most exciting new directors working today.
Details
Release details
Cast and crew
Director:
Robert Eggers
Screenwriter:
Robert Eggers, Max Eggers
Cast:
Willem Dafoe
Robert Pattinson

Users say