Transformers: Age of Extinction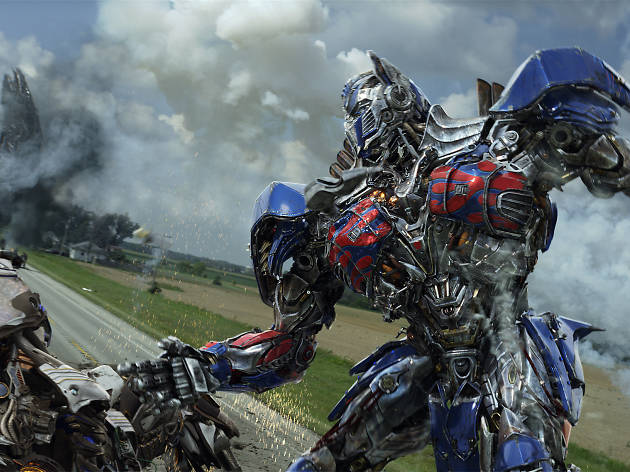 Time Out says
Michael Bay, a filmmaker whose style is better known than that of any other working artist on the planet, tried to make a real movie in 2013: the underrated Pain & Gain, a Miami crime comedy with actual performances and a nastier satirical bite than even The Wolf of Wall Street. He got mocked for it. So it feels like Bay has returned to his normal beat—big robots, explosions and tush shots—with a vengeance and a chip on his shoulder, as if to say: Fine, here's nearly three hours of what you expect from me. Choke on it.
The problem (or maybe it's a virtue) with an uninhibited Michael Bay and Transformers: Age of Extinction, the fourth in the series, is that, despite deadening our senses with spectacle, it's impossible for a director this committed to visual fireworks not to pull off a megablast once in a while. The action is cut cleaner here than in any other picture Bay's done. 
And as his king Autobot, Optimus Prime (still voiced by Peter Cullen), whirls down highways in a blaze of metal or sends puny humans tumbling through the air only to be caught at the last second, Bay is often coming up with genius shots, perhaps at the expense of logic.
We could tell you a bunch of boring plot stuff, about how Shia LaBeouf is gone, making way for Mark Wahlberg's struggling Texas inventor, Cade Yeager, a widower with a teenage daughter (Nicola Peltz, much ogled by the camera). Or about how the evil CEO of an Apple-like tech giant (Stanley Tucci) has plans to make his own robots. Or that most of the destruction takes place in China, a country with a financial stake in the movie's bottom line. But what matters to Bay are fluttering American flags, sentimental sunsets and actors rappelling across the Chicago skyline as mechanical dogs chase them. You're either awestruck, dumbstruck or just plain struck in the face.
Follow Joshua Rothkopf on Twitter: @joshrothkopf
Details
Release details
Rated:
PG-13
Release date:
Friday June 27 2014
Duration:
165 mins
Cast and crew
Director:
Michael Bay
Screenwriter:
Ehren Kruger
Cast:
Nicola Peltz
Mark Wahlberg
Stanley Tucci

Users say