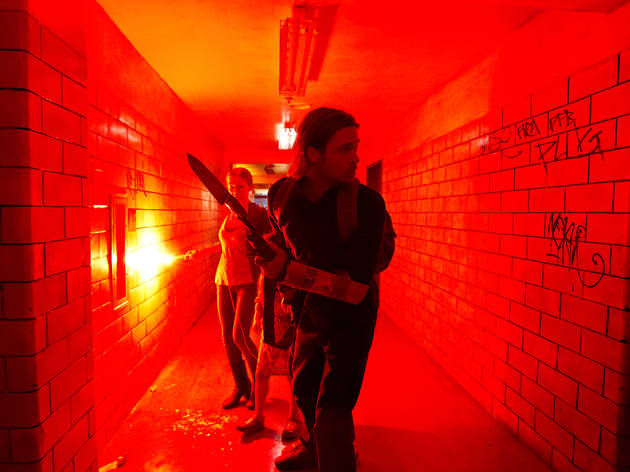 It begins with a traffic jam, one in which ex–U.N. investigator Gerry Lane (Brad Pitt) and his family are stuck as they try to wind through Philadelphia's streets. Then, out of the blue, the not-usual-for-morning-rush-hour oddities start up: Rude motorcycle cops, runaway garbage trucks, the occasional manic zombie leaping high into the air and pouncing on a fleeing passerby. Anyone who's read Max Brooks's 2006 fake oral history about a global human-versus-undead stand-off would recognize these scenes of urban carnage from the book's scattershot testimonials. But to actually see the chaos, the panic and complete lack of crowd control depicted with the ferocious intensity that director Marc Forster (Finding Neverland; no, that's not a typo) gives these sequences is unnerving; this muddled, flailing survivalist epic is at its best when it goes huge, capturing wave after wave of rabid, chomping bodies from on high as they surge en masse through public spaces like fire ants swarming over carrion. Add in a soundtrack full of ominous droning and some Dawn of the Dead sleazy-keyboard noddling, and by Romero, we've got ourselves some seriously overwhelming spectacle.
The decision to turn World War Z's narrative from a Studs Terkel–like patchwork of postwar recollections into a star vehicle that whisks Pitt from one infected locale to the next was undoubtedly a necessity to mount a film of this size, as was the notion of never showing gory headshots, amputations, etc. despite the fact that we now reside in the Walking Dead splatter-TV era. (Gotta make that PG-13 rating, folks.) None of that excuses the fact, however, that once Saint Brad is sent on his mission to help locate the source of this pandemic, the movie essentially becomes little more than cool set pieces—a siege on a walled-off Israel, a plane flight that gets a little bitey—jammed together and interspersed with underdeveloped family-strife scenes. We get that this fight has got to be personal as well as global, but you need more than cutting to The Killing's Mireille Enos mooning about on a ship to adding layers of humanity to the mix.
When the movie goes from macro to micro via an extended, unbearably tense third act involving a laboratory, a who's who of international character actors and some deadly pathogens, the reduction to a single setting/single goal feels impressively focused. Or, concurrently, like a great short has just been tacked on to a larger, unwieldy blockbuster now desperately grasping at straws. After that, the film doesn't so much end as power down, rushing through montages of fighting and flaming creatures only so it can abruptly culminate in the most awkward freeze-frame in recent memory. Really? Go big or go home, they say; World War Z picks the wrong choice for its slow fade-out, and, instead of leaving you in fear of being chomped upon as you exit the theater, makes you feel enraged that you've been more than a little cheated.
Follow David Fear on Twitter: @davidlfear
Release details
| | |
| --- | --- |
| Rated: | PG-13 |
| Release date: | Friday June 21 2013 |
| Duration: | 115 mins |
Cast and crew
Director:
Marc Forster
Cast:
Brad Pitt
James Badge Dale
Matthew Fox