25 coolest summer music festivals around the world 2013
Your guide to summer music festivals in Europe, around the U.S. and across the globe.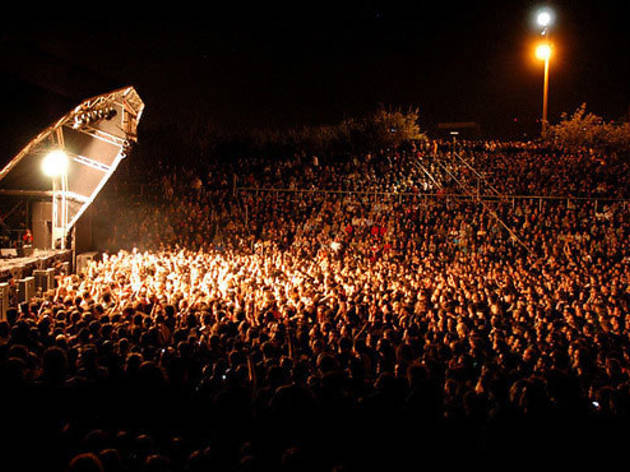 1/25
May 22–26 Primavera Sound (Barcelona) Headliners: Phoenix, the Postal Service, Blur, the Jesus and Mary Chain, Nick Cave & the Bad Seeds, My Bloody Valentine, the Knife, James Blake, Animal Collective, Grizzly Bear, Tame Impala, Wu-Tang Clan As far as international music festivals go, this one is pretty much unbeatable. Not only is it right on the coast of the Mediterranean, with a superb view and the weather flawless, but it's well run and sports a brilliant lineup. The 13th edition boasts top-billed acts with new albums (My Bloody Valentine, Nick Cave & the Bad Seeds, Phoenix) and reunited groups on the comeback trail (Blur, the Postal Service, Dexys Midnight Runners). A huge haul of underground outfits from Europe, the U.S. and, increasingly, Africa make up the rest of the exceptional bill. primaverasound.com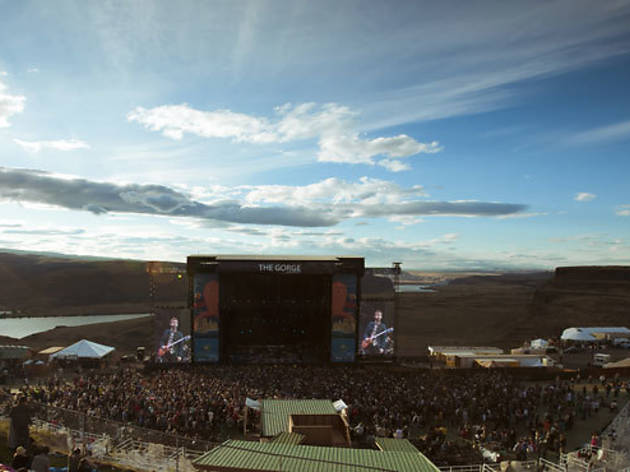 2/25
Photograph: Christopher Nelson
May 24–27 Sasquatch! Festival (Quincy, WA) Headliners: Mumford & Sons, the Postal Service, Sigur Rós, Macklemore & Ryan Lewis, Vampire Weekend, the xx, Elvis Costello and the Imposters, the Lumineers, Arctic Monkeys, Primus 3D, Bloc Party Sasquatch!, held at the Gorge in Quincy, Washington, is worth the trek, no matter your starting point (it's about a three-hour drive from Seattle). The venue's natural vista is one of the more gorgeous places to take in a band, especially a widescreen shimmery act like Sigur Rós. Besides the requisite anthemic folkies (Mumford & Sons) and indie-popdarlings (the Postal Service, Vampire Weekend, the xx), the lineup features plenty of niche genres to investigate, including up-and-coming hip-hop (Earl Sweatshirt, Danny Brown), aggro punk (Death Grips), hazy electronica (Baths) and even various joke tellers (Parks and Recreation star/noted woodworker Nick Offerman). sasquatchfestival.com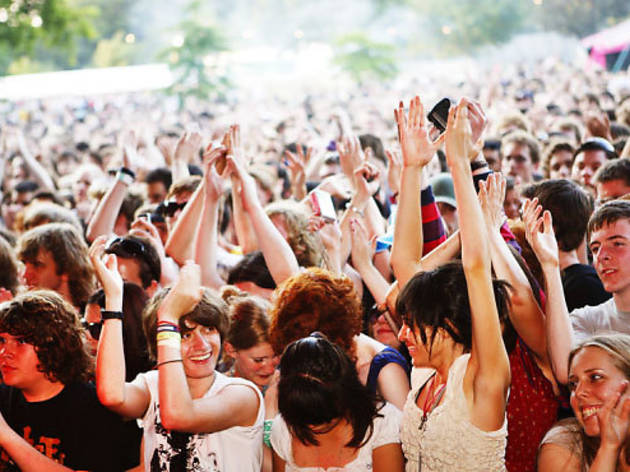 3/25
May 25 Field Day (London) Headliners: Animal Collective, Bat for Lashes, Solange, Tim Burgess, Everything Everything, Four Tet, Fucked Up, Savages, Palma Violets, TNGHT, Daphni, Django Django, Kurt Vile, Disclosure, Chvrches The left-field single-day fest returns for its seventh year. Field Day has become known for its triumphantly eclectic choice of underground as well as established talent, such as this year's hip double-bill toppers: Baltimore-based postpsych innovators Animal Collective and beguiling pop singer Natasha Khan, a.k.a. Bat for Lashes. Recent additions to the lineup include Solange— doing her best to step out of the shadow of her big sister, Beyoncé—rising guitar-wielders Savages and Palma Violets, the heavy sounds of Toy and Metz, and alternative icons Kurt Vile and John Cooper Clarke. fielddayfestivals.com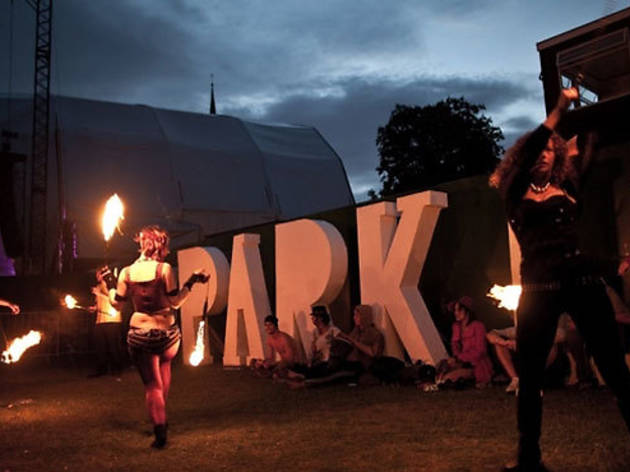 4/25
Photograph: Sebastian Matthes
June 8, 9 The Parklife Weekender (Manchester, U.K.) Headliners: Everything Everything, Four Tet, Johnny Marr, Simian Mobile Disco, Disclosure, Joey Bada$$, King Krule, Liars, Iggy Azalea, Jamie Jones, Julio Bashmore, Rudimental, the Horrors No, not a Blur tribute festival but a huge two-day offering from a top-notch Manchester production team featuring a sterling mix of DJs and bands that leans more toward dancier endeavors—evidenced by the addition of beat bigwigs like Jamie Jones, Four Tet, Maya Jane Coles and Scuba—but also with some cracking guitar-wielding antics from the likes of the Maccabees, Liars and the Horrors. The event has also moved to a new location, the mammoth Heaton Park, several miles north of Manchester city center. parklife.uk.com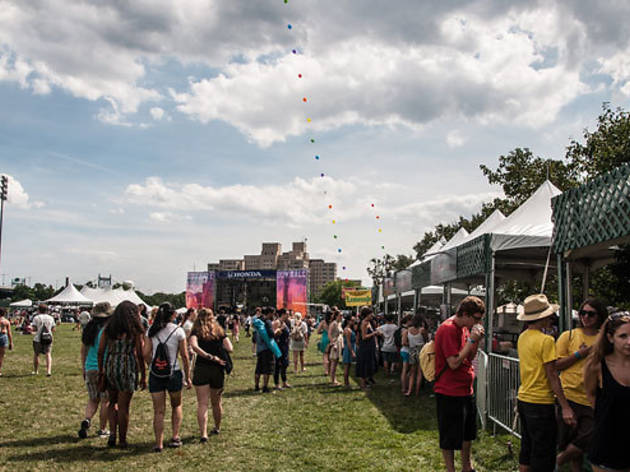 5/25
Photograph: Loren Wohl
June 7–9 Governors Ball (New York City) Headliners: Kanye West, Kings of Leon, Guns N' Roses, Animal Collective, Deerhunter, Nas, Grizzly Bear, Kendrick Lamar, Pretty Lights, the Avett Brothers, the xx, Feist, Beach House, the Lumineers Three years in, this multiday celebration has attracted a diverse lineup—especially its wonderfully weird trio of headliners. Kings of Leon kick things off on Friday night, but we're expecting things to get really interesting on Saturday and Sunday, when Guns N' Roses and Kanye West, respectively, take the main stage. Rounding out the bill are up-and-comers (Kendrick Lamar, Haim), established acts (Nas, the Lumineers), indie-rock royalty (Grizzly Bear, Feist) and many more. governorsballmusicfestival.com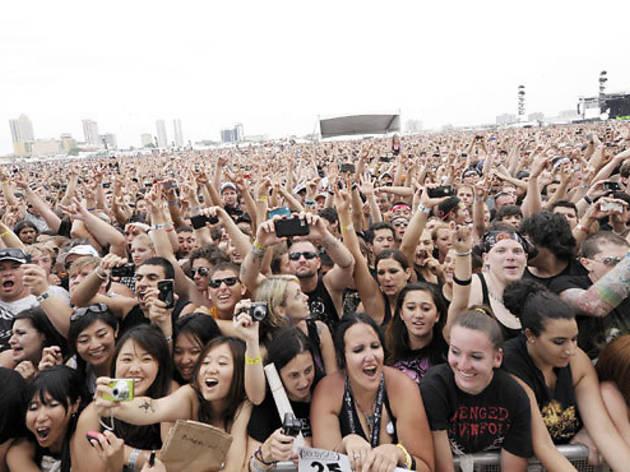 6/25
Photograph: Matt Ellis
June 8, 9 Orion Music and More (Detroit) Headliners: Metallica, Red Hot Chili Peppers, Rise Against, Deftones, BASSNECTAR, Dropkick Murphys, Gogol Bordello, Infectious Grooves, Rocket from the Crypt, FLAG, Silversun Pickups, Foals Heavy-metal big guns Metallica organize this weekend bash for the second year, this time moving the festivities from the Jersey shore to the Motor City. The quartet, headlining Sunday, curates a diverse, heavy-leaning lineup that also makes room for poppier guitar-based acts like Silversun Pickups and the Joy Formidable. Red Hot Chili Peppers top the Saturday night bill, which also corrals metal-funk throwbacks Infectious Grooves (featuring Metallica bassist Robert Trujillo) and Keith Morris–fronted Black Flag reunion FLAG. There's also plenty of nonmusical amusements to nerd out on, including a showcase of classic cars, a horror-movie expo and, for serious fans, a pop-up museum of Metallica memorabilia. orionmusicandmore.com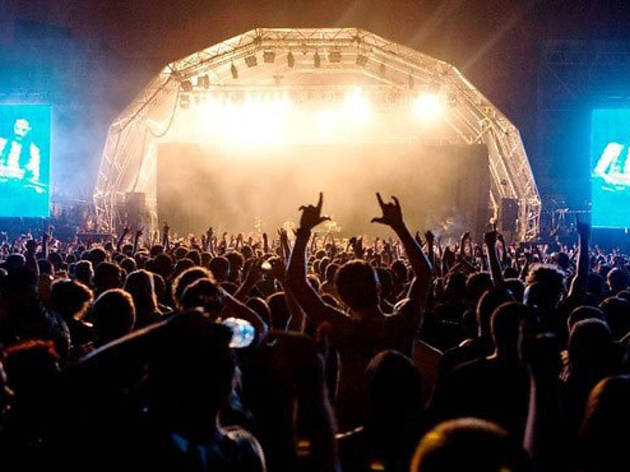 7/25
June 13–15 Sónar Barcelona (Barcelona) Headliners: Kraftwerk, Skrillex, Paul Kalkbrenner, Soulwax, Major Lazer, Laurent Garnier, Seth Troxler, Nicolas Jaar, Pet Shop Boys, TNGHT, Matthew Herbert, Derrick May, Darkstar, Bat for Lashes, Jurassic 5 Barcelona sure knows how to throw a party, as Sónar's formidable track record proves. Though its lineup policy has floated more toward the mainstream end of alternative dance music in recent years, its underground cred is very much intact and many still say it's the best dance festival on the planet. This year marks the event's 20th anniversary, and as always there's a huge program covering all corners of the electronic spectrum. Top-biller at this year's edition goes to German pioneers Kraftwerk— performing their 3-D greatest-hits show—U.K. pop duo Pet Shop Boys and populist dubstep DJ Skrillex. Sónar's daytime shenanigans have also found a new home, closer to the mammoth aircraft hangar that houses nighttime antics. Oh, and sunshine, cheap cervezas and numerous hotel-rooftop parties across the city help sweeten an already-very-sweet deal. sonar.es/en/2013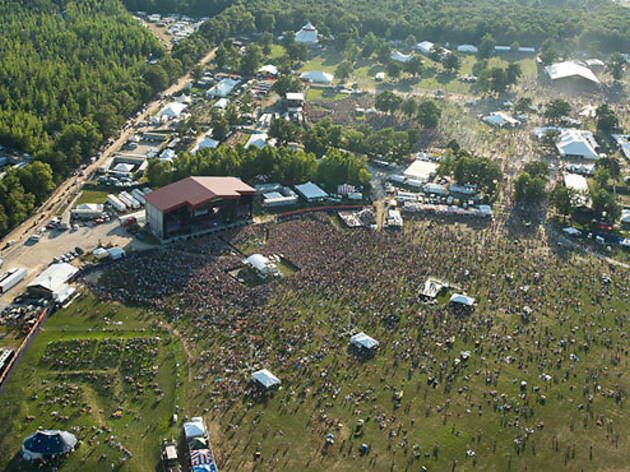 8/25
Photograph: C. Taylor Crothers
June 13–16 Bonnaroo (Manchester, TN) Headliners: Björk, Wu-Tang Clan, the xx, Kendrick Lamar, Animal Collective, A$AP Rocky, Paul McCartney, Tom Petty & the Heartbreakers, Nas, Four Tet, Death Grips, Ariel Pink, Django Django Four days of fun in the Tennessee sun with a supersized helping of ace bands playing? That's Bonnaroo. Soundtracking what's sure to be a scorching schedule is a range of acts covering everything from hip-hop to electronica, classic rock to pop, alt rock and lo-fi. It's all there, basically. Some of the many highlights include new hip-hop hope Kendrick Lamar, downtempo London trio the xx, offbeat nu-folk band Grizzly Bear and brilliantly angry East Coast rap legends Wu-Tang Clan. Worth a plane fare to Tennessee? Abso-bonnaroo-tley. bonnaroo.com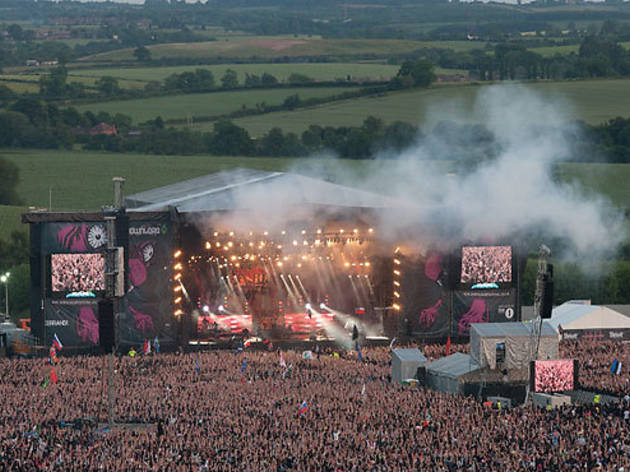 9/25
Photograph: Live Nation
June 14–16 Download (Leicestershire, U.K.) Headliners: Slipknot, Bullet for My Valentine, Korn, Down, Iron Maiden, Queens of the Stone Age, Motorhead, Alice in Chains, Mastodon, Rammstein, Thirty Seconds to Mars, the Gaslight Anthem There may be more metal festivals now than ever before but this is still the U.K.'s premier gig for the heavy stuff, drawing in every kind of hard-riffing group, whether it's rock behemoths or the latest thrash, screamo and emo acts. There's still no finer festival for dedicated headbangers. downloadfestival.co.uk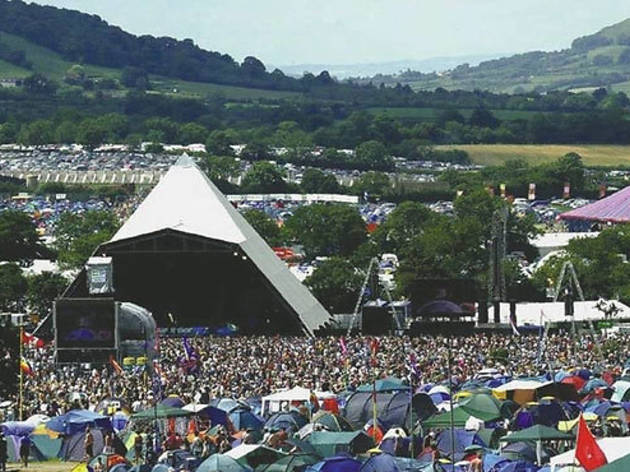 10/25
June 26–30 Glastonbury (Pilton, U.K.) Headliners: Arctic Monkeys, the Rolling Stones, Mumford & Sons, Dizzee Rascal, Primal Scream, Nick Cave & the Bad Seeds, Vampire Weekend, Elvis Costello, Portishead, the Smashing Pumpkins, Public Image Ltd After a fallow year in 2012, the big daddy of festivals swoops down once again over the west of England in a cloud of anticipation and cider. It's difficult to convey quite how vast Glasto is, with whole worlds of activity taking place outside the arena, as well as an awe-inspiring musical lineup. Headlining the main Pyramid Stage over the weekend are Arctic Monkeys (Fri), the Rolling Stones (Sat) and Mumford & Sons (Sun), but if you don't fancy any of them, there's no shortage of alternatives, covering everything from pop to reggae to alt rock to dubstep to folk. Bring wellies (ahem, rain boots) and a sense of humor, and prepare for mud and madness. glastonburyfestivals.co.uk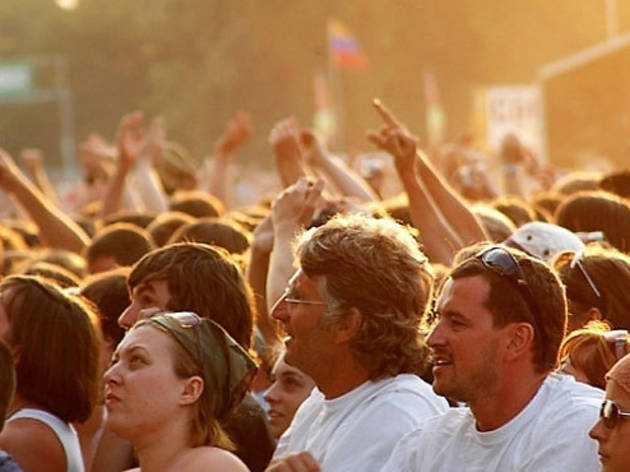 11/25
June 29, 30 Hard Rock Calling (London) Headliners: Bruce Springsteen and the E Street Band, Kasabian, Paul Weller, the Black Crowes, Alabama Shakes, Miles Kane, Kodaline, the Cribs, Klaxons, Tribes, Dark Horses, Twin Forks, the Weeks For those about to rock…You'll need to hop on the Jubilee line over to the former Olympic Park, where Hard Rock Calling is pitching up this year. The festival, along with its bratty little sister Wireless, has moved from Hyde Park due to repeated run-ins with Westminster City Council, and to seal the deal with their new venue the organizers booked Bruce Springsteen, whose set was cut off due to noise complaints for the second year running. The takeaway: Aging rockers and teeny riffers collide, probably at a sensible volume. hardrockcalling.co.uk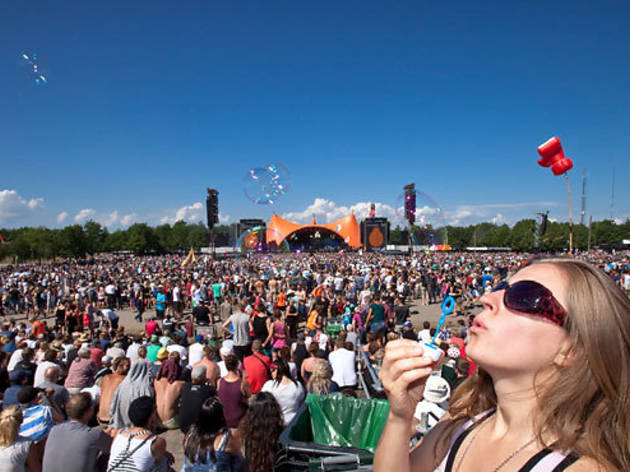 12/25
Photograph: Per Lange
June 29–July 7 Roskilde (Roskilde, Denmark) Headliners: Kraftwerk, Animal Collective, Crystal Castles, Baauer, Rihanna, Queens of the Stone Age, Sigur Rós, Slipknot, Kendrick Lamar, Daedelus, Disclosure, Efterklang, King Krule, This Danish beast has been powering along since 1971 and now stands tall as the largest northern European music and culture festival on the circuit. Put simply, it's huge, a fact accentuated by its duration of an entire week. But these guys are pros, and it's a slick operation—who else publishes their beer prices on the festival website beforehand? As you'd expect, the lineup covers anything and everything, drawing together the classic synth explorations of Kraftwerk, the alt-stoner rock of Queens of the Stone Age, the electronica-disco stylings of Daedelus, the quietly affecting Sigur Rós, the messy blues of King Krule and just so much more. roskilde-festival.dk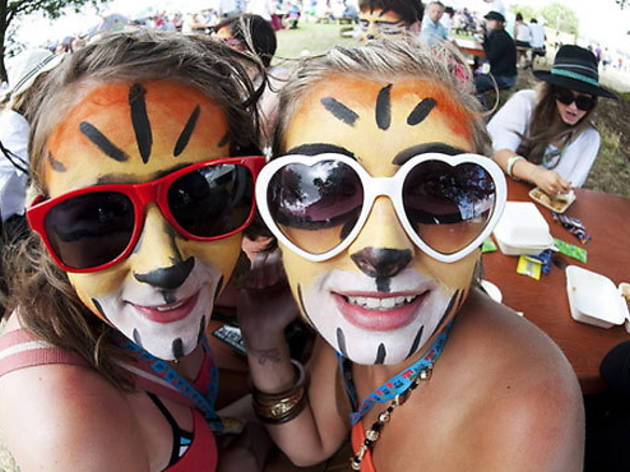 13/25
Photograph: Andrew Buchanan
July 12–14 T in the Park (Kinross-shire, Scotland) Headliners: Mumford & Sons, Rihanna, the Killers, Chase and Status, the Script, Stereophonics, Calvin Harris, Kraftwerk, David Guetta, Emeli Sandé, Dizzee Rascal, Yeah Yeah Yeahs, Phoenix Scotland's biggest outdoor festival is turning 20. To celebrate, they're laying on a typically awesome mix of big-name rock and pop acts, with banjo-plucking globe-trotters Mumford & Sons, sultry pop princess Rihanna and Las Vegas' finest, the Killers, all coming along to wish the festival many happy returns. Mercury Prize winners Alt-J, hip-hop queen bee Azealia Banks and soul-pop songstress Emeli Sandé bolster this formidable bill. This is one birthday party you won't want to miss. tinthepark.com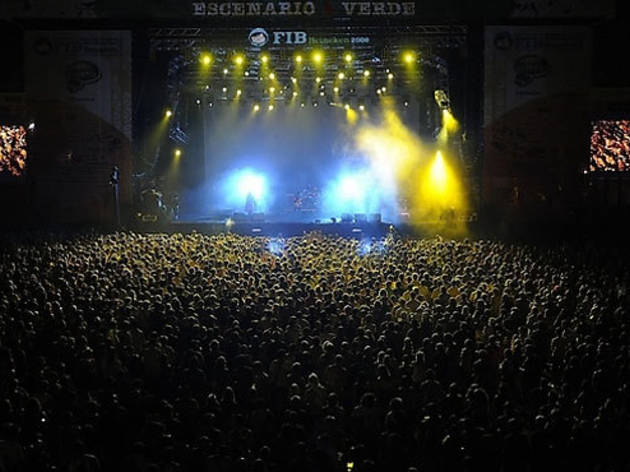 14/25
July 18–21 Festival Internacional de Benicàssim (Benicàssim, Spain) Headliners: The Killers, the Arctic Monkeys, Queens of the Stone Age, Primal Scream, Dizzee Rascal, Johnny Marr, Azealia Banks, the Courteeners, Hurts, Kaiser Chiefs, Palma Violets, AlunaGeorge Benicàssim, accent on the a, has long been an international favorite, thanks to the site's close proximity to the beach and the option of lots of free camping either side of the actual festival. It's a grand idea to book time off around these dates and have yourself a good old Spanish holiday—plus there's always a great beach party to finish off your hedonistic long weekend. If, incidentally, music is also your bag, Arctic Monkeys, the Killers and Queens of the Stone Age all headline. Combined with a supporting cast of world-beating emcees, anthemic indie-rock stalwarts and smaller Spanish bands to add some local flavor, this lineup screams music fun in the sun. fiberfib.com/index.php/en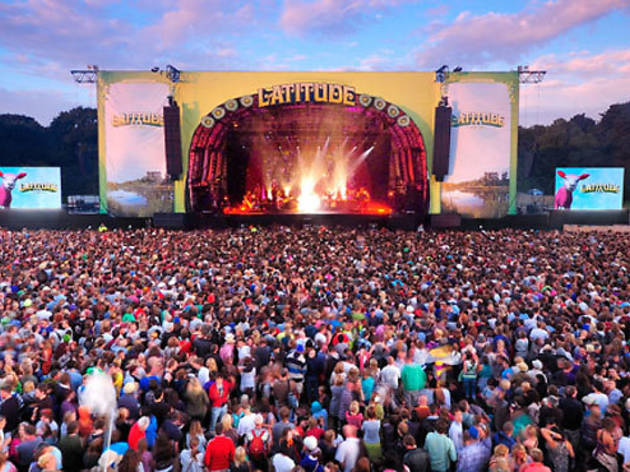 15/25
Photograph: Robert Whitworth
July 18–21 Latitude (Southwold, U.K.) Headliners: Kraftwerk, Foals, Bloc Party, the Maccabees, Hot Chip, Cat Power, Yeah Yeah Yeahs, Local Natives, Yo La Tengo, Jessie Ware, James Blake, Grizzly Bear, Modest Mouse, Alt-J, Beach House There are many reasons why Latitude is among the most successful of the recently launched festivals. It's in its eighth year now, and regulars keep returning for a fairy-tale setting of forest, lake and meadow, a generally adventurous pop and alt-rock lineup, a laid-back family-friendly atmosphere and a choice of acts that takes in comedy, poetry and theater, as well as a literary salon. latitudefestival.com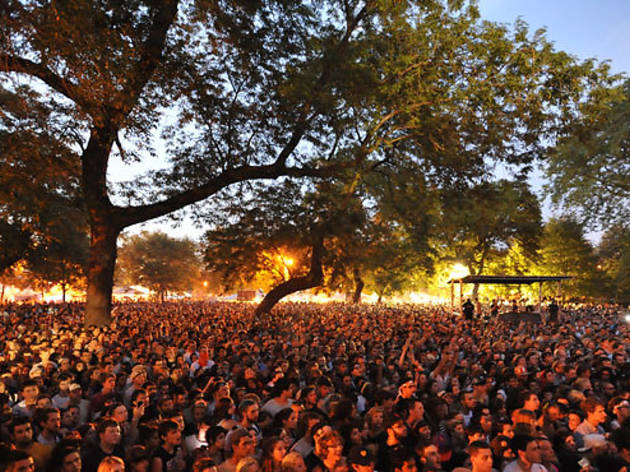 16/25
Photograph: Joseph Mohan
July 19–21 Pitchfork (Chicago) Headliners: Björk, Belle and Sebastian, R. Kelly, M.I.A., Joanna Newsom A production of the hipster music website Pitchfork, this compact festival on a public baseball field hosts the hottest acts of the blogosphere and nostalgic favorites from the '90s. It usually works like this: Hordes of college kids in tank tops going nuts in the dust; older record collectors on the fringes bobbing their heads. Under a big tent you'll find an incredible record fair, the best shop in town for a few days, with labels like Sub Pop and the Numero Group selling their wares. Tip: The smaller third stage has grass, shade and typically more fun. pitchforkmusicfestival.com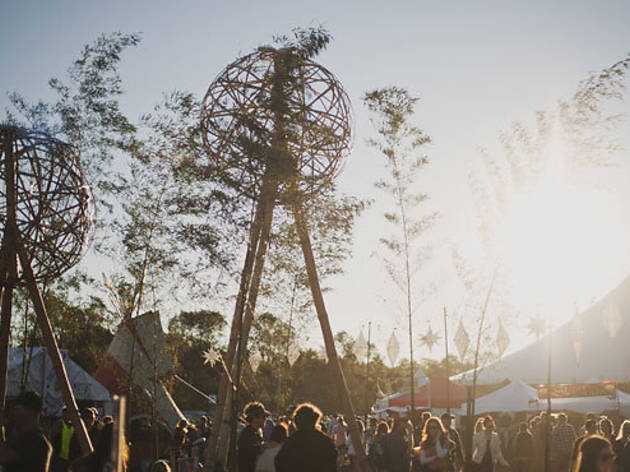 17/25
Photograph: Gabriel Veit
July 26–28 Splendour in the Grass (New South Wales, Australia) Headliners: Mumford & Sons, the National, Frank Ocean, Of Monsters and Men, Empire of the Sun, Bernard Fanning, the Presets, TV on the Radio, Klaxons, Flume, Babyshambles, Passion Pit, James Blake This three-day festival near the northern New South Wales town of Byron Bay is the festival everyone puts on their must-do list down in Australia. As soon as the dates are announced (usually late July) Aussies on the east coast book their annual vacation days, check for any tears in their tents and get a new pair of gum boots (rain boots to you, and it's winter in this neck of the woods, so they come in handy). The lineup's a mix of big internationals at the top of the bill—last year Jack White and the Smashing Pumpkins, this year Frank Ocean—as well as the buzziest locals:  Flume, Birds of Tokyo, Matt Corby…. For alternative types, there's a Tipi Forest at the center of the festival grounds where you can check out the latest EDM sounds being made in the close-by northern NSW and southeast Queensland club scenes, plus a Global Village for those who want to go less local. With this year boasting a lineup that includes Ocean, the National, Of Monsters and Men plus the return of locals Empire of the Sun, Splendour looks sure to hold its supreme place on Australia's festival calendar. splendourinthegrass.com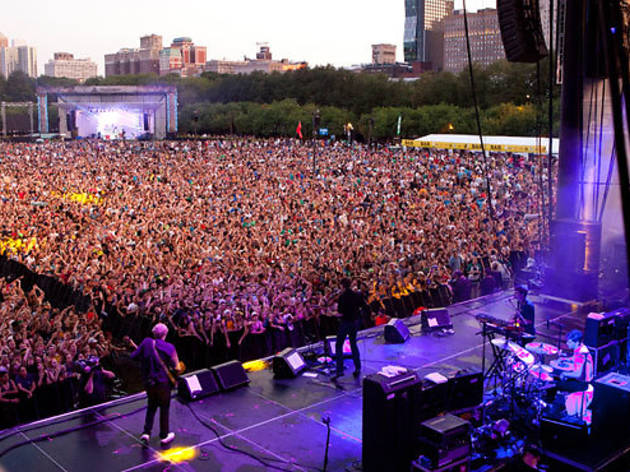 18/25
Photograph: Matt Ellis
Aug 2–4 Lollapalooza (Chicago) Headliners: The Cure, Phoenix, Nine Inch Nails, Vampire Weekend, the Postal Service, New Order, Hot Chip, Local Natives, Major Lazer, Beach House, 2 Chainz, Cat Power A transcendent moment you must experience—watching one of the best bands in the world, Lake Michigan blue to one side, blowing a welcome breeze, and the towering Chicago skyline framing the scene on the other. Lollapalooza has a stunning setting smack-dab in Grant Park. With eight stages spread over a few square miles, and acts ranging from global DJs to kiddie folk, this behemoth can be overwhelming, especially considering daily attendance in the six figures. But unlike other major festivals, there's (blissfully) no camping. Who needs it with the city at your doorstep? You can never see everything, but you'll never lack something to see. Also, the food, curated by celebrity chef Graham Elliot, brings some great local gourmet fare. lollapalooza.com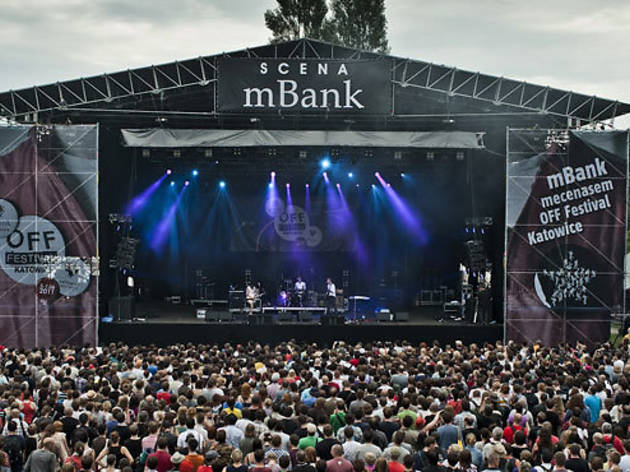 19/25
Aug 2–4 Off (Katowice, Poland) Headliners: The Smashing Pumpkins, My Bloody Valentine, the Walkmen, Patrick Wolf, Deerhunter, Godspeed You! Black Emperor, Jens Lekman, Skalpel, Japandroids, Woods, Austra, Bohren & der Club of Gore, Thee Oh Sees Billy Corgan's grunge legends the Smashing Pumpkins headline this genre-defying alternative music festival alongside the definitive shoegaze band My Bloody Valentine, who are incredibly loud live. There are loads of great noise, metal and left-field electronica acts on the lively bill. Both Polish and international outfits are performing, and we're particularly excited by Swedish group Goat, who perform their intense, Middle Eastern–influenced psychedelic rock in ritualistic masks and robes, as well as rising Canadian noise punks Metz. off-festival.pl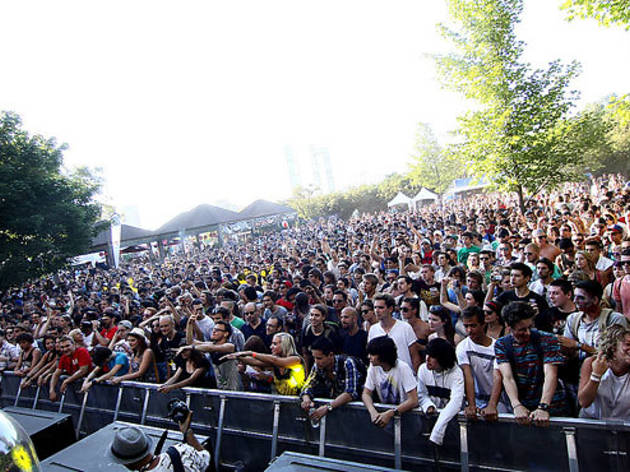 20/25
Photograph: Nick Leger
Aug 2–4 Osheaga (Montreal) Headliners: The Cure, Beck, Mumford & Sons, Phoenix, New Order, Vampire Weekend, Frank Ocean, the Lumineers, Kendrick Lamar, Hot Chip, Macklemore & Ryan Lewis, Tegan and Sara, Ellie Goulding, Tricky Held in the idyllic Parc Jean-Drapeau on Montreal's Île Sainte-Hélène, Osheaga is one of the best bets north of the border, with acts to satisfy Anglophiles and Francophiles both. For the former, gothic-pop yowler Robert Smith and the Cure, anthemic folkies Mumford & Sons and reunited postpunks New Order (less original bassist Peter Hook); for the latter, indie-rockers Phoenix and turntable group C2C, among others. Beck, backed by a full band, should be bringing some West Coast sunshine to the proceedings. osheaga.com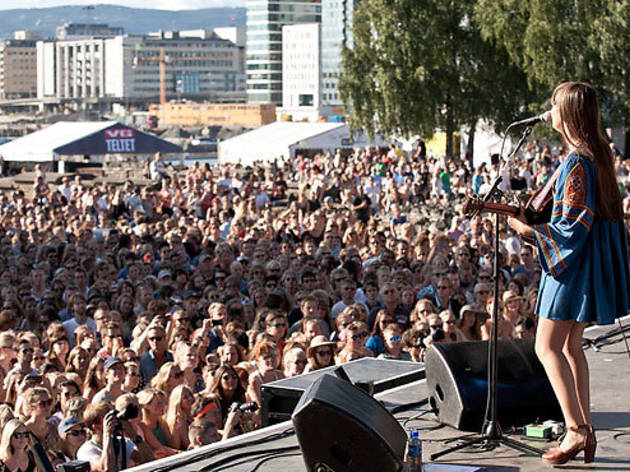 21/25
Photograph: Amund Østbye
Aug 6–10 Oyafestivalen (Oslo) Headliners: The Knife, Kraftwerk, Blur, Kendrick Lamar, James Blake, Azealia Banks, Godspeed You! Black Emperor, Slayer, Disclosure, Beach House, Mount Kimbie, Tame Impala, Local Natives This smallish Norwegian boutique festival is set on the historic site where Oslo was founded a thousand years ago. There's your history lesson; now you can enjoy the music from an eclectic and ace lineup traversing electronica, arty rock, hip-hop and metal. It's in a beautiful spot just a ten-minute walk from Oslo's main train station, and one of the greenest around, serving organic local food and minimizing its environmental impact in every way possible. Rocking out with a conscience can be fun, see? oyafestivalen.com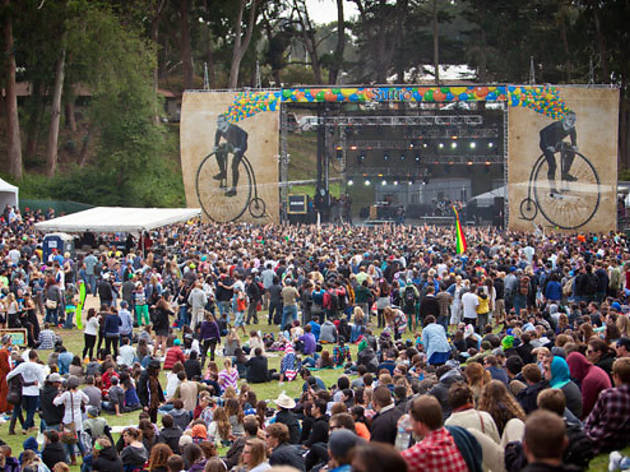 22/25
Photograph: Josh Withers
Aug 9–11 Outside Lands (San Francisco) Headliners: Paul McCartney, Red Hot Chili Peppers, Nine Inch Nails, Phoenix, Kaskade, Vampire Weekend, Pretty Lights, Yeah Yeah Yeahs, D'Angelo, the National, Jurassic 5, Willie Nelson & Family, Grizzly Bear The City by the Bay graciously lends its Golden Gate Park for this three-day fest. It's a bit all over the place, curatorially speaking. Consider the headlining trio: Sir Paul, Red Hot Chili Peppers and industrial powerhouse Nine Inch Nails. Still, you won't hurt for options, whether it's R&B recluse D'Angelo, garage-popper King Tuff or blue-eyed soul kings Hall & Oates. This being the West Coast, you can expect outstanding food from Bay Area restos, fresh vino and suds from nearby vineyards and craft breweries, and a crunchy ecological angle that won't harsh your mellow (a solar- and alternative-energy-powered stage). sfoutsidelands.com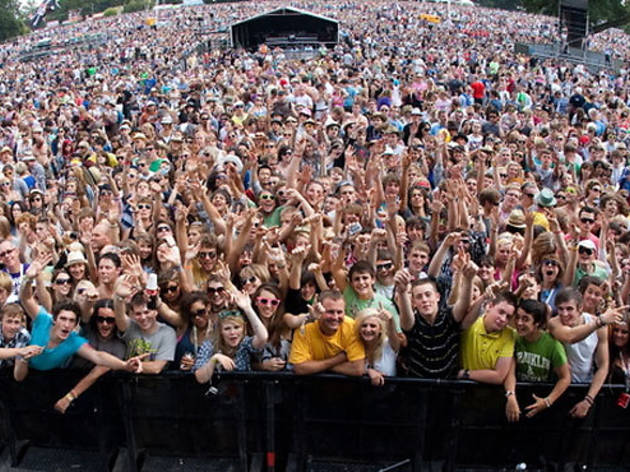 23/25
August 17, 18 V Festival (Chelmsford and South Staffordshire, U.K.) Headliners: Beyoncé, Kings of Leon, Stereophonics, the Script, Emeli Sandé, Calvin Harris, Beady Eye, Jessie J, Two Door Cinema Club, the Vaccines, Basement Jaxx, Olly Murs, Paloma Faith, James This mainstream-friendly dual-venue festival continues to draw a truly staggering array of the most popular names in rock and pop, thanks to a budget that appears to be bottomless. It's a shame about the overcrowding, the extortionate price of everything and an atmosphere that sometimes feels more like a frat party than an all-inclusive bash in a field, but you can always take solace in the luxury 'V Style' campsite and comedy stage, both of which were only recently introduced. vfestival.com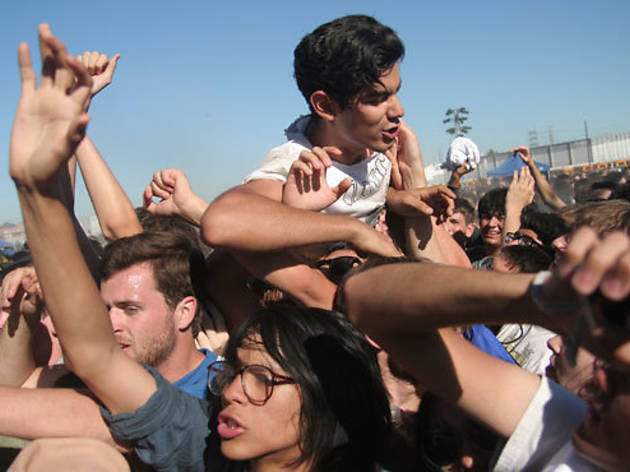 24/25
Photograph: Andrew Frisicano
Aug 24, 25 FYF Fest (Los Angeles) Headliners: Yeah Yeah Yeahs, My Bloody Valentine, TV on the Radio, Beach House, MGMT, Devendra Banhart, Yo La Tengo, Thee Oh Sees, STRFKR The enthusiastically named Fuck Yeah Fest rallies rowdy postpunkers, lowbrow artists, anarchist skaters, caustic stand-ups and all manner of other virulently antiestablishment types for a weekend of indier-than-thou amp-busting fringe culture. This year, to celebrate the fest's ten-year anniversary, the folks at FYF Fest are really stepping it up compared to their humble beginnings at the Echo all those years ago: The 2013 headliners include Yeah Yeah Yeahs, My Bloody Valentine, TV on the Radio, Beach House and MGMT. Other swoonworthy artists on the bill include Devendra Banhart, Yo La Tengo, Thee Oh Sees and STRFKR. fyffest.com RECOMMENDED: See more FYF Fest coverage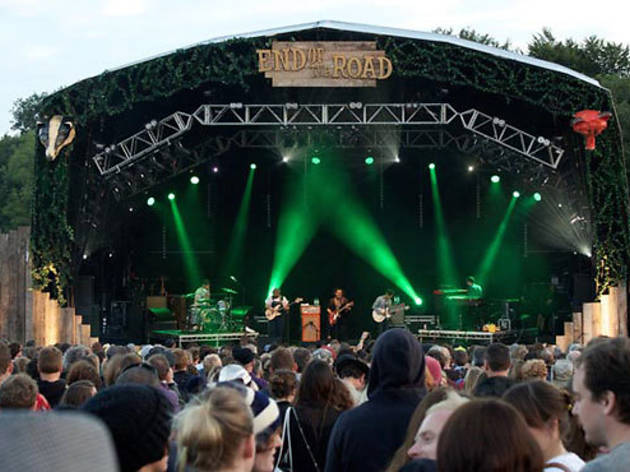 25/25
Aug 30–Sept 1 End of the Road (Wiltshire, U.K.) Headliners: Sigur Rós, Belle and Sebastian, David Byrne & St. Vincent, Frightened Rabbit, Warpaint, Dinosaur Jr., Jens Lekman, Eels, Efterklang, Poliça, Daughter, Savages, Pins, the Leisure Society It may plough a fairly narrow stylistic furrow but End of the Road's indie, Americana and psych/alt-rock lineup is easily one of the best of this year's season. This is one of the current breed of festivals that knows its niche well and sticks to it, with big names from their chosen field with ambient Icelandic quartet Sigur Rós, downbeat twee-pop heroes Belle and Sebastian, and psych-garage rockers Palma Violets among the many treats. You'll do well to find a more musically substantial, relaxing and environmentally friendly festival. endoftheroadfestival.com
sneakers
,
sunscreen
and
wayfarers
, and hit one of these summer music festivals, wherever on the globe you may be. We've listed the biggest and best
outdoor concerts
happening in Europe, the U.S., Canada and even Australia. Consider this a handy travel guide, or just a tip sheet for those who like to be up-to-date on
global
happenings.