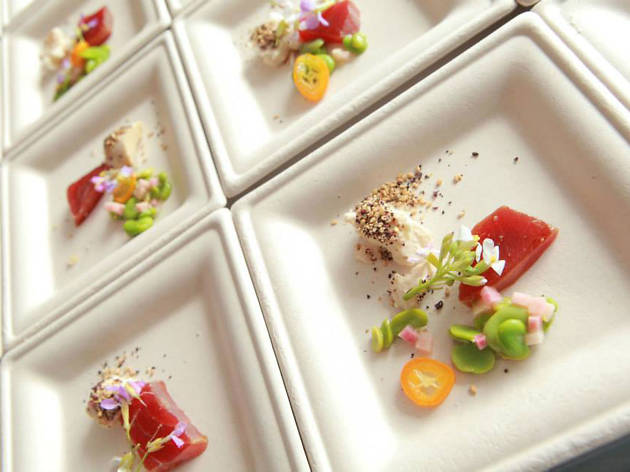 Do you hear that? It's the sound of a thousand LA foodies letting out one collective squeal.
The third annual All-Star Chef Classic aims to be the culinary world's Superbowl equivalent, bringing over 40 acclaimed chefs from around the world for four days of demonstrations, engaging dining experiences, tastings, showcases, and chef access. Tickets can be purchased for individual events, including the following:
French Masters Dinner: Alain Ducasse, Ludo Lefebvre, Tatiana Levha, Bertrant Grebaut, Jean-Georges Vongerichten and Iñaki Aizpitarte will prepare a multi-course meal, to be paired with French wine. Hosted by Andrew Zimmern.
Noche de Masters Dinner: Four acclaimed chefs, including José Andrés and Aarón Sánchez, will prepare a Mexican- and Spanish-inspired dinner for ticket holders.
American Masters Dinner: Savor the ultimate American classics with a five-course extravaganza from highly acclaimed chefs Paul Kahan, Johnny Iuzzini, Jamie Bissonnette and more.
East West Masters Dinner: Presented by East West Bank, this dinner brings together fantastic chefs—Niki Nakayama, Sang Yoon, Charles Phan and more—to prepare and discuss world-class Asian cuisine.
Global Grand Tasting: A new addition to this year's All-Star Chef Classic, this event gives ticket holders a chance to sample world cuisine from over 20 chefs.*
Grill & Chill: Presented by DCS & Stella Artois, the cookout features 20 diverse chefs grilling and chilling over an open flame.*
* Use our code TIMEOUT here to score tickets to both the Global Grand Tasting and Grill & Chill events.