Trend watch: Beauty collaborations with fashion designers for summer 2013
Beauty and fashion collide in these limited-edition products created by fashion designers for summer 2013.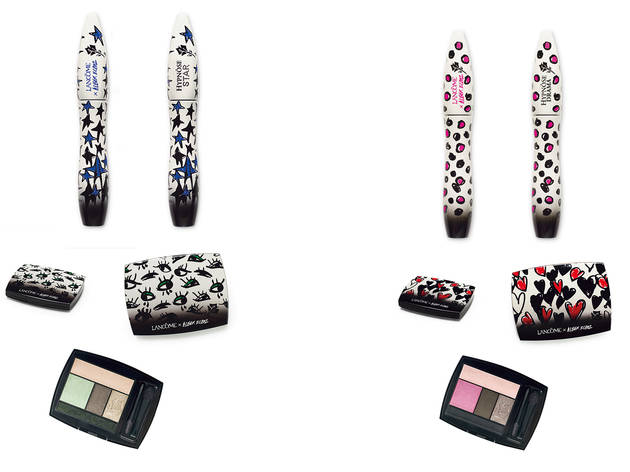 1/7
Although Alber Elbaz is no stranger to collaborations (he did a lower-priced clothing line for H&M in 2010), this partnership with Lancôme is the Lanvin creative director's first time dabbling in cosmetics. He applies his signature whimsical illustrations to four of the Parisian beauty brand's best-selling mascaras, plus a quartet of shimmery shadow-and-liner palettes. A set of false lashes ($35, at nordstrom.com) completes the fashion-forward nine-piece eye collection. Lancôme Show by Alber Elbaz Color Design shadow-and-liner palettes, $51 each; and mascaras, $29 each; all at Saks Fifth Avenue, , locations throughout the city; visit saks.com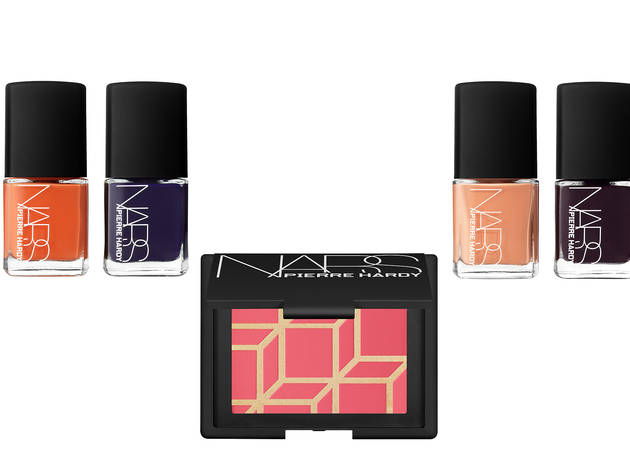 2/7
Just in time for strappy-sandal season, Parisian shoe designer Pierre Hardy has teamed up with NARS to create six nail-polish duos whose complementary colors are taken straight from his summer footwear collection. Each pair comes in a petite shoebox with the bottles facing in opposite directions (in the manner you'd store heels) between a travel-friendly dust bag, and features a light and a dark hue, designated for your left and right sides, respectively. Use the rich, glossy shades—our favorites are the orange-and-navy Ethno Run and Sharplines, a peach-and-burgundy combo—to create a corresponding mani-pedi, colorful French tips or more daring contrasting hands. The eight-piece makeup collection also includes blush palettes in two shockingly bright shades, imprinted with gold highlighter in Hardy's signature cubic print. Pierre Hardy for NARS blush palette, $41; and nail-polish pairs, $29 each; all at NARS, 8412 Melrose Ave, Los Angeles (310-623-1730, narscosmetics.com)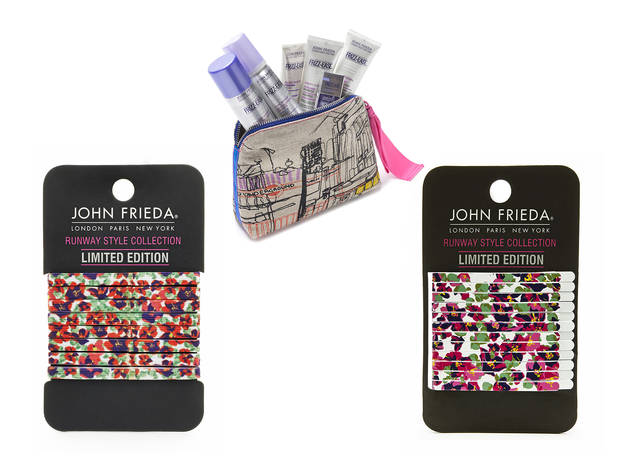 3/7
Photograph: Thomas Kletecka
Earlier this spring, Zac Posen lent four floral runway prints to adorn limited-edition boxes of John Frieda Precision Foam Colour permanent dye, as well as an assortment of barrettes, elastics, head wraps and headbands meant to complement red, black, brunet and blond strands. Although the collection has largely sold out, save a few hair accessories, you won't have to wait long for Frieda's next designer collaboration: a pair of Frizz-Ease travel kits for curly and straight locks, whose illustrated canvas cases were created by Rachel Roy. Each comes stocked with TSA-approved sizes of shampoo, conditioner, lightweight serum, finishing cream and hairspray (plus either a styling cream or mousse for creating sleek strands or coils, respectively). Roy included the London Underground in her doodles as a nod to the hair-care company's British roots and 25th anniversary. John Frieda x Rachel by Rachel Roy Frizz-Ease mini kits, $38 each, available July 1 at rachelroy.com • John Frieda x Zac Posen Runway Style Collection bobby pins, 12 for $7; and elastic ties, eight for $7; both at target.com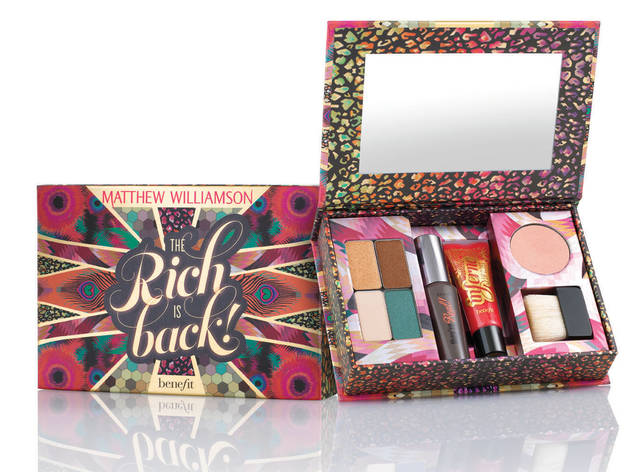 4/7
Photograph: Jeff Alexander
To celebrate the 15th anniversary of his psychedelic womenswear label, Matthew Williamson has partnered with Benefit on a makeup kit inspired by the '70s—an era that captures the British designer's boho-glam aesthetic and also marks the California beauty company's beginnings in San Francisco. The palette is awash in three of Williamson's most recognizable prints, and features four shadows, a dark fuchsia lipgloss and a soft, shimmery blush in brand-new shades that he helped develop (there's also a mini They're Real! basic black mascara). Despite the wild packaging and disco influence, the resulting look—achieved by following the included user-friendly step-by-step instructions—is remarkably subtle and wearable. Before you pack it for a weekend away, take note that this party is BYOB—bring your own brush. Matthew Williamson x Benefit The Rich Is Back! palette, $34, at Sephora, locations throughout the city; visit sephora.com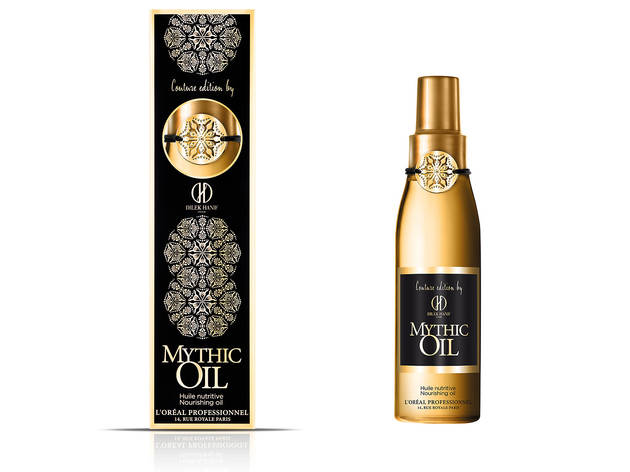 5/7
When Mythic Oil debuted last year, the lightweight hair serum instantly became a cult favorite for taming frizz and adding major shine. Now the avocado-and-grapeseed-oil elixir gets the designer treatment with limited-edition packaging created by Turkish couturier Dilek Hanif. The bottle's neck is even wrapped with a chic bracelet, whose ornate pattern serves as a nod to Hanif's Ottoman heritage. Use the nourishing concoction as a pre-blow-dry treatment or on dry strands to combat flyaways, then secure the accessory as a ponytail tie for a polished finishing touch. L'Oréal Professionnel Couture Edition Mythic Oil by Dilek Hanif hair oil, $32, at select salons throughout the city; visit us.lorealprofessionnel.com/salon-locator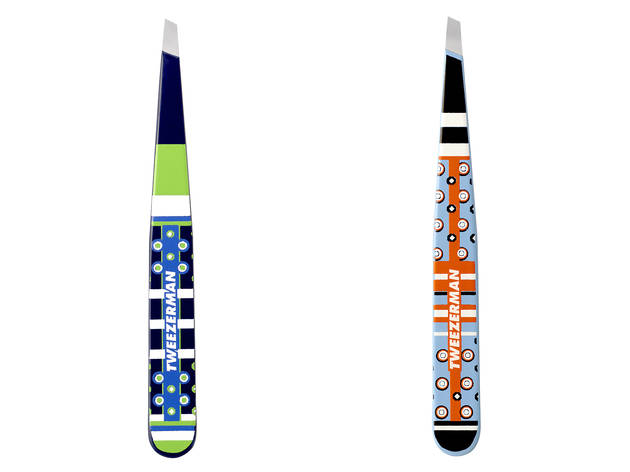 6/7
New York designer Cynthia Rowley seems intent on making our medicine cabinets more aesthetically pleasing, as she follows up a Band-Aid collaboration with another for Tweezerman. The four-piece collection includes a trio of slanted tweezers and a nail file, all splashed with sporty colorblock and foulard patterns. The resulting tools are so adorable you might risk sparse brows from overuse. Cynthia Rowley for Tweezerman slant tweezers, $25 each, at tweezerman.com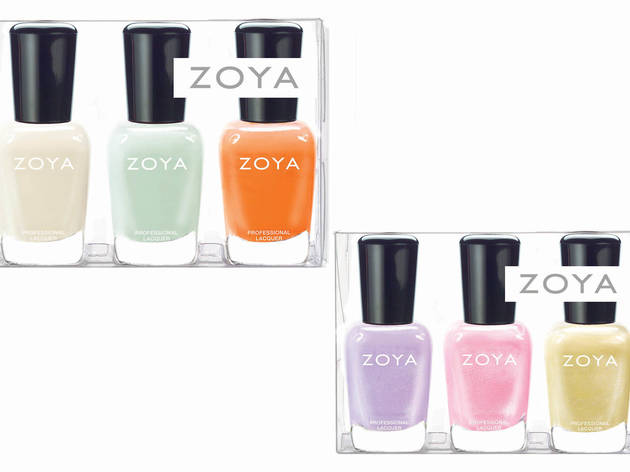 7/7
Those who religiously follow backstage-beauty coverage during Fashion Week will want to get their hands on the custom lacquers that natural nail-polish brand Zoya created for Peter Som and Zang Toi's Spring 2013 runway shows. Each trio is based on fabrics from the collections, resulting in creamy sorbet colors for Som and sheer pastels featuring pulverized glitter for Toi. Although you could easily re-create the nail looks seen on the catwalk (Som's models sported seafoam-mint hybrid Neely tipped with Sharon, an electric orange, while Toi's donned Julie, a soft sparkling lavender, under a thick stripe of Trixie silver varnish, sold separately), two of our favorite shades are ones that never walked. Standouts include Som's Jacqueline, a universally flattering bone-colored nude, and Toi's Gie Gie, a high-shine baby pink. Zoya Peter Som and Zang Toi NYFW 2013 Spring/Summer nail polishes, $8 each, at zoya.com
Beauty brands are getting into collaborations for summer 2013 by partnering with fashion designers to create limited-edition products. We brought you the three-in-one products and even the best ways to store your makeup. This season, top talents such as Lanvin creative director Alber Elbaz, Cynthia Rowley and Matthew Williamson have partnered with cosmetics companies, including NARS and Zoya. Look for the items at LA stores such as Target, NARS and Sephora.
Follow Cristina Velocci on Twitter: @cvelocci