Weekend getaways: Catalina's Two Harbors
What to do in Catalina's outdoorsy town of Two Harbors during your weekend getaways.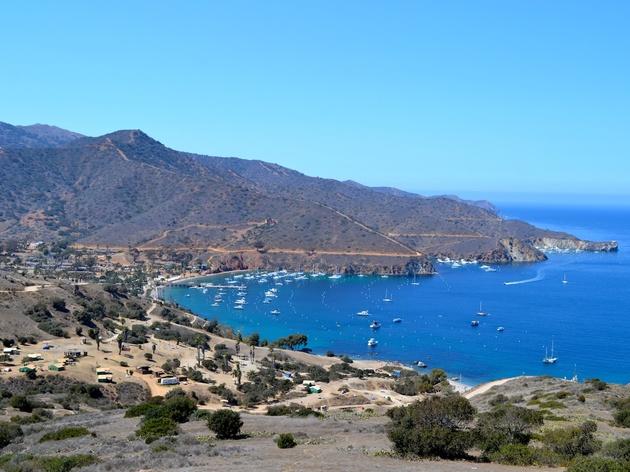 If you're looking for a more adventure-driven stay on Catalina, consider the northern town of Two Harbors for your weekend getaways. Much smaller and quieter than its sister town of Avalon, Two Harbors boasts just under 300 permanent year-round residents, and has a sweet, nostalgic summer camp-y vibe. There's one bar, one restaurant, one general store and lots of open space and water. It's where the buffalo roam, where the hiking and biking is best, and where campers flock to sleep outside and backpack (or kayak) to remote hilltops or beaches. If Avalon comes off a little Disneyland-ish, Two Harbors is the laid-back alternative—it's the difference between a town meant for tourists and a town meant for travelers.
Recommended: See more in Catalina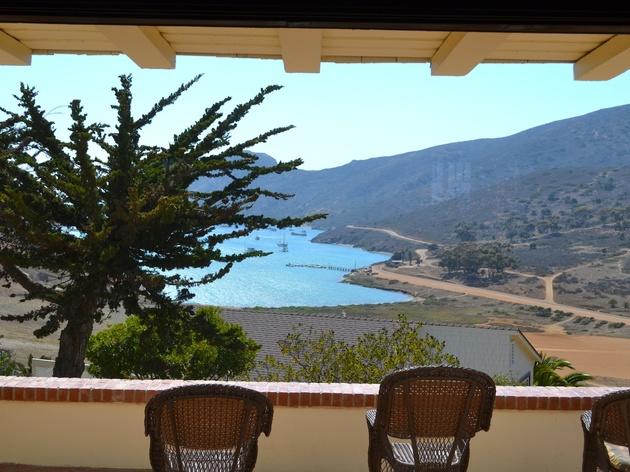 Banning House is a beautiful, rustic inn (the town's only one) atop a small hill looking over Two Harbors. Rooms with views of either side of the tiny isthmus (or if you're lucky, both) are scattered along the property, around a main building which houses the kitchen (feel free to store food here for lunch and dinner), breakfast room, patio and great room, which feels a lot like another era, with deer mounted on the walls, board games and a giant working fireplace which the staff will light for you on chilly evenings. The rooms are lovely—there's a bit of a lodge/camp feel, but the beds are big and luxurious and gourmet cupcakes are there to greet you when you first check in. Breakfast is complimentary and served in a sunny, charming room overlooking town. It's just a quick, five minute walk to the main drag of Two Harbors from the hotel, but a complimentary shuttle will take you up and down the hill if you prefer.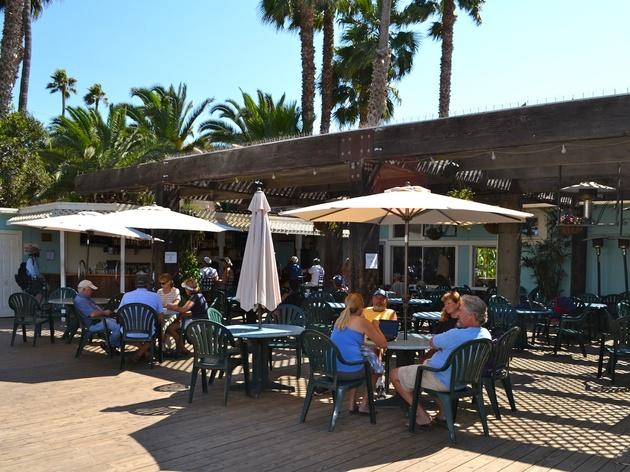 Restaurants, Contemporary American
If you don't want to cook for yourself in Two Harbors, Doug's is pretty much your only option. Luckily, it's a pretty laid back and tasty spot, located right in the tiny heart of town. The atmosphere is friendly and cozy, and the bar is full of chummy locals (where else are they gonna go?). In addition to the indoor restaurant and bar, Doug's has a large outdoor patio overlooking the main courtayrd of Two Harbors, with a bar (specifically open for 2pm-5pm happy hour) and free, unlimited wifi. Inside, tables are piled high with meat and seafood dishes such as clam chowder, buffalo burgers and grilled halibut with garlic mashed potatoes. Just make sure to save room for a glass of buffalo milk, the island's signature (and stiff) drink made from creme de cacao, Kahlua, vodka, cream, banana, nutmeg and chocolate syrup, and topped with whipped cream, of course. They're stronger than you think, but if you get a little buzzed, not to worry—you'll fit right in with the locals.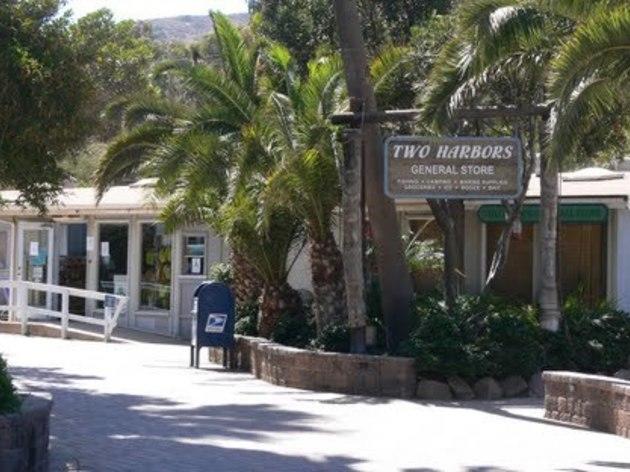 This quaint little shop doesn't look like much from the outside, but it's actually a camper's paradise. Looking to cook up some quinoa on your backpacking trip? Only want organic salsa for your beach day? They've got a wide selection of high-end, organic and healthy options—as well as all the typical camper fare—and it's relatively cheap, considering. You can also pick up fresh fish, produce and bait for fishing trips, as well as wine, beer (great selection!) and souvenirs. There's an ice cream counter inside with a little window facing the courtyard, so if you don't need any groceries but are jonesing for a scoop of something sweet, you can pick it up al fresco.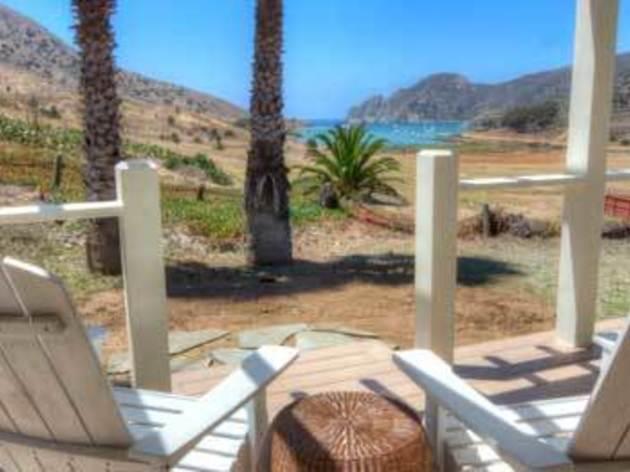 This renovated beach cottage rental has three rooms plus a loft space with a queen-sized pull-out, and two bathrooms. It boasts an outdoor patio for dining, solarium, and comfy couches for movie-watching inside. There's also a fully equipped kitchen and a well manicured backyard with views of both coves.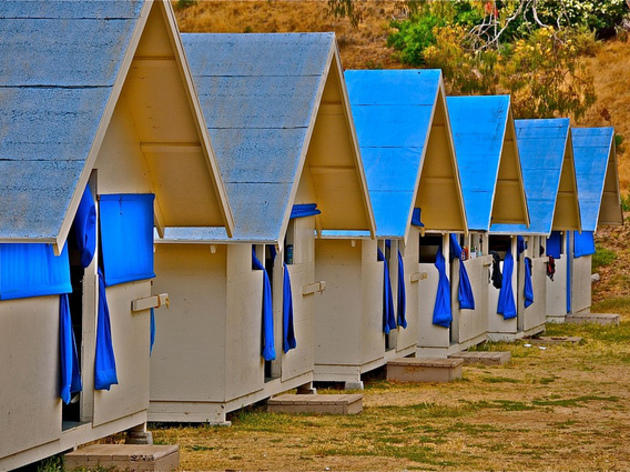 The camping cabins in Two Harbors are a good option if you can't afford the Banning House but would rather not sleep on the ground. Each cabin sleeps two comfortably (in a double or two single beds), and has a small refrigerator, heater and closet. An outdoor community kitchen is shared, as well as restrooms and coin-operated showers. You can bring your own sleeping bag, pillow, etc., or you can reserve a linen package ($15-$20) when you book (which we recommend, to lighten your travel load).
If you're looking for watersports, the Two Harbors Dive Shop can hook you up with everything you need for adventure (they also rent bikes and even horseshoes for a quick game in the sand). They have everything needed for snorkeling, SCUBA diving, boogie boarding, kayak and SUP, as well as land recreation rentals like bocce ball, volleyball, tennis rackets, disc golf and beach lounge gear such as chairs and umbrellas. The staff is friendly and knowledgeable, and can guide you in the right direction: Looking to see baby sharks on a snorkel trip? Head to the north end of the cove. Want a white-sand, emerald-water cove all to yourself? Kayak about 40 minutes to Emerald Bay. The rates are a little steep the bigger the gear gets ($12 a day for bocce seems reasonable, $60 for a single kayak starts to push it), but it's well worth it for all the fun exploring there is to be done in and around Two Harbors.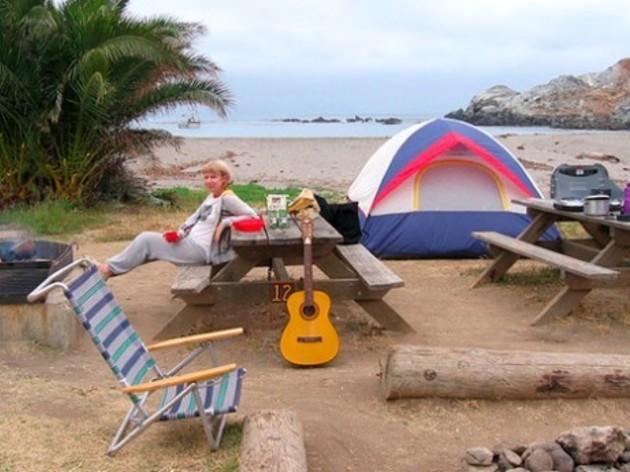 If you're looking to camp on Catalina, the area surrounding Two Harbors offers a bunch of great sites, including beachside, hike-in and even some you need a boat to get to. If you want the work done for you, spring for the "Essential Camping Package" which includes two nights at the Two Harbors campground complete with tent, sleeping bags and pads, stove, lantern, firewood and a specialized s'mores kit. Camping with a large group? Check out group sites Bahia Azul or Brisa del Mar, both within walking distance of town. Looking for a more homegrown camp experience? Little Harbor is a hike or kayak away from town, but still has shower and chemical toilet amenities for the 23 campsites and 8 group areas. (It was also voted one of the best campgrounds in the West by Sunset magazine.) Blackjack campground is about a 12 mile hike up to the peak of Mt. Orizaba—at 1,600 feet above sea level—and is a bit more private, with only 11 campsites. If you're looking to really rough it (and why not? that's half the fun), hike or kayak to the secluded Parsons Landings campgrounds, a beach site with eight primitive campsites (each can accommodate up to six people). Although there are chemical toilets and grills, there's no running water or shade structures here, so be prepared to pack in your supplies. (Click above to read more)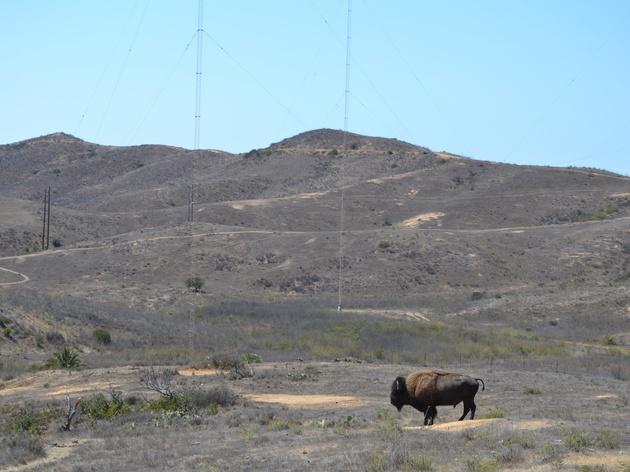 Photograph: Kate Wertheimer
There are tons of great trails in Two Harbors, whether you're looking for a short uphill jaunt to watch the sunset or a 10-mile trek into the island's interior. Some trails follow existing roads while others meander up steep ridges. Both offer expansive views of the ocean, Channel Islands and the California mainland. Ask at the Dive Shop (or your hotel, if you're not camping) and any local will be able to steer you in the right direction. Keep in mind: For most hikes, permits are required and are available at the Two Harbors Visitor Services office and several locations in Avalon. Also, be on the lookout for buffalo!
More to explore