Weekend getaways: What to do in Catalina
What to do in Catalina during your weekend getaways, from hiking and zipping to beach club lounging.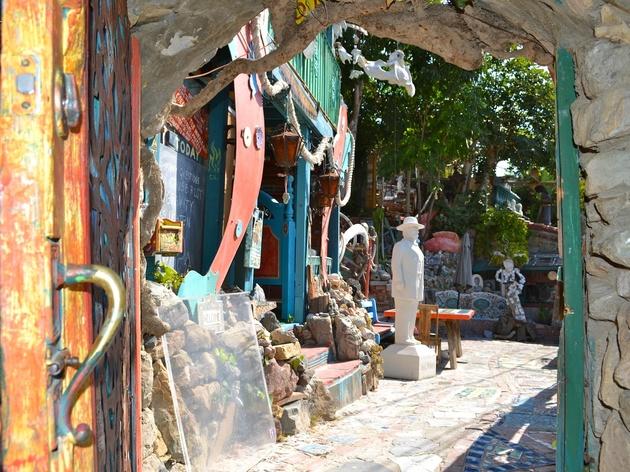 Whether you're into hikes with a view or napping on the beach, you'll never be at a loss for what to do in Catalina during your weekend getaway. The town of Avalon offers all the usual tourist activies: Kayaking, snorkeling and general lounging at the Descanso Beach Club, a state-of-the-art zip line course and mini golf for the kids. If you'd rather avoid the families and crowds and find your own fun, there are a number of good hikes, some of which will take you to the final resting place of beloved island pets or the strange and colorful home of a local artist. Read on for the best things to do in Catalina, from standard favorites to off-the-beaten-path options.
Recommended: See more in Catalina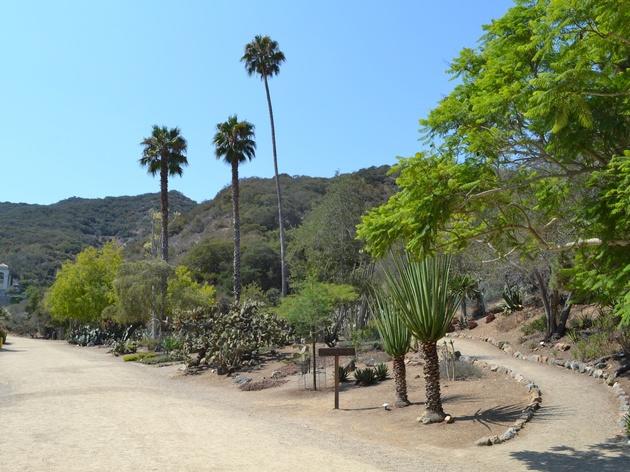 Attractions, Parks and gardens
Leave the touristy bubble of Avalon behind on a 30-minute walk to the Wrigley Memorial. Pass by the golf courses and baseball fields (where the Chicago Cubs held spring training way back when) for a beautiful and rewarding view of the canyon and Avalon Bay. The monument is a tribute to William Wrigley Jr., who is responsible for much of what Catalina is today. The beautiful handpainted tiles on the monument was made on Catalina Island—at a pottery factory that operated from 1927-37. On your way to the memorial, admire the native landscaping in the botanical garden—most of the plants are only found on one or more of the Channel Islands. The memorial, built from 1933-34, used to be William Wrigley Jr.'s final resting place. He's now buried in Pasadena. On your way there, check out the rock maze off the lefthand side of the road. On your way back, stop by Will Richard's art studio or the Sandtrap for cheap (and delicious) tacos y cerveza.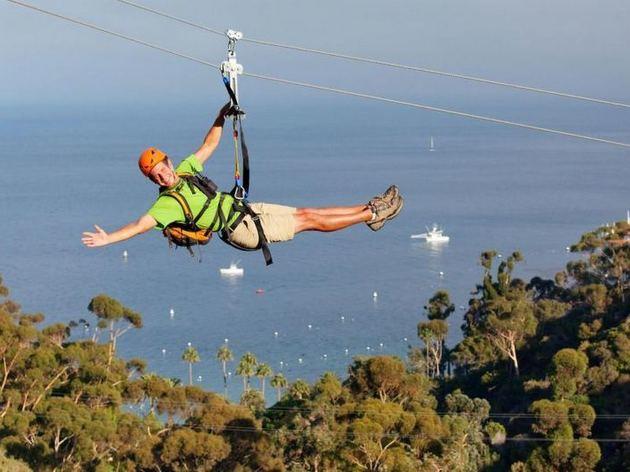 Okay, so it's probably the most touristy thing you can do on Catalina (and that's saying something). But, seriously? Zip lines are super fun. And if you have a hundo to burn, this is a pretty good way to do it. The Island Company really went all out with this course, which includes five lines (the first are short and not so scary, the last few are longer with more decline and speed) and comfy, safe equipment—this is not that rusty, half-assed zip line in Costa Rica your friend told you about where the guides were stoned and the harnesses were fraying. No, the guides here are chipper, professional and all seem to be practicing stand-up comedy routines. Aside from making you laugh (well, trying), they'll also give you a pretty spectacular eco tour, stopping at each zip landing to explain Catalina's unique flora and fauna. We'd go again just to ask more geeky questions about the bald eagle rescue program and the brush fire that almost wiped out Avalon.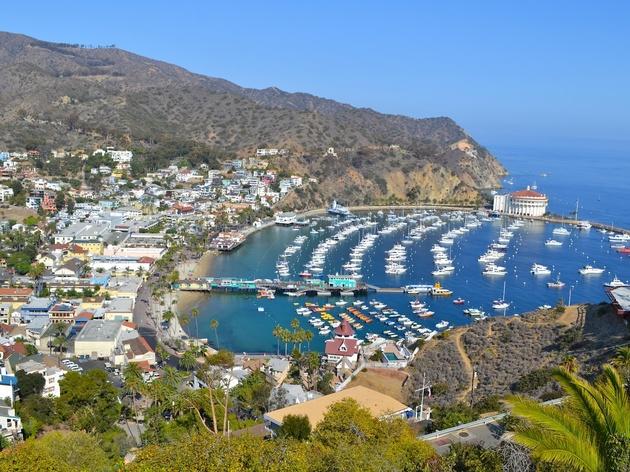 Photograph: Kate Wertheimer
If your hotel in Avalon is beachside, take a walk up into the hills for a panorama view of the bay and surrounding mountains. Head out of town along the main road by the ferry dock and continue past the Edison power plant before making a right up the hill. The views of the ocean and dark kelp beds below are well worth the (sometimes steep) incline. Eventually you'll reach the Inn on Mt. Ada, which is well worth a look-see—but don't overstay your welcome (it's not much of a welcome anywas, but the Inn is historic and a must-see). You can descend the way you came, or continue down the hill, passing a solemn and aww-inducing pet cemetery. Before you know it, you'll be back in town and hungry for buffaloaf.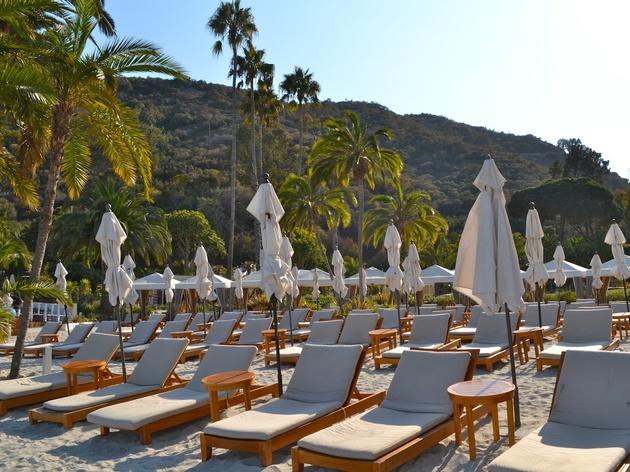 So here's where Catalina starts to feel like a (strange, bit-off-the-mark) upscale and exclusive beach resort. Descanso Beach Club is a luxurious hub of beach umbrellas, chairs and cabanas, plus a private strip of imported beach (the natural waterline is rocky, so white sand was barged in). There's also a full bar and a rather large menu of specialty cocktails and medicore chow (the Greek fries may be the only stellar option worth the menu's high prices). There are kayak and snorkel gear rentals on site, as well as live comedy and the occasional steel drum band. If you're more of a land creature, there are a couple random boutiques on the lawn for shopping. The scene gets pretty clubby on the weekends, but during the week, it's quiet and more family-friendly. It costs $2 just to access the beach, though if you're sitting at the bar and drinking or eating, beach access is free. A cabana ($275-500) is where things really gets pricey. And keep in mind that the club is strictly for warm weather enjoyment though—it closes mid-October through mid-April.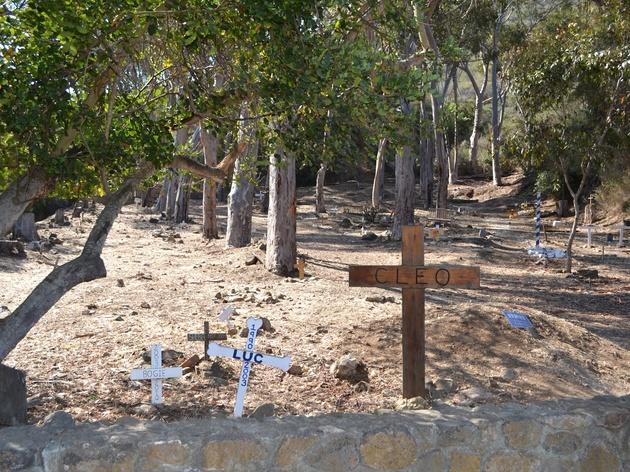 Catalina residents have a sweet and slightly eerie custom of burying their pets at the unoficial pet cemetery on the outskirts of town, on an abandoned plot now filled with tiny tombstones mourning and celebrating Sparky, Bubbles, Fluffy, etc. Some grave markers are stark and bare, while others are so elaborate and touching that you might find yourself a little choked up (there are funny ones too). The little cemetery goes pretty far back into the woods, so if you're into this sort of thing, take your time and be respectful!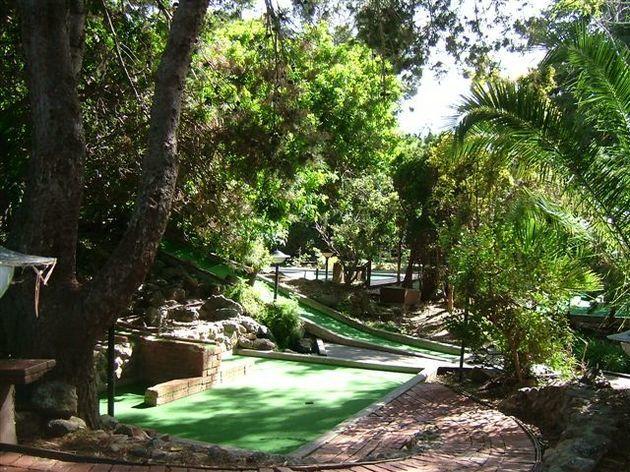 If you only take fake windmills with your mini golf, you'll be disappointed with Golf Gardens. But, if you're a fan of beautiful native landscaping and an all-ages challenge, you're going to love this course. Open since 1973, Golf Gardens is right in the middle of town and worth a round of 18 if you're in Avalon for more than a day.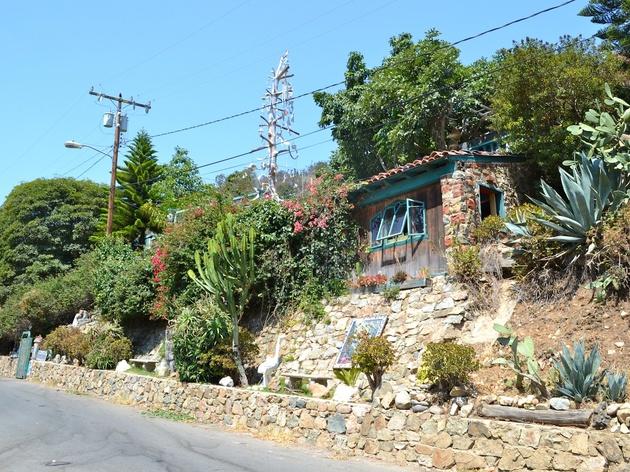 Just outside of Avalon, up Bird Park Road (on your way to the Wrigley Memorial), a unique and colorful structure sits nestled into the hillside. Signs welcome visitors into the artist studio of Will Richards, a quirky local who's been living and rock carving on the island for decades. The "studio" is more like an indoor/outdoor collection of bric-a-brac among unfinished projects and an open bottle of tequila here and there, but Will allows visitors to explore and wander around at their leisure, through room upon homemade room of art, and stuff. You may not find anything to buy there (we're not even exctly sure what's for sale), but the oddity of the place is reason enough for a visit.