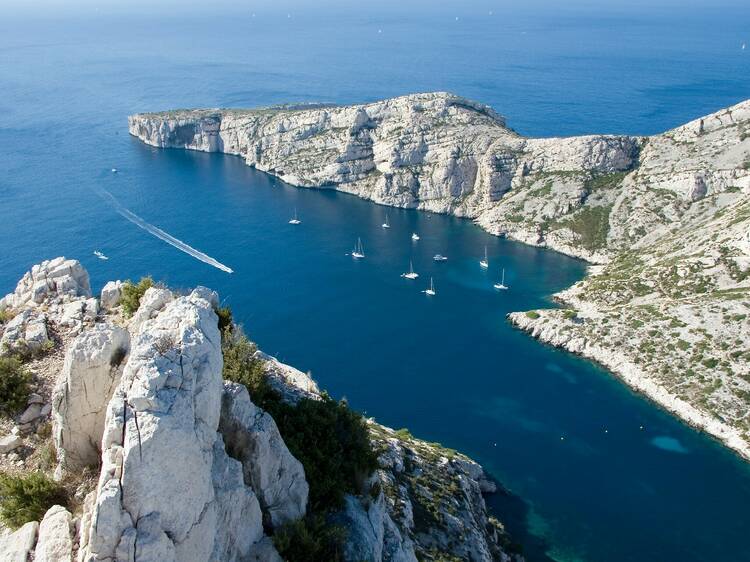 Photograph: Shutterstock
The best calanques to visit
Les Goudes
On the southern tip of Marseille, this quaint fishing port is the gateway to the Calanques National Park and a great starting point for easy ambles or epic hikes. Reward your efforts with a bite at Grand Bar des Goudes or a drink at nearby bar 20,000 Lieues.
Calanque de Morgiou
This lovely little port is well worth a visit: embark on the 50-minute hike down from Luminy, which is prettier than the fire road from Les Baumettes, and reward yourself with a dip. Or take in the sweeping view from above on a hike to Cap Morgiou, where you'll also get the chance to check out the prehistoric Cosquer cave paintings at Anse de la Triperie.
Calanque de Sugiton
With its picturesque white cliffs and blindingly blue coves, it's no surprise that Sugiton is the most popular calanque. It's best to avoid Sugiton in summer, even if the new reservation system is helping to keep crowds down. To visit, take the fire road from Luminy to a well-marked trail. The Belvédère viewpoint is very much worth the detour.
Calanque de Sormiou
This snorkelling paradise was home to Jacques Cousteau's first scuba dives. It's Marseille's largest calanque and also boasts a beautiful sandy beach. For hikers, the prettier and fastest route leaves from Les Baumettes. To score a parking spot, book a table at Le Château (open April to September) or arrive in the early months of the off-season.
Calanque de Marseilleveyre
An easy 50-minute hike from Callelongue (the last stop on the 20 bus), this idyllic turquoise cove is ideal for swimming and sunbathing. Bring a picnic, or some euros if you want to dine at Chez Le Belge, a laidback beach shack just steps from the sea.
Port-Miou and Calanque d'En Vau
The skinny port and ancient limestone quarry at Port Miou are just a 20-minute walk from the village of Cassis. An hour more takes you to the soaring cliffs, remote sandy beach and neon-blue waters of En Vau, which have earned it a reputation as one of the most beautiful calanques.
Îles du Frioul
Not technically part of the Calanques National Park, this island archipelago is nevertheless worth a shout: its calanques are the closest to Marseille's city centre, and the easiest to get to, with boats leaving most days from the Vieux-Port. Highlights include the medieval Château d'If prison, the picturesque Saint-Estève beach, and the rocky coves of Pomègues if you want more peace and quiet.