A Lightness of Spirit is the Measure of Happiness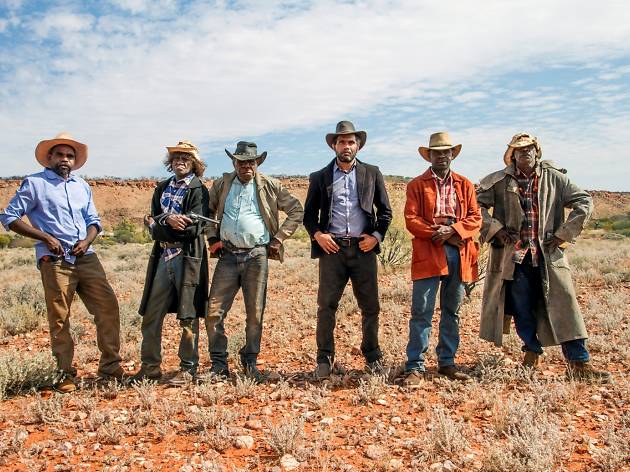 ACCA's new exhibition explores contemporary Aboriginal life – with a dose of humour, pop culture and country music legends
Part of the Yalingwa visual arts initiative, the Australian Centre for Contemporary Art's new exhibition features new works by ten leading Aboriginal artists about everyday, contemporary Indigenous life. Expect an up-to-the-minute exploration of life across Australia, drawing in humour, family, community all drawn together with connections to the artists' Indigenous ancestors. The exhibition is curated by Hannah Presley.
The artists involved are:
Benita Clements, a Western Arrernte artist from Hermannsburg, based in Alice Springs. Clements will present a new suite of watercolours in the form of autobiographical tableau, narrating her daily life, family, hunting and painting.
Vicki Couzens, a Gunditjmara and Keerray Woorroong artist from the western districts of Victoria. Couzens' new commission will incorporate a soundscape sharing a nostalgia for home, family and a nice cup of tea.
Robert Fielding, a Western Aranda and Yankunytjatjara artist from Mimili community on the Anangu Pitjatjantjara Yankunytjatjara (APY) Lands. Fielding has created a new photographic essay for the exhibition which re-contextualises everyday objects.
Jonathan Jones, a member of the Wiradjuri and Kamilaroi nations of south-east Australia, based in Sydney. Jones is best known for his site-specific installations, but his new commission subtly acknowledges 60,000 years of connection by evoking a sense of nostalgia and celebrating a commonly known, native, seed-eating parrot.
Vincent Namatjira, a Western Arrernte artist from Indulkana on the APY Lands. Namatjira's paintings connect people from now with historical figures such as Vincent Lingiari and Captain Cook, drawing on humour and the unexpected to tell their stories.
Yhonnie Scarce, a member of the Kothaka and Nunuku peoples of South Australia. Scarce honours her ancestors with her new work, presenting them with intricate hand-crafted gifts.
Peter Waples-Crowe, a Ngarigo visual and performance-based artist living in Melbourne. Waples-Crowes' new commission explores his emerging role as a queer Elder in the Aboriginal community.
Lisa Waup, a Gunditjmara and Torres Strait Islander artist based in Melbourne. Waup's new work is a collection of whimsical figures that highlight her affinity with weaving.
Kaylene Whiskey, a Yankunytjatjara artist from Indulkana community on the APY Lands. Whiskey paints colourful, happy portraits of the famous music and film stars she admires, telling stories of her family, friends and Country. Whiskey has created a new series which illustrates the story of the seven sisters.
Tiger Yaltangki, a Yankunytjatjara artist from Indulkana community on the APY Lands. Yaltangki's paintings are a bold and bright blending of the Pitjantjatjara Mamu (supernatural spirits) and rock and roll icons from pop culture.
Alec Baker, Peter Mungkuri and Mr Kunmanara Pompey, three senior artists and respected leaders from Indulkana community on the APY Lands. Influenced by their ongoing love for cowboy and western films and country music, they created their own spaghetti western. Titled Never Stop Riding, this special short film will be screened as part of the exhibition.
The Yalingwa visual arts initiative is a partnership between ACCA, TarraWarra Museum of Art and Creative Victoria. It's designed to support contemporary Indigenous art and curation, and includes three new curatorial positions and three new exhibitions to be presented by ACCA and TarraWarra Museum of Art.