Hot Talent Award: Time Out Melbourne Bar Awards
This young gun balances an artist's imagination with a scholar's rigour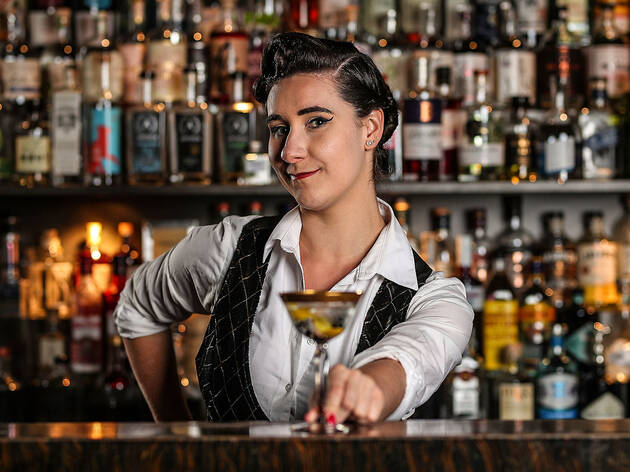 Winner: Jessica Clayfield, Gin Palace
"I realised that I needed to be able to talk to people and see their reactions to the things I made," says Gin Palace's Jessica Clayfield. She's explaining the light-bulb moment that caused her to switch aspirations from fine dining to bartending, and it encapsulates both her desire to connect with customers and her devotion to craft. After trying "about 30 times" to get a job in a bar, Clayfield worked festivals and hosted at Adelaide's Hains & Co, cadging occasional shifts behind the bar and rustling up enough skills to impress Teandra Moroney, Gin Palace's former assistant manager. The rest is (recent) history. In 18 short months she's gone from fresh face to old hand, developing her palate at preternatural speed, while an eye for detail has resulted in some of the most delightfully creative garnishes around. Taste is what drives her, whether it's serving up a high-end gin neat or dreaming up a wild new cocktail. The end goal is to create a special experience for whoever's on the other side of the bar, which has made her a firm favourite with the Palace's regulars. "There's a lot of mischief and excitement to be had with customers, if you know how to bring it out in everyone," she says.


We're also watching...
Lachlan Bentley, The Everleigh
In six short months he's charmed colleagues and customers alike.
Chelsea Catherine, Black Pearl
Peers praise her positive impact.
Brandon Jo, Eau De Vie
Talent, enthusiasm and humility have won him fans.
Chelsea Lamperd, Beneath Driver Lane
Ambition, hunger and passion make her one to watch.
See all the winners of the Bar Awards
From Bar of the Year to Best Bartender, here's who took home the gongs at the 2019 Time Out Melbourne Bar Awards.