1/9
Photograph: Vince Caligiuri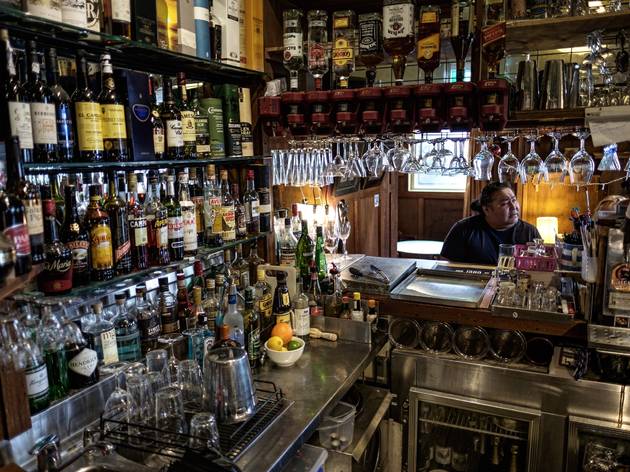 2/9
Photograph: Vince Caligiuri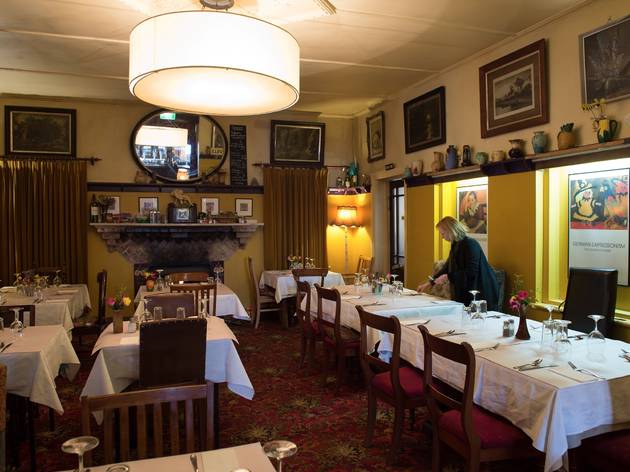 3/9
Photograph: Vince Caligiuri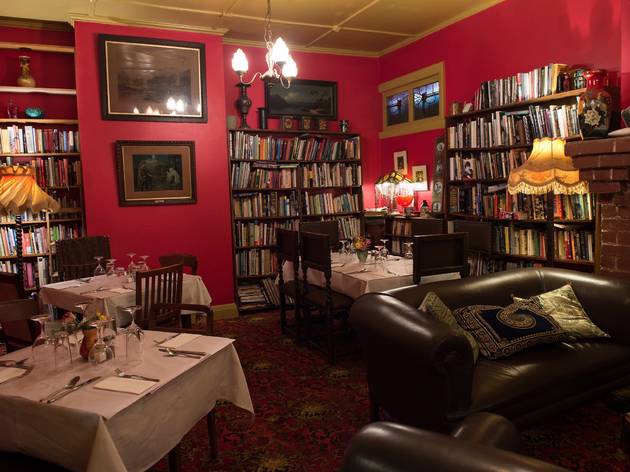 4/9
Photograph: Vince Caligiuri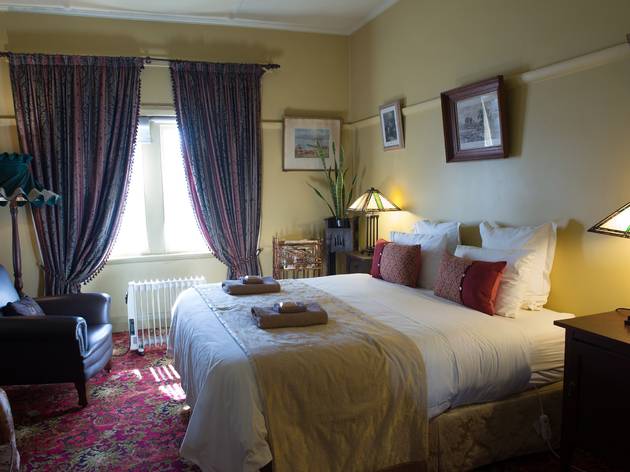 5/9
Photograph: Vince Caligiuri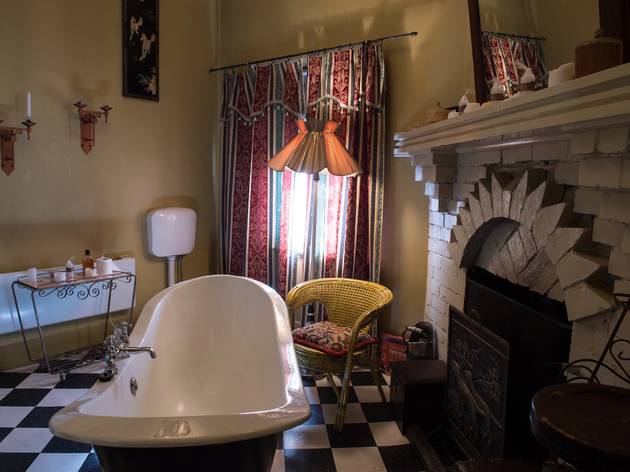 6/9
Photograph: Vince Caligiuri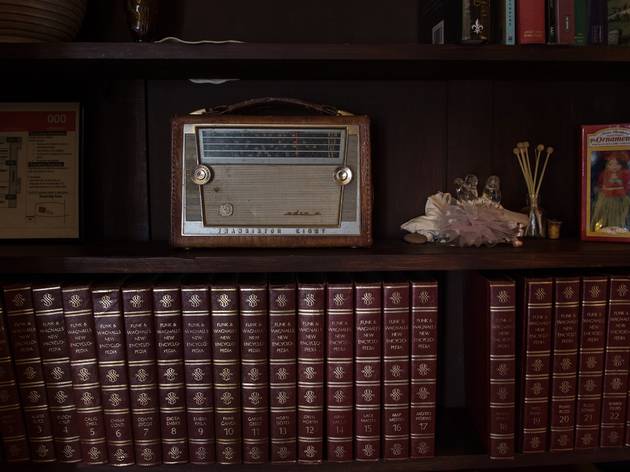 7/9
Photograph: Vince Caligiuri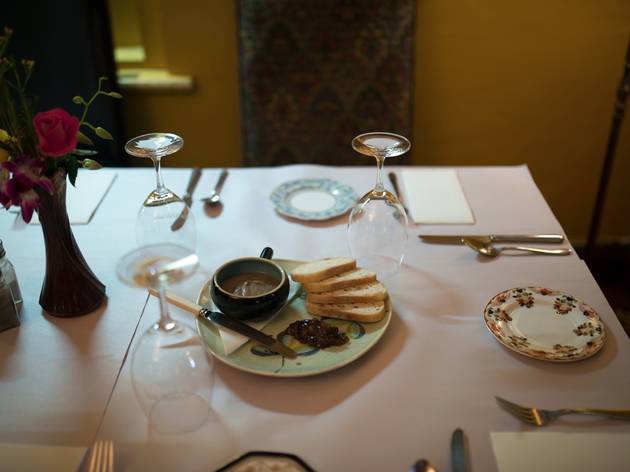 8/9
Photograph: Vince Caligiuri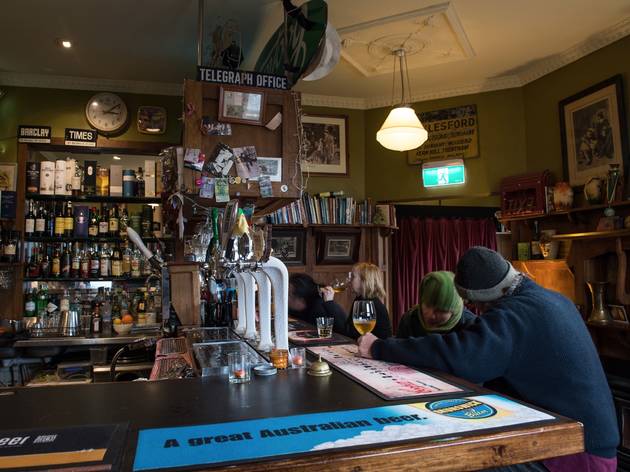 9/9
Photograph: Vince Caligiuri
With more character than a Game of Thrones script, this rural outpost earns the title of best country pub in the land
Just off the winding roads between Daylesford and Trentham is a pub that feels like a haven you might find through the back of a magic wardrobe.
Walking through the old wooden fly screen door off the porch, you'll be greeted with the sound of a duo playing old folk, blues and country numbers on mandolin and steel guitar, casually nailing every number like only decades of practice allow. Fire crackles from the Art Deco fireplace in the maroon-carpeted dining room, where antiques and 19th century photos line the walls. It all seems to have found its way here naturally, like the home of a favourite eccentric great-grandparent.
Further to the family feeling are the delightful publicans. Imagine being served by your best mate's parents, the slightly odd, laid-back ones you wished were yours. Did you want to go to school in a Spiderman outfit and have pancakes for dinner? No dramas kid, this is the pub for you. And definitely bring the kids. After lunch they can explore the gardens out back while you relax with a great choice of single malt whiskies. There's even a 30-seat theatre, projectors and all, that's almost ready for public use (although they admit "almost ready" has been its status for years).
Beer on tap comes from Holgate brewery right up the road, their ESB rightly poured from the hand pump. A pint of Guinness is delivered with a prayer to the gods for creating such a perfect beverage, an "amen" as it hits the table. Food is honest and fresh and portioned for a serious appetite. Pub classics are done right, and appetisers like chicken liver pate are served on floral patterned china. On Thursdays, a Thai chef comes up from Melbourne to lay on a feast that we're told is the highlight of the week.
To get here, you can ride or hike the easy trail from Daylesford that terminates in the back yard, or call ahead to book the courtesy bus for groups of eight or more. If you do drive, stay. No point limiting yourself to just one whisky, and the guest rooms are incredible; kitted out B&B style, each pile of fluffy towels crowned with its own bar of Imperial Leather. But far from the floral, Hyacinth Bucket chintz of many a country lodging, these rooms are pure antique charm. Brushes and combs laid out on the vanity are all straight from the 1920s and gorgeous silver candlesticks line the windowsill.
The en-suite off the master bedroom features a high-sided claw foot tub smack in the middle of the black and white tiled room, overlooked by an ornate fireplace. Other rooms have to share the loo with everyone else, but it's the kind of place where no one would bat an eyelid to see you strolling down the hall in naught but a towel. And despite the clear quality of everything from the carpets to the curtains, you'll never feel like you have to tiptoe, or that an accidental breakage would cause purse-lipped scorn. It's a pub after all, and first and foremost they want you to feel at home.
Feel like getting out of town? Here are Time Out's best weekend getaways.
Venue name:
Radio Springs Hotel
Contact:
Address:
Cnr High & Main sts
3461

Opening hours:
Thu, Fri 4-11pm; Sat, Sun 11am-11pm
You may be interested in:
Rating Breakdown
5 star:

3

4 star:

0

3 star:

0

2 star:

0

1 star:

0
Need a place to find the cosey in life that's seperate to life? this is it! Minutes away from some great walks and probably about 10 lazy minutes from Daylesford - coming into this tardis feels a little bit like coming home to my grandma's house except with great food and wine and, very often, rollicking live music not so loud that my grandma would complain. I love this place and think the owners have got it 'just right'
Great pub but a fair way from Daylesford! Radio Springs Hotel, right in the heart of Lyonville.