Lauren Bok: Is That A Burrito In Your Pocket Or Are You Just Happy You Have A Burrito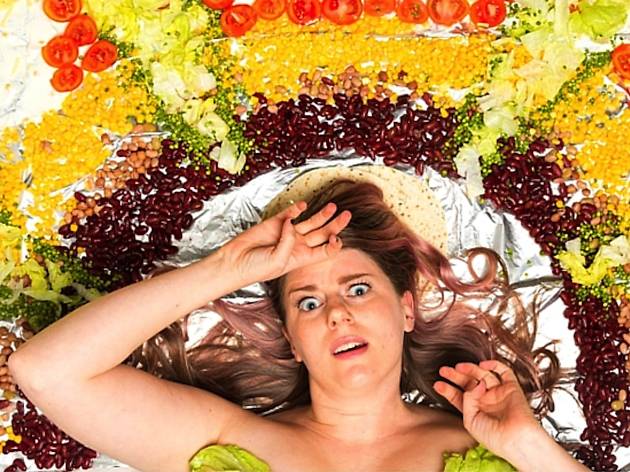 A delicious plate heaped high with spicy stories, and hearty homespun wisdom
This show is not about burritos. Let's get that out of the way right now. But like a burrito, this fresh effort from Melbourne-based comedian (notcomedienne) Lauren Bok is all about piecing together the unwieldy mess that is human existence, one short-sighted decision at a time, adjusting expectations and evolving.
And that's the performer we meet on stage: one evolving, finding what lights up her tastebuds – and those of her audiences.
The initial portions of the show are all spice – it's gags about one-night stands, the fraught nature of female casting in film and TV, and mums texting. These are fine, but feel familiar.
Bok has more to serve, however. She's an adept storyteller, with a legitimately unique perspective and a stirring sense of conviction and command that makes you want to share with her a sangria or ten. Strangely, she does seem determined to unpick this impression, and dissuade us that she has any part of her life together. Much of Bok's early material stems from the 'God, I'm a mess! I have no idea what I'm doing!' school of confessional comedy, when in fact it is her wisdom, sense of surety and fiery politics that most resonate.
One segment detailing her truly fascinating experiments with polyamoury is such an example. Bok seems capable, even inclined towards, the kind of comedy that quietly agitates for cultural change and this is truly exciting, but occasionally undermines this with lazier, "Am I right, ladies?" nods.
Bok also has a flare for the physical, and the absurd – one mimed goal kicked in self-congratulations ends with one imaginary punter dead as Bok flirts with a paramedic on the phone. And like so much overpriced guac, the audience craves more of these tasty smatterings of strange than Bok dollops on them.
Finally, things take a turn for the sombre as Bok recounts the passing of her dad. A shift occurs here that is unmistakeable, and for all the burrito puns that might been sandwiched in here (oops!), this shift deserves to be earnestly marked.
Bok's entire demeanour changes, and we are witness to a whole new catalogue of material. One that is moving, earnest, and all the more ridiculous because it is real. Bok teeters on the edge of despair – and it's this sense of emotional danger that makes the audience sit up in their seats as she delivers the powerful finale.
It feels like the show Bok should have made, and perhaps wanted to make, but assumed audiences' tastes sat elsewhere. She goes heavy on the hot sauce, when in fact the meal she's prepared – and that we taste bits of – is, at its core, nourishing and novel.
¡Viva la evolución! of this firebrand comic – definitely one to watch!
SHANNON LOUGHNANE