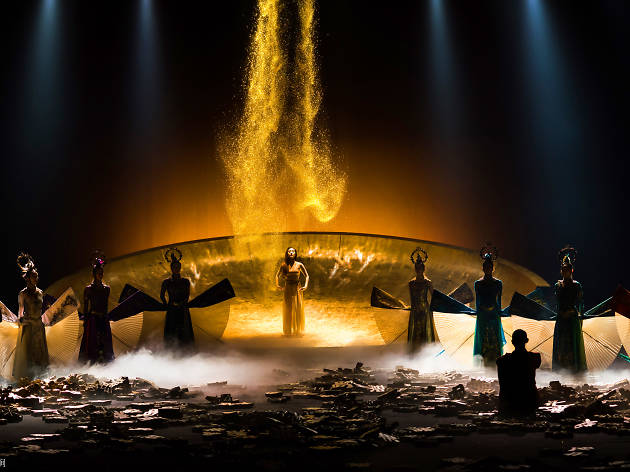 Time Out says
Superstar Chinese choreographer Yang Liping is melding western and eastern traditions in this Melbourne Festival show
Stravinsky's The Rite of Spring premiered more than a century ago, but that Parisian night in 1913 remains ballet's most notorious. The accounts of how and why it turned into an audience-wide screaming match aren't all consistent, but it's well known that two different groups ended up in fiercely vocal disagreement about the avant-garde experiment that was unfolding onstage and in the orchestra pit. That's a far cry from the audience behaviour you're likely to see at Melbourne Festival.
In the years since then, Stravinsky's jagged, luscious and unsettling score has been a favourite as both a standalone orchestral work and a ballet. It's lived plenty of lives and one of its most successful recent reincarnations is Chinese dance superstar Yang Liping's ballet, which refracts the story of ritual sacrifice through an Asian lens. And we say reincarnation because that's a concept central to this staging, drawn from Buddhism.
Not everything in Yang's version will be comprehensible to an audience unfamiliar with Buddhist philosophy and Chinese culture – for most of the time we weren't able to decode much of the symbolism, and the narrative is a bit fuzzy – but the production is so visually spectacular and inventive as to keep pretty much any audience enthralled.
As we enter, the ensemble of women is already sitting on the stage, facing the audience. They're gorgeously costumed (Oscar winner Tim Yip is the designer), each in a separate colour. Around them, a Buddhist monk moves around the stage arranging hundreds of small Chinese script characters made of foam around the stage, encircling the dancers in text. The first part of the ballet uses an original score by Xuntian He, taking the audience through a series of slow, reverent rituals. When Stravinsky's score kicks in, the dance becomes more vigorous. Wearing fluorescent spikes on their fingers, the dancers seem to embody different floral forms, and in one particularly memorable moment, they're lined up and rooted to the ground, snaking their bodies back and forth through the air.
There's an enormous variety of movement and styles employed across the work's 75 minutes, but it holds together beautifully thanks to the commitment of the dancers; a full ensemble of women and one man who plays various roles, including death itself.
Eventually we reach the pivotal scene in which a young woman is selected as a sacrifice. She's fated to dance to death, which happens in a spectacularly vivid and violent way. But in Yang's version, the young girl welcomes her fate, as she'll be reincarnated. When that moment comes, Yang conjures up an image so striking – using costuming and a torrent of glitter – that it'll be difficult to forget any time soon. In fact, you could say that about most scenes in this lavishly inventive evening of dance.
Feeling hungry? Check out these offers from our Festival Feasts partners.
Details