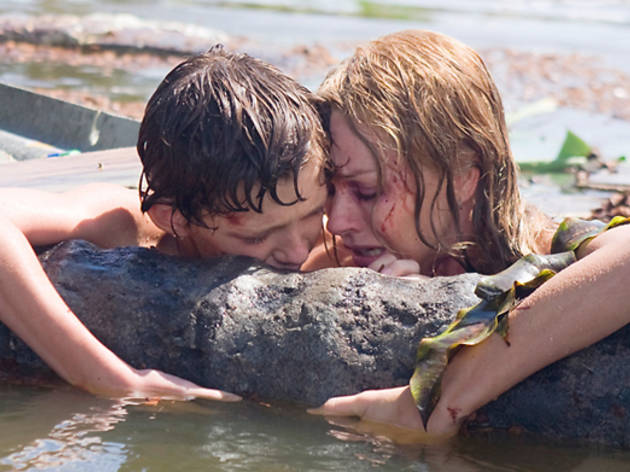 On Boxing Day in 2004 a tsunami took local Thai people and tourists by surprise, smashing through beachfront areas and carrying all before it. Among those swept away were the Alvarez Belons, a Spanish family of five replaced here by the English-speaking Naomi Watts and Ewan McGregor and actors playing their three young sons. Here, in a nutshell, is the problem with Juan Antonio Bayona's authentic-seeming survival story, which struggles throughout to reconcile the genuine facts with the more generic demands of a 'triumph of the human spirit' melodrama.
Bayona's staging of the original tidal wave and its aftermath is extraordinary and terrifying, but mostly he avoids disaster movie tropes in favour of the 'universal' plight of one separated family: while the badly injured Watts and her eldest son struggle through the body-strewn wreckage to an overrun hospital, the more fortunate McGregor tirelessly struggles to reconcile his family, losing sight of his two younger boys in the process. At its best, this strategy cuts to the heart of the human tragedy: the moment when the eldest son realises the extent of his mother's injuries and confronts his frightening adult responsibilities is quietly shattering. But by opting for this tight familial focus, Bayona and his The Orphanage scriptwriter, Sergio G Sánchez, reduce the plight of thousands of homeless, injured and bereaved Thais to mere set dressing.
A box-office phenomenon in Spain where this family's story is well known, The Impossible is littered with contrivances and coincidences which undermine its credibility. In the end, Bayona's film is more frustrating and exhausting than inspiring.
Release details
| | |
| --- | --- |
| Rated: | M |
| Release date: | Thursday January 24 2013 |
| Duration: | 114 mins |
Cast and crew
Director:
Juan Antonio Bayona
Cast:
Ewan McGregor
Naomi Watts
Geraldine Chaplin