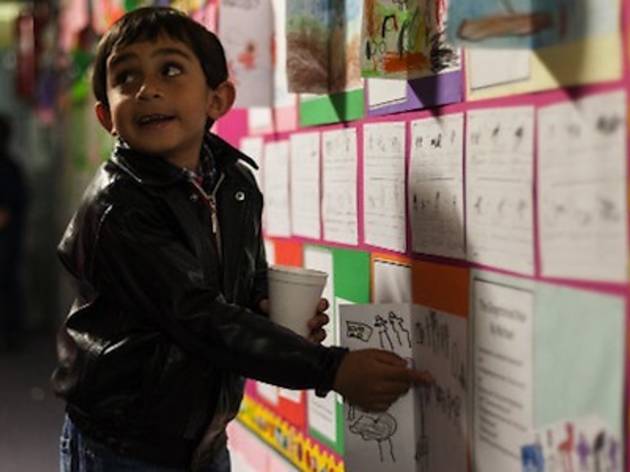 Marginalised kids in the Inner West now have a haven to spark their imagination and strengthen their literary skills. You can even get involved yourself…
There's nothing like the feeling when an idea takes seed. For Lachlann Carter, CEO of Footscray's 100 Story Building, the epiphany happened the other side of the world, in San Francisco. In 2009, Carter, along with his partner, fellow Melburnian Jenna Williams, accepted an internship at 826 Valencia, a non-profit project helping six- to 18-year-olds read and write. Inspired, the couple returned to Melbourne and founded the the non-profit organisation Pigeons, which delivered creative publishing programmes to primary schools in the Inner West.
Carter himself took up a teaching position at Footscray City Primary School, and then spent two years as a casual relief teacher working in schools around the west, while Williams worked in communications for the Footscray Community Arts Centre. Jessica Tran, a long-time Pigeons volunteer, joined them to found 100 Story Building as a social enterprise to inspire youngsters and improve their literacy.
Workshops for school kids have them taking part in collaborative writing games. They might learn how to make comics and zines, or be invited to write about one of the 99 floors that are 'hidden underneath' the newly opened workshop building in Footscray. There are also master classes for adults interested in writing children's fiction. Paid public programmes help fund the free ones for disadvantaged areas.
"What we're offering is opportunities for kids who, for whatever reason, face language barriers, cultural challenges or a generational cycle of disadvantage," Carter tells Time Out. "We look at what we think are the fundamental needs for young people, the key aspects that are going to help them succeed in life."
Recognising that Melbourne's Inner West has long been home to under-resourced and disadvantaged families, the 100 Story Building team is focusing on offering support to schools in the area. With a wealth of writers, including children's author Sally Rippin and Alice Pung, as well as support from leading publishers including Penguin and Hardie Grant Egmont, this organisation has been built on a solid foundation of people dedicated to writing, reading and working with children.
Sound enticing? 100 Story Building is looking for volunteers to help out. "You don't need to have an educational background to get involved," says Carter. "You need a passion for working with kids and a passion for words."
Venue name:
100 Story Building
Contact:
Address:
92 Nicholson St
Footscray
Melbourne
3011