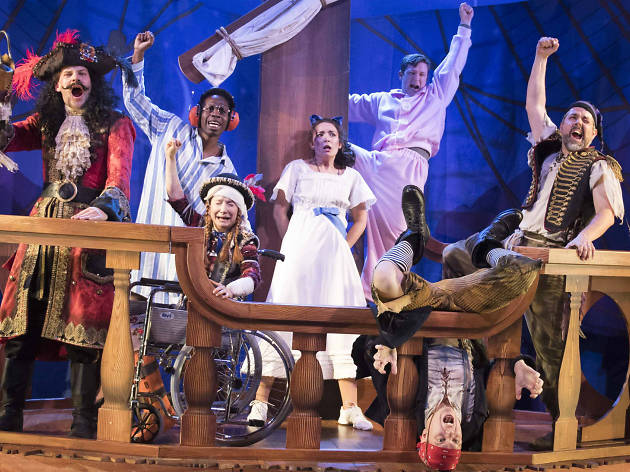 Take a trip (or just a tumble) to Neverland with the team behind The Play That Goes Wrong
Last year Australian audiences got a taste for the hottest comedy sensation on the West End in The Play That Goes Wrong, a raucous farce that's thankfully far more imaginative than its title. The slapstick spoof follows the members of the Cornley Polytechnic Drama Society as they try to hold everything together at one disastrous performance of a murder mystery.
The play itself started out in a small pub theatre in London before going on to play sold out season after sold out season in bigger and bigger venues. It eventually played Broadway and a successful Australian tour.
But the team behind it, Mischief Theatre Company, didn't stop at just one play, and their follow-up, Peter Pan Goes Wrong is headed to Australia for a tour that takes in Melbourne, Adelaide, Canberra, Sydney and Perth. It features all the same characters from the Cornely Polytechnic Drama Society as they try to bring the magic of Neverland to life on stage. If you want to know how it goes, there's a pretty significant clue in the title.
Time Out London wrote in a four-star review:
"If you saw The Play That Goes Wrong, there are few surprises here. It's an ingeniously simple premise: drop an audience into a fourth-wall-breaking performance of a show that falls apart spectacularly from the first scene. Here, that's an adaptation of JM Barrie's Peter Pan, directed and starring the pompous Chris, who – in spite of his amusingly seasonal, pissed-off insistence that this is 'not' a panto – is properly boo-hissable...
"It all feeds into a delicious fantasy of theatre's worst excesses, with petty rivalries, aching artistic pretentiousness and Peter and Wendy's back-stage bonking all 'accidentally' exposed to us like someone caught with their pants down. Mean-spirited? Not really. It's so deftly exaggerated, it's the real panto here."