These Miami hotels have Jacuzzis in the room—because you deserve it, baby
Step up your bubble bath game and book one of these Miami hotels with Jacuzzis in the room for your next vacation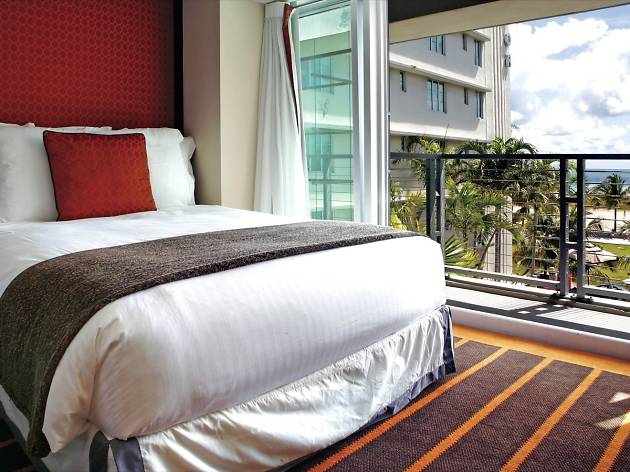 You might be surprised, but there aren't a whole lot of Miami hotels with Jacuzzis in the room. Only a select few offer suites that allow you to unwind from a day at one of the best Miami beaches by soaking like a content little potato in your own private Jacuzzi tub. You probably won't find that option in the best cheap hotels in Miami or in the best boutique hotels in Miami, but the private Jacuzzi is an underrated gem of an amenity that thankfully lives on in Miami. Check out where you can book one of your own.
Best Miami Jacuzzi hotels
It ain't a secret that the historic Fontainebleau oozes luxury at every curve. So, naturally, you can find your own private jacuzzi in a few of the hotel's specialty suites, like the Sorrento Penthouse, a five-bedroom monster with your very own outdoor and indoor jacuzzi tub.
2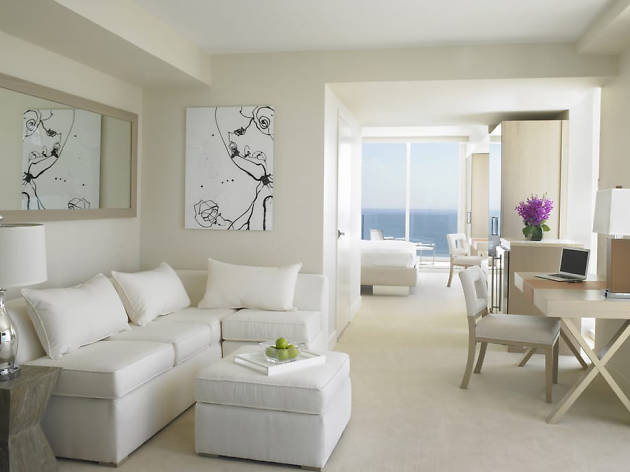 Photograph: Courtesy Yelp/Grand Beach Hotel Surfside
Grand Beach Hotel Surfside  
Enjoy the amazing Surfside views from the Jacuzzi on your private deck. All you have to do is book the oceanfront Jacuzzi suite and prepare to make all your Instagram friends very, very jealous.
Photograph: Courtesy Yelp/Grand Beach Hotel Surfside
The sprawling (790 rooms and 57 suites) South Beach hotel puts you within walking distance to the beach, Lincoln Road and—if you book either of the presidential suites—a jacuzzi tub will be waiting for you in the bathroom. You'll also have your very own powder room. Fancy!


All of the acclaimed Setai's suites boast jacuzzi tubs in the bathroom. In the mood for a very Miami Beach weekend? Book the four-bedroom penthouse suite and enjoy two large Jacuzzi tubs as well as a 3,000 square foot private rooftop terrace with yet another Jacuzzi waiting for you.
Optimized for relaxation with just about every detail, the Carillon's sleek bathrooms feature deep soaking tubs (with jets, of course) to help you unwind. You can also find additional Jacuzzis open to guests in the spa and adults-only pool.
6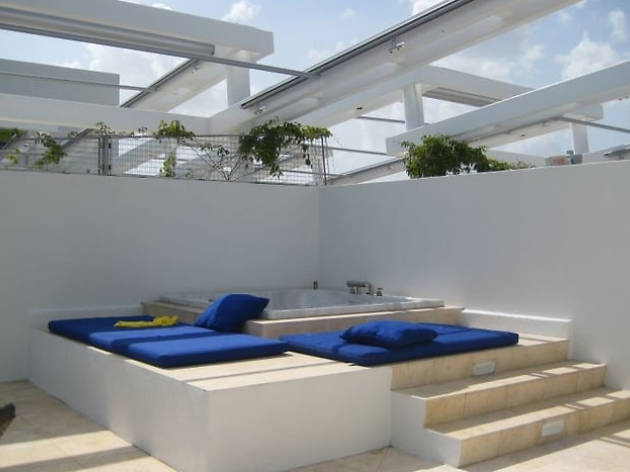 Photograph: Courtesy Yelp/Allie C.
You'll have to spend a little extra for access to your own private Jacuzzi at Z Ocean, but—if you can afford it—it's worth it. Each of the hotel's rooftop terrace suites comes with a private outdoor Jacuzzi that gives you a prime ocean view while you soak.
Photograph: Courtesy Yelp/Allie C.
Adjacent to the Versace Mansion, the Victor is every bit as rich and opulent as the designer label itself. Book the King Suite for your very own infinity edge Jacuzzi soaker tub. The Victoria penthouse suite also includes a Jacuzzi on its private rooftop deck if you're ready to splurge.
Trying to plan a romantic getaway?
Fall in love with cozy rooms and amenities guaranteed to make sparks fly at one of the most romantic hotels in Miami.