Everything you need to know about Time Out Market Miami
Check out our Time Out Market Miami cheat sheet before you come and chow down with us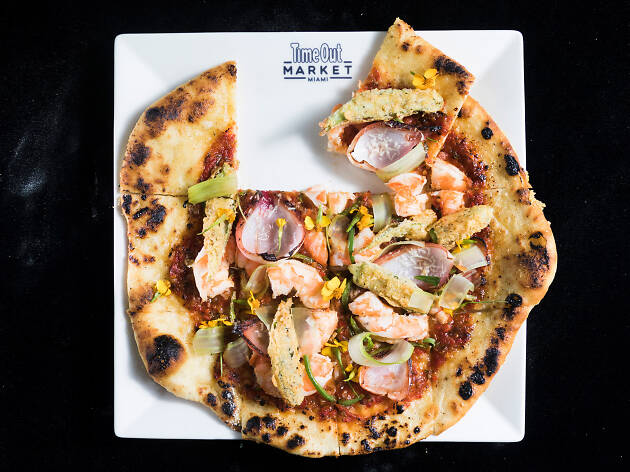 Time Out Market Miami, housing the best chefs and restaurants in Miami (and with help from some of the best bars in Miami too) debuts in South Beach this spring. The market is basically an IRL version of Time Out Miami's favorite food in the city. Our editorial team spent literal years eating their way through Miami to find the best of the best. The final product is waiting for you and your taste buds in South Beach. But here's what you should know before you go.
What is Time Out Market Miami?
Time Out Market Miami is a dining and cultural destination in South Beach that holds 18 different culinary concepts. Each one has been curated by Time Out Miami's editorial staff. The result is some of the city's best food (and drinks) under one big roof.
Where is Time Out Market Miami?
Time Out Market Miami is located at 1601 Drexel Avenue, Miami Beach. It's in South Beach, just off Lincoln Road.
What are Time Out Market Miami's hours?
Time Out Market Miami is open seven days a week: Sunday through Thursday from 8am to 11pm and Friday through Saturday from 8am to midnight.
What restaurants will be at Time Out Market Miami?
You'll find 18 unique (and delicious) chefs and restaurants doing their thing inside Time Out Market Miami. Linked here, you'll find a story introducing all of them.
Will there be drinks at Time Out Market Miami?
Come on. Seriously? If you know us even a little but you know that we love our cocktails, which is why we'll have three different bars at the Market. At the signature Time Out bar, you can find a list of original cocktails with specialty drinks from Broken Shaker, Sweet Liberty and Generator Miami that were made just for us. Beer and wine are available too!
Where should I park at Time Out Market Miami?
Time Out Market Miami is located right next to a parking garage, so you should have no trouble snagging a spot. We're also right next to Lincoln Road, so there's plenty of street parking nearby.
How far away is the beach? Just two short blocks, so you may want to bring beach supplies—just in case.
How much does the food cost at Time Out Market? The mission of Time Out Market is to democratize fine dining. Meaning, everything served at the market will be affordable.
Read the latest news about Time Out Market Miami