Miami travel guide
Consult our Miami travel guide for visitors' information on domestic and international travel to and from Miami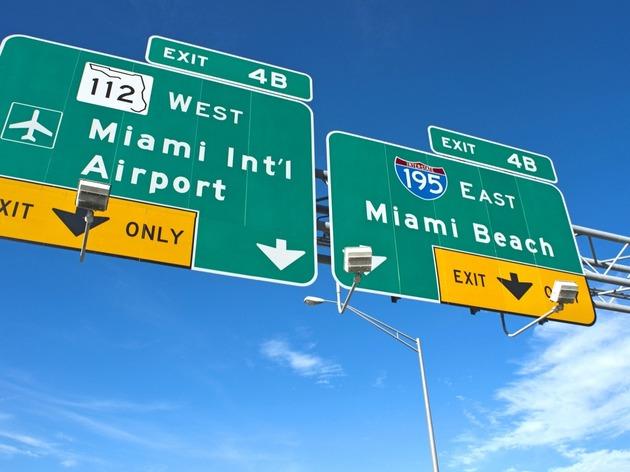 Traveling to Miami by air
Miami International Airport (MIA)
305-876-7000, miami-airport.com
MIA is north-west of Downtown Miami. Unless you're planning to rent a car, the easiest way to get from the airport to the city is the SuperShuttle (305-871-2000, supershuttle.com), a shared-ride van service. You'll find dispatchers waiting on the curb wherever you exit on the lower level of the arrivals building. Fares are $20 ($10 additional passengers) to a South Beach hotel or private residence; and $12–$31 to Coral Gables or Coconut Grove.
You can also take the Miami Beach Airport Flyer from MIA to and from Miami Beach; it's a WiFi-equipped bus that costs just $2.35 each way. The Flyer runs every 30 minutes, offering an express service to and from the airport from 6am to 11.40pm, seven days a week. The service runs between the MIA Metrorail station (which can easily be reached by the MIA Mover, a 1.25-mile-long automated people mover that runs between the airport and Miami Rental Car Center) and Miami Beach (from 41st Street to South Pointe Drive). For more information, call 305-891-3131 or visit miamidade.gov/transit.
Launched in 2010, the MIA Rental Car Center (RCC) is a convenient, one-stop shop where visitors have their pick from 16 car rental agencies. Travelers arrive at the RCC via the MIA Mover; be sure that the rental agency gives you a map, so you can easily find your way out of the parking lot.
Alternatively, you'll find taxis waiting outside MIA's arrival terminals. There's a $32 flat rate (not including tolls or tip) to South Beach, or $22 to Coconut Grove.
Fort Lauderdale-Hollywood International Airport
954-359-1200, fll.net
From Fort Lauderdale Airport you have several options on how to make the 30-mile trip to Miami. The best is to rent a car at the airport and drive south on either I-95 or the Florida Turnpike. Otherwise, take a shuttle bus to the Tri-Rail station and then take a commuter train south to Miami. Note, however, that the Tri-Rail schedule is very limited, running every two hours at the weekend.
There is also a shared-ride van service, Go Airport Shuttle (954-561-8888, go-airportshuttle.com), which will take you to your hotel in Miami or Miami Beach. Fares are $21 per person to South Beach, $34.50 to Coral Gables.
When it comes to returning to Fort Lauderdale Airport, there's another shared-ride option: you can book the SuperShuttle (305-871-2000, supershuttle.com) 24 hours in advance for $43 ($14 additional passengers) from South Beach, $46 from Coconut Grove and Coral Gables. Unfortunately, it doesn't pick up from the airport.
Traveling to Miami by bus
Greyhound
4111 NW 27th St, at 41st Ave, near Miami International Airport (800-229-9424, 305-871-1810, greyhound.com). Bus 7, 37, 42, J. Open Ticketing office 24hrs daily. Credit AmEx, Disc, MC, V.
The national long-distance bus service. Travel is cheaper Monday to Thursday, and buying a return ticket at the time of departure will save 5–15%.
Traveling to Miami by rail
Amtrak
800-872-7245, amtrak.com. Station: 8303 NW 37th Ave, at NW 79th St, near Hialeah (305-835-1221). Bus 32, 79, L/Metrorail Tri-Rail.
Long-distance train services. You can travel from New York to points on the east coast of Florida, including Miami. The connecting bus service (available only to rail passengers) provides a service to Orlando, Tampa, Key West, West Palm Beach and other points. Its bus service between Orlando and Fort Myers can be accessed by any traveler. If you travel by Amtrak, it's worth planning ahead, since return tickets are cheaper than two one-ways.
Tri-Rail
800-874-7245, tri-rail.com
A commuter rail line that runs the 70-plus miles between Miami and Fort Lauderdale and the Palm Beaches. It links with Miami's rapid transit system Metrorail and various Miami bus routes. Fares vary by zones. Flat-fare, all-day tickets that provide unlimited travel are available on weekends for $5 (adults) or $2.50 (reductions).
Travel to Miami by sea
The Port of Miami (305-371-7678) is one of the world's busiest passenger and freight ports, with millions of cruise-ship passengers passing through each year. Seven ultra-modern cruise terminals provide an easy check-in and boarding process.
You can book cruises to destinations as diverse as Mexico, Puerto Rico, France, Haiti, St Thomas, Jamaica, Key West, Colombia, the Panama Canal and most of the Caribbean islands. Try Carnival Cruise Lines (800-764-7419), Norwegian Cruise Line (866-234-7350) or Royal Caribbean Cruise Lines (866-562-7625).