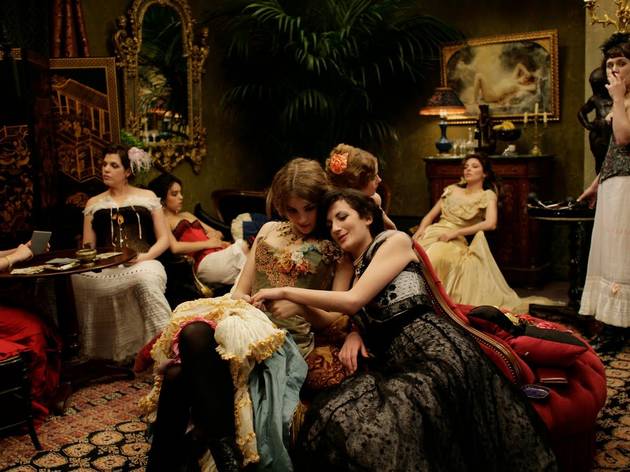 Time Out says
Few would argue that the low point so far in this unusually consistent Cannes (as far as dependably solid quality is concerned) must surely be Bertrand Bonello's exploration of everyday life in a fin-de-siècle Parisian brothel frequented by the rich and powerful. The French title, with its accent on memory, may possibly account for a narrative occasionally so unilluminatingly repetitive, fragmented and elliptical that it often slips into incoherence, but it's difficult to excuse (let alone comprehend) its bizarre use of music – one might accept as appropriate exotic anachronisms like Puccini, but 'Motherless Child', a '60s soul number and 'Nights in White Satin' (accompanied by modern dancing) feel as risibly wrong as a tacked-on, painfully obvious coda showing hookers on the roadside in today's Paris.
A pre-credits scene, outlining a prostitute's eventually fateful dream, at least suggests that we are in for something both sumptuously painterly and rightly sympathetic to the plight of women dependent on the mercy of the male clientele visiting their madame's lavish but economically strict and straitened establishment. Indeed, it would be foolish to decry the film's carefully contrived look – the women in their petticoats and corsets and the men in their formal attire all lolling around picturesquely in tableaux of golds, greens, crimsons and purples – or its acknowledgement that the working girls, for all their courage, sisterly camaraderie and canny intelligence, are being exploited. But once one gets beyond the curiosity value of certain historical and sociological aspects to what passes for a plotline, one is left with a mostly turgid, tedious and frequently pretentious series of scenes of scant dramatic interest or progress.
Typical of the fundamental wrong-headedness of the project are a couple of early captions setting the temporal scene, the first announcing that it's November 1899, twilight' of the nineteenth century, the second that we've moved on to March 1900, 'dawn' of the twentieth century. Does Bonello believe we're too innumerate or dim to work this out for ourselves? It's not as if we won't notice how things have changed. But then so much of the film is over-emphatic, be it the occasional bouts of grotesquerie or supposedly 'subtle' touches like a petal falling from a flower. The claustrophobic atmosphere produced by the film constantly staying within the bordello (save for one scene and the aforementioned coda) initially aroused hopes that Bonello might have made a French 'Flowers of Shanghai'. No such luck; for all its lavish tableaux, this is, in the end, a very weedy affair.
Details
Release details
Cast and crew