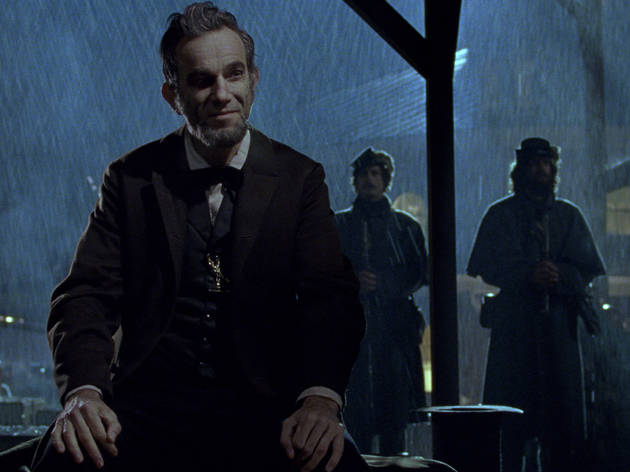 Time Out says
Not every American president is a dreamer—arguments rage whether this is an advantage or not. Nor is every film director a visionary (though that should be part of the job description). In the case of the magnificently wonky Lincoln, a political movie that ranks among giants like All the President's Men, there's an unusually strong marriage between subject and maker. The scene that should have begun the film comes about ten minutes in, after a smoky battlefield clash intended for the red-meat crowd. Daniel Day-Lewis, transformed into a chatty, stovepipe-hatted leader, tells his wife about a nightmare in which he stands on the deck of a ship racing toward a foggy horizon. The fantasy is eerily quiet; even via the homey cadence of the actor's soft narration, there's a mysticism to it.
Steven Spielberg has always been great when it comes to monologues like this; you can see wonderment swirling with fear as early as Jaws and Robert Shaw's midnight tale of sailors fighting off sharks. Tony Kushner's Lincoln script is freighted with similar unease—how could it not be?—but the movie that's come from it has a playful vigor, a love of words and storytelling. Abraham Lincoln, we learn, drove his war secretary to apoplexy with gabby tangents; he told awkward jokes, quoted liberally from scripture ("actually, I have no idea what you mean by that," one Cabinet member snaps) and inspired telegraph operators with offhand lessons from Euclid.
Stealthily, like its rambling language, Lincoln arrives without the typical birth-to-death arc, and thank Abe for that. Instead, it's mainly about the passage of the 13th Amendment (the one that abolished slavery), compressing all of its insights into a handful of contentious months in 1865. It's not your typical "great man" movie, but something juicier: a Sorkinesque peek into 19th-century congressional machinations and vote-engineering. Don't be scared by that. Lincoln is meant for today's audiences, riveted by polls, processes and hourly updates.
Just as you're wrapping your head around how verbal Spielberg's latest is, along come the performances that elevate his movies to the stratosphere. Apart from Day-Lewis's mighty turn—poised between clomping Illinois farm lawyer and brooding thinker—there's career-high work from Tommy Lee Jones as Republican scowler Thaddeus Stevens, a fierce abolitionist who learns to compromise for the greater good. Sally Field scores as a frenetic First Lady and even old rascal Hal Holbrook gets to steal the picture for a bit as a pained peacemaker.
If this is Oscar bait, then that term has somehow been radically altered. (Leave it to Spielberg to rewrite the rules.) Defiantly intellectual, complex and true to the shifting winds of real-world governance, Lincoln is not the movie that this election season has earned—but one that a more perfect union can aspire to.
Follow Joshua Rothkopf on Twitter: @joshrothkopf
Details
Release details
Rated:
12A
Release date:
Friday January 25 2013
Duration:
150 mins
Cast and crew