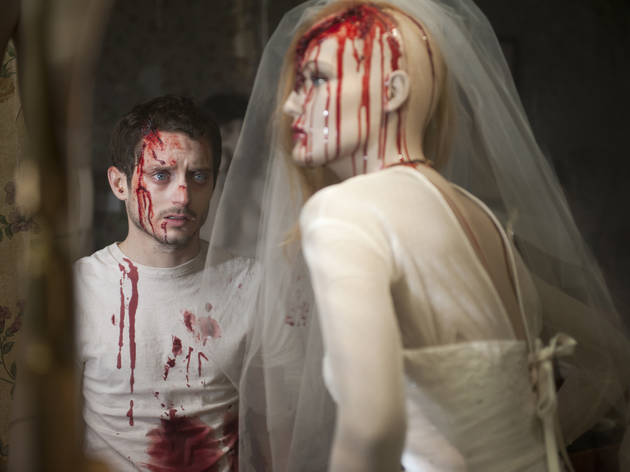 Time Out says
Riding Taxi Driver's coattails and unabashedly courting the exploitation-flick demographic, William Lustig's sleazy slasher Maniac (1980) memorably portrayed Koch-era Manhattan as a grungy playground for a most unhinged serial killer. Some 32 years later, it's Los Angeles's turn to get the sewer-slick city-streets treatment: Franck Khalfoun's giddily gory remake of Lustig's grindhouse cult item turns the City of Angels into a kind of postapocalyptic dreamscape, with our scalp-slashing antihero, Frank (Wood, nicely cast against type), stalking his female prey in the first person.
Aside from a few cleverly employed floating-beyond-the-body shots, the camera assumes the POV of this diminutive, introverted psycho throughout. Khalfoun has us fully in his clutches from the first striking scene, in which Frank follows a semisoused clubgoer to her front door and cuts off her scream with a well-placed stab to the jugular. Our base desires to see pretty ladies disemboweled are pointedly played on by the subjective aesthetic. Each killing is suffused with a strangely surreal empathy for both murderer and victim that recalls Jonathan Demme's genre-redefining The Silence of the Lambs.
Maniac doesn't quite reach the heights of that great horror film; it's a bit too self-aware, referencing everything from The Cabinet of Dr. Caligari to Lambs itself (one murder sequence is even scored to Jame Gumb's favorite Q Lazzarus track, "Goodbye Horses"). But it still works its way under your skin and, by the time the highly disturbed Frank's casualties come back to haunt him en masse, cuts sanguinely to the heart.
Follow Keith Uhlich on Twitter: @keithuhlich
Details
Release details
Cast and crew