Governors Island guide for NYC families
Craving some excitement or r&r? Get a dose of both at Governors Island—NYC's communal backyard that has it all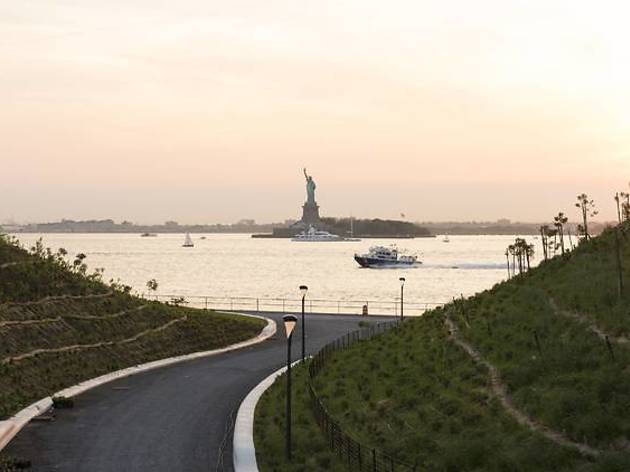 Governors Island is the ultimate outdoor oasis. With just a quick hop on the ferry, New Yorkers are transported to the calm, serene setting of Hammock Grove...or the adrenaline-inducing zip-lining course. Truly, this location is the best of both worlds.
If you're planning to visit the Governors Island playground (a kid-only spot) with your tots, make sure to take full advantage of the other amenities before heading home. There's a multitude of craft options, athletic activities and of course, places to take a load off (parents will love a pitstop on those hammocks). Plus, the annual Governors Island events are practically essential happenings on all New Yorkers' calendars.
Don't let the ferry leave without you!
When does Governors Island open?
This year, Governors Island opens on May 1, 2018.
When you're not taking a ride on those Governors Island bikes or snacking during an afternoon picnic, check out these other epic summer activities for kids, visit NYC's best ice cream shops or take your journey on the road with the best strawberry picking in New York.
Governors Island, NY activities for kids
Slides, swings and seesaws are great fun, but for big kids who would rather roll up their sleeves and build their playground themselves, look no further than The Yard. Previously known as Play:ground, The Yard is a 50,000 square foot adventure playground on Governors Island that is well stocked with donated materials children can use to create their own playscapes. It gets its new name as a homage to the first "junk playground" in the United States that opened in Minneapolis in 1949, which was also called the "Yard." Children over 6 years old enter the kids-only space while caregiver remain outside to allow for maximum freeplay. There, they use loose parts like cardboard, rope, wood planks, tires, discarded plastics, fabrics and more to construct masterpieces.
Summer leaves NYC families on the prowl for the city's best kids' playgrounds and splash parks (because what's summer without a visit to Ancient Playground or Imagination Playground at Burling Slip?). What you may not know is that Governor's Island NY unleashed one of the impressive slide sets in NYC history in 2016.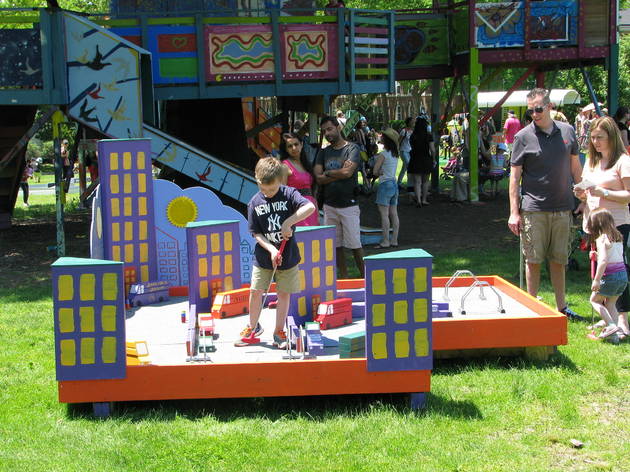 Every year at the parade ground (the largest open green area on the island), Figment NYC brings a series of interactive art installations to Governors Island—expect an artist-designed minigolf course, a custom tree house and a walk-through pavilion.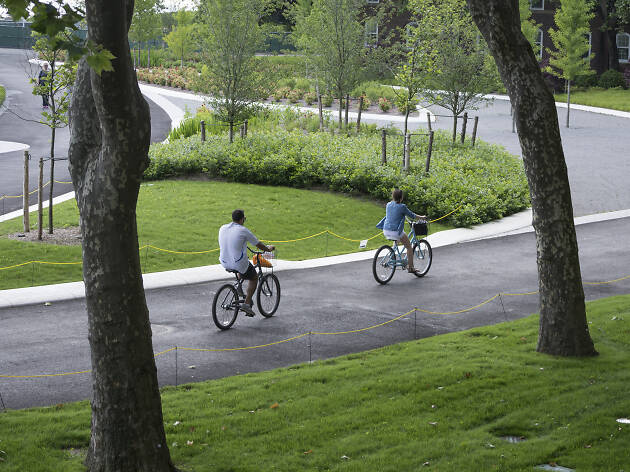 Timothy Schenck
Colonels Row bike rentals
With five miles of car-free paths, zipping around the island on a bike is a no-brainer. Free cruiser rentals are offered weekdays between 10am and noon (kids' bikes, child seats and tandem bikes are also available; $10–$20). Blazing Saddles also has four- and six-seat surreys (think pedal-powered golf carts) so everyone can ride together ($30–$45). Got bikes of your own? Bring 'em over with you on the $2 Governors Island Ferry, departing from the Battery Maritime Building or Brooklyn Bridge Park Pier 6.

Bonus: Governor's Island has two Citi Bike docking stations available at the ferry landing—you can use your annual membership or purchase a short-term membership from the kiosk.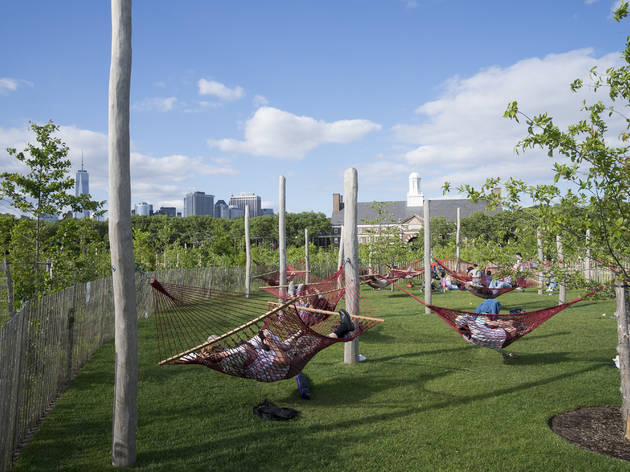 Timothy Schenck
Kids will love clocking some lazy swing time in the Hammock Grove, a 10-acre slice of heaven. Fifty red-rope hammocks are rigged up on treelike poles—if you're lucky, you and the fam can grab two or three and bliss out with BYO story-time books. It's also right near the ball fields, a play area with climbing structures and swings, plus play fountains
in Liggett Terrace.
Photograph: Courtesy CMA
Located outside Building 14, the Outpost is open from 11am to 3pm on Saturdays and Sundays throughout the summer. Skilled Teaching Artists from the Children's Museum of the Arts help kids partake in art and recycling projects inspired by nature at their tent-shaded tables. Ages 1–15.
Prepare for extra adventure—this will be an experience for the books! The Flywire Zipline, giant Maze and Climbing Challenge walls are perfect attractions for thrill-seekers. While kids are zipping away, parents can watch their adventures comfortably on the ground in the new shaded recreation area. Don't forget to pick up a snack at the refreshment station during the wait!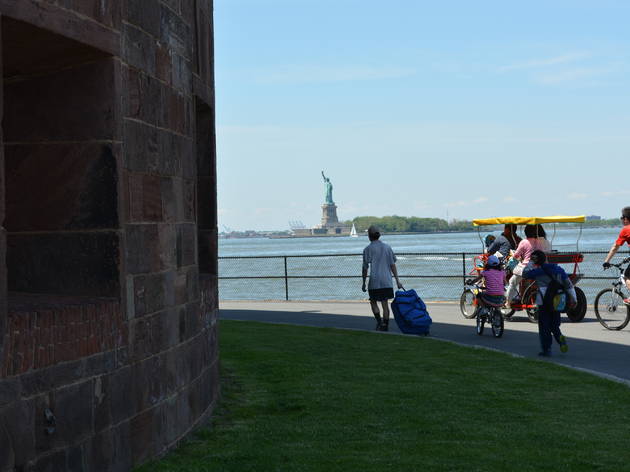 Reserve a grill or picnic table via this gatherings form for your next BBQ. The reservation even includes a Radio Flyer wagon for transporting goods to the grilling area.
Fore! Visitors big and small can practice their putts this summer at a brand-new mini golf course. The 18-hole attraction—in the backdrop of gorgeous NYC scenery—opened to players on June 23. Kids and adults will aim for a hole-in-one while their golf ball travels around a blue whale, mini lighthouse and other adorable features on the course. Tickets are $7 per person or $25 for a group of four.
Need a place to scrimmage? Look no further. Governors Island's invites schools and leagues to get a good workout on its new turf field. If you're looking to reserve the spot for a game, click here.
Show more
More to explore