NYC botanical garden and park guide: Fall 2012
Time Out Kids unveils its latest NYC botanical garden and park guide for fall 2012, with events your family won't want to miss this autumn.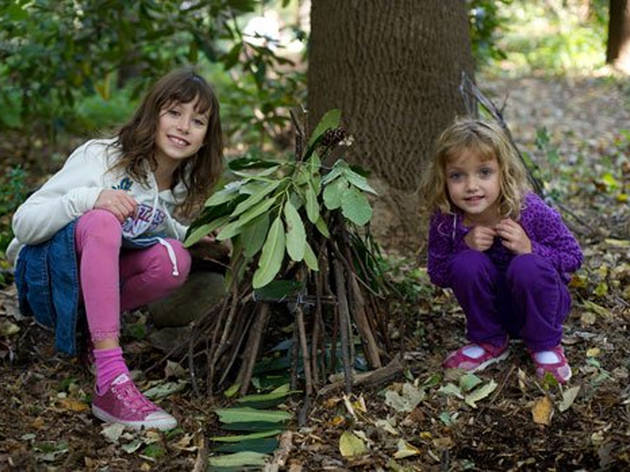 1/10
Wave Hill Enchanted Forest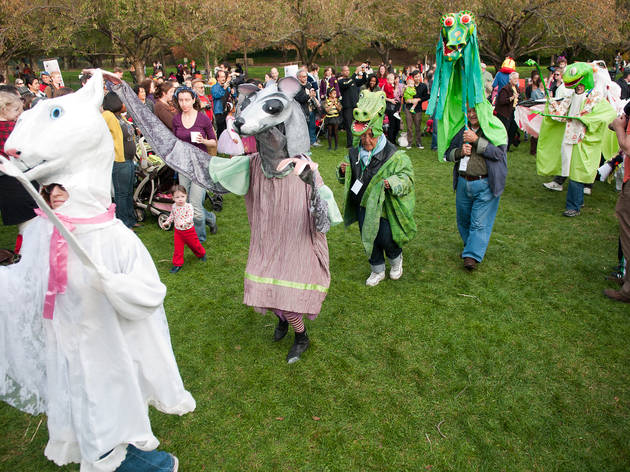 2/10
Photograph: Jason Gardner
Ghouls and Gourds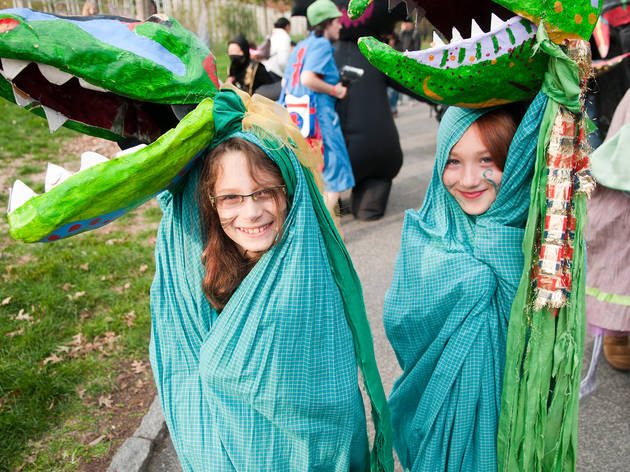 3/10
Photograph: Jason Gardner
Ghouls and Gourds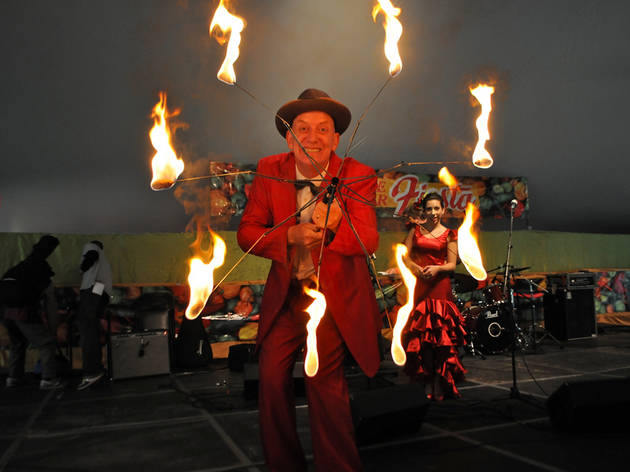 4/10
Chile Pepper Fiesta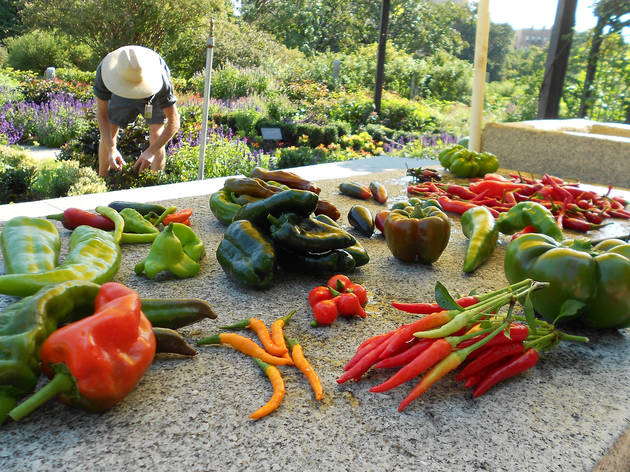 5/10
Chile Pepper Fiesta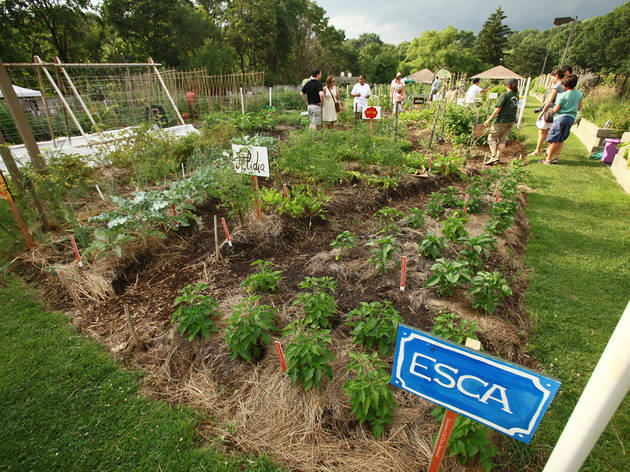 6/10
Photograph: Victor Chu
Visitors explore Mario Batali's Kitchen Gardens in the Ruth Rea Howell Family...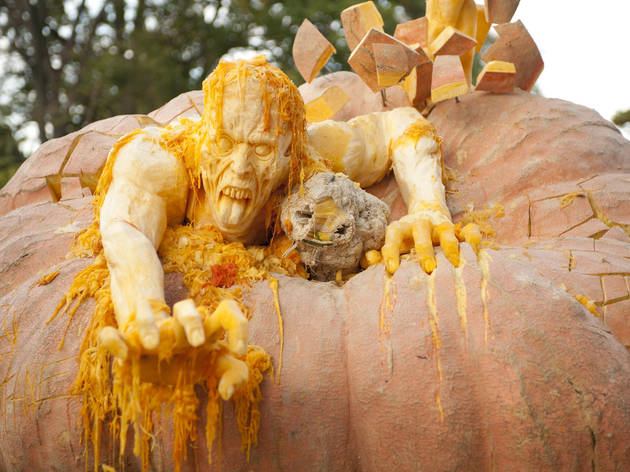 7/10
NYBG Haunted Pumpkin Garden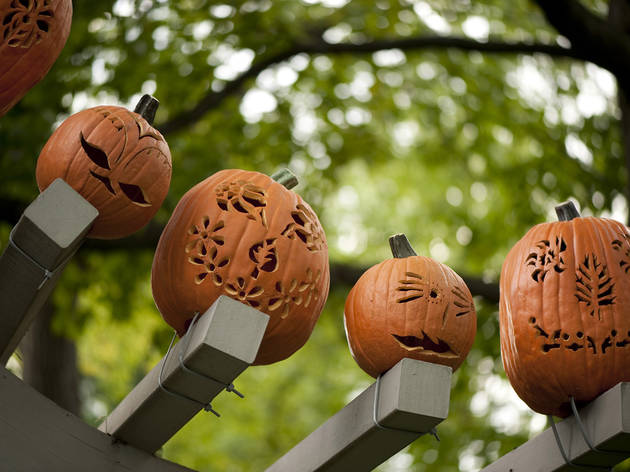 8/10
NYBG Haunted Pumpkin Garden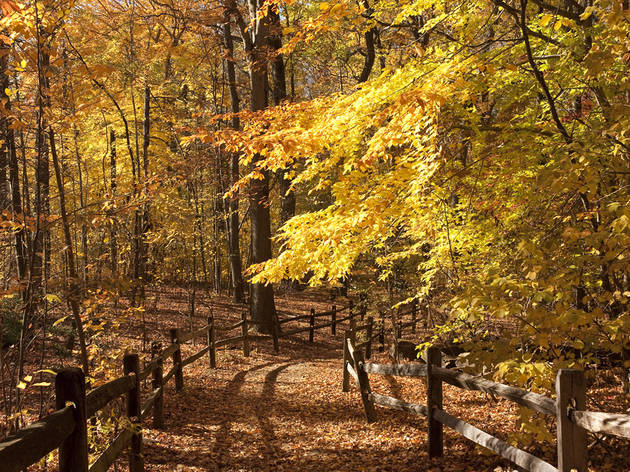 9/10
Thain Family Forest at NYBG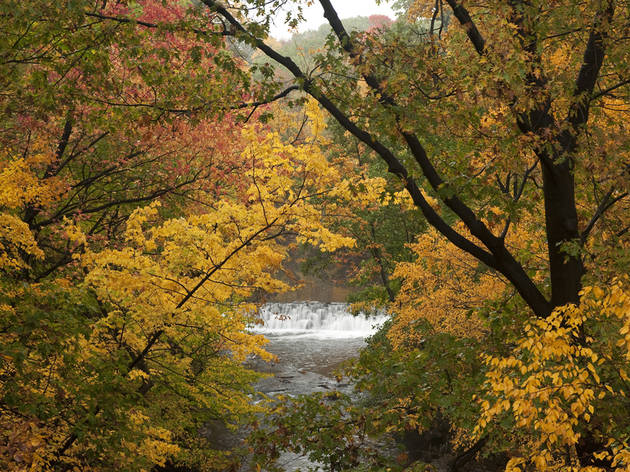 10/10
Thain Family Forest at NYBG
Summer's nonstop blooming may be a highlight of NYC botanical garden and park visits, but the wealth of offerings and autumnal beauty at the city's green spots make them must-see destinations in the fall too. We've rounded up highlights of the upcoming season's NYC botanical garden and park offerings, from pristine forest trails and food festivals to pumpkin sails and birding workshops, to make picking your family's outings easier than ever. Click through to read our picks for the four best ways to enjoy the great outdoors this fall.
1. Go for a walk in the woods
What better way to take in the changing colors of the season than by hitting a leaf-strewn trail under a crisp blue sky? At Central Park's Woodland Discovery Day (Oct 20 11am--2pm), families can take a guided tour of the newly opened "Woodlands" exhibit, then borrow a nature kit—a backpack containing a hand lens, binoculars, colored pencils and two field guides—to explore the nearby North Woods. Among the inhabitants you might spy are raccoons, squirrels and even chipmunks, in addition to more than 200 species of birds. For a more hands-on experience, head to the annual Enchanted Wave Hill Weekend (Oct 21--22 10am--2pm), where little ones can craft tiny houses with sticks and leaves, take in stories about fairies and channel the day's magic in a session of painting on silk. If a bona fide hike is in order, hop the subway or MetroNorth train to the New York Botanical Garden and set off on a walk through the newly restored Thain Family Forest, the largest swath of native forest left in the city. Streams, waterfalls and trees as far as the eye can see are apt to capture the imagination of little urban dwellers.
2. Taste autumn
Something about the chilly air of fall sets appetites on fire. Tease, then sate your family's hunger at the NYBG's Edible Garden Festival. Families can take a tour of the gardens, solving Mario's Menu Mystery along the way; decorate a harvest bag for Greenmarket shopping; make a chef's hat; sit in on cooking demos by NYBG staff (at the Whole Foods Market Family Garden Kitchen; 11am, 1, 3pm); and sample vendor snacks. For an additional $5, visitors can also join Batali himself for a special cooking demonstration. And if you find yourself in Prospect Park on Open House New York Weekend, stop by Lefferts Historic House's Sweet and Savory event (Oct 7 1--4pm) for a treat from Mrs. Lefferts's 19th-century cookbook (suggested donation $1 per goody). If all things piquant are your family's preference, don't miss the Chile Pepper Fiesta at the Brooklyn Botanic Garden (Sept 29 11am--6pm). In addition to tastings of semispicy fare at booths throughout the garden, kids can take in dance performances by the likes of the Kl Ml African Dance & Drums troupe, Vlada Tomova's Balkan Tales, and fire-breathing, juggling and more from circus performers Robbins and Ringold.
3. Celebrate Halloween en plein air
Because of their many hiding places and occasional deep, dark woods, the city's parks and gardens make the perfect place to celebrate Halloween. At Central Park's annual Halloween Parade and Pumpkin Sail (Oct 28 4--6:30pm), little ones can take part in crafts at the Charles A. Dana Discovery Center, don their costumes in a Halloween procession and set their finest, candle-lit jack-o'-lantern afloat to join the pumpkin flotilla on Harlem Meer. After getting snowed out in 2011, this year's Ghouls and Gourds at the Brooklyn Botanic Garden (Oct 27 noon--6pm) promises to be better than ever, with communal craft projects, musical gourds and mini costumed revelers marching through the garden with giant puppets. Up in the Bronx, the NYBG reprises its Haunted Pumpkin Garden (Oct 6--31; times vary), which transforms the Everett Children's Garden into a spooky hollow populated by scary pumpkin creatures, bats and creepy bugs. Young visitors can join in a costume parade, watch master pumpkin carver Ray Villefane ply his trade, put on a performance in the Pumpkin Puppet Theater, and take part in less Halloween-y projects such as planting buckwheat seeds and collecting fallen leaves and nuts.
4. Tune in to fall migration
Twice a year, New York City is filled with myriad bird species on their way north or south for the winter. As seen from a bird's-eye view, Central Park beckons to them as one of few swaths of green on their Eastern Seaboard route, signaling a great spot to feed and rest (to learn more, check out the great new doc The Central Park Effect). On Sunday mornings from September through November, the new Birding for Families workshop in Central Park (10--11am; ages 5 and up) teaches participants how to use binoculars, several pairs of which can be borrowed, and spot birds in the wild. Among those you may encounter are hundreds of birds of prey (a.k.a. raptors), from hawks and eagles to falcons, kites and ospreys. Wave Hill celebrates the magnificent creatures with it annual Raptor Day (Oct 8 9:30am--4pm), where kids can watch live raptor shows, go on bird walks, check out discovery tables and even dissect an owl pellet. Prospect Park, another spot beloved by avians, hosts its own Raptor Fest (Sept 30 noon--3pm), where bird handlers hold flight demonstrations, discuss wildlife rehabilitation and teach children about how our fine feathered friends evolved from dinosaurs. Early birds can continue their study the following weekend with the Brooklyn Bird Club--led Early Morning Birdwalk: Fall Migration (Oct 7 at 8am), also at Prospect Park. It introduces families to the concept of migration, taking them on a trek to look for birds and teaching them where the avians are heading and when they'll be back.