Easy DIY Halloween costume ideas for kids (slide show)
Crafty teaching artists from the New Victory Theater share their DIY Halloween costume ideas for kids (think last-minute looks made from household items!).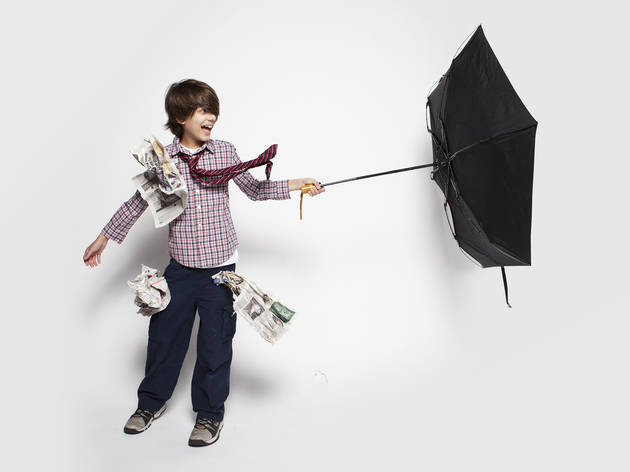 1/5
Photograph: Jessica Lin
DIY Halloween costume ideas for kids: Man Blowing in the Wind What you'll need: Button-down shirtNewspaperMen's tieWire hangerUmbrella (if it's broken, even better!)Gel or hairsprayInstructions:1. Untwist a wire hanger and run it into the seam of the tie and shape it so that it looks as if it's been swept away by the wind. The wire can loop around the neck like a regular tie on top of the button down shirt.2. Next, take crumpled newspaper and tape it to the shirt and along the pant legs.3. Last, take the umbrella and flip it inside out. To add to the look, get a pair of fake glasses and twist them to sit crooked on your child's nose, or use hair gel to sweep their hair in the same direction as the tie.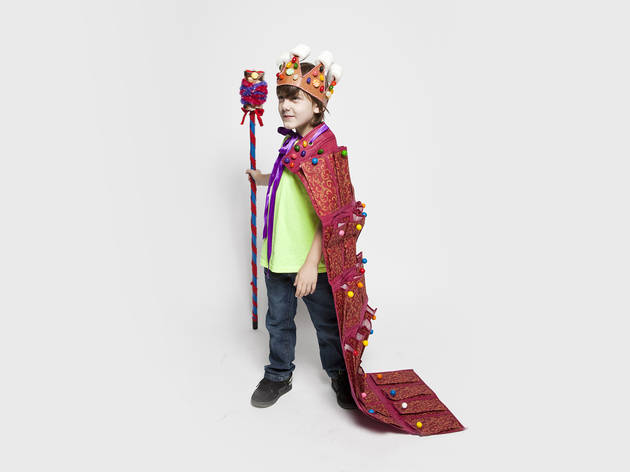 2/5
Photograph: Jessica Lin
DIY Halloween costume ideas for kids: Candy King What you'll need: Hanging shoe rackCardboardBroomstickRibbonSmall cereal boxSweatbandLots of candy! Instructions:1. Cut a crown shape into the cardboard and glue it to the sweatband. Decorate with paint and candy for jewels.2. Take the small cereal box and place it on the end of a broomstick handle and wrap the whole thing in ribbon for the scepter. Add as much candy jewels as you wish.3. Finally, tie ribbon through the holes of a hanging shoe rack to create a cape. Decorate freely with candy and invite people to drop candy into the pockets!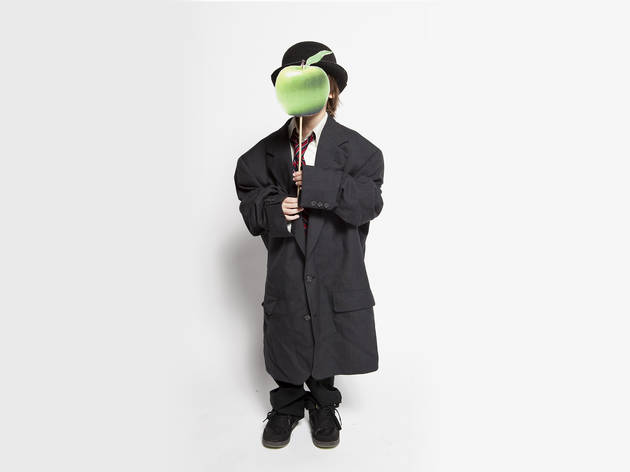 3/5
Photograph: Jessica Lin
DIY Halloween costume ideas for kids: Son of Man (to coincide with the Magritte exhibit at MoMA) What you'll need: Bowler hat, if you have oneBlack jacketWhite button-down shirtRed tiePrinted image of a big green appleCardboardDowelInstructions:1. To imitate the famous painting by Rene Magritte, simply print out a big green apple and glue it to card stock or cardboard. Glue a dowel to the back of the image to make an apple on a sick.2. Next, have your child put on all of the clothes. When he goes trick-or-treating, have him hold the apple in front of his face to be the "Son of Man" painting.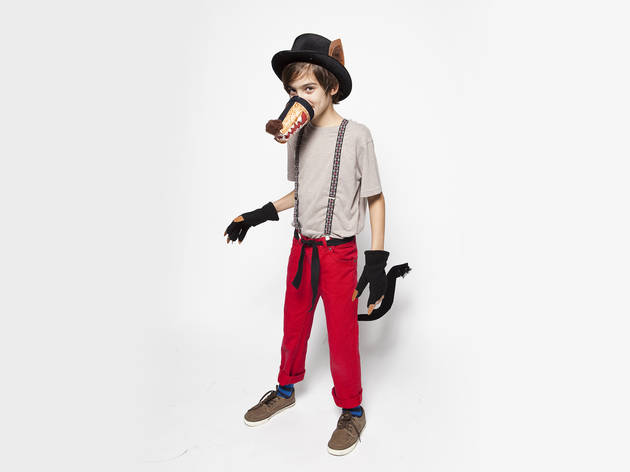 4/5
Photograph: Jessica Lin
DIY Halloween costume ideas for kids: Cool Big Bad Wolf What you'll need: FedoraSuspendersBrown or black tieWire hangerPlastic or foam cupsCotton ballString/elasticBlack glovesInstructions:1. To create the snout, cut a jagged line down the middle of a foam cup and decorate it so that the cup looks like teeth. Place on either side of a plastic red cup so that the inside of the wolf's mouth is red. At the end of the cup, create a nose out of fabric or a brown-painted cotton ball. String elastic through the cup and place it over the nose and mouth for a mean snout.2. For the tail, untwist a wire hanger and tape it to a brown or black tie and shape it any way you want. Bonus points if you can fashion the wire to hook onto the pant waist!3. For the final wolfy detail, create wolf ears out of cardboard and attach them to the hat. Make cardboard claws and glue them to a pair of black gloves and add suspenders.
5/5
Photograph: Jessica Lin
DIY Halloween costume ideas for kids: Meet Gyana and Drew Teaching artists, like Gyana and Drew, typically work in teams of two during education programs at the theater. In addition to her work at the New Vic, Gyana also teaches drama at the Mosholu Montefiore Community Center and works with a number of youth development programs for the Healing Arts Initiative HAI. Drew is a Brooklyn-based artist who also teaches at the Park Avenue Armory and the Blue School; he's also the associate artistic director for Trusty Sidekick Theater Company.
We're big fans of creating homemade Halloween costumes for kids, especially ones that are easy! Just in time for Halloween, we enlisted the help of two teaching artists—Drew Petersen and Gyana Mella—from the New Victory Theater to suggest unique DIY Halloween costume ideas for kids. Scroll through to see their creations, modeled by Gyana's kids Lucas and Mitchell, and to learn how to make them!

RECOMMENDED: All Halloween events in NYC for Kids