50 funny animal videos to watch with your kids
Everyone loves a good funny animal video. Whether it's guinea pigs eating watermelons, fainting goats or kittens riding turtles, nature's furry creatures continue to enchant us!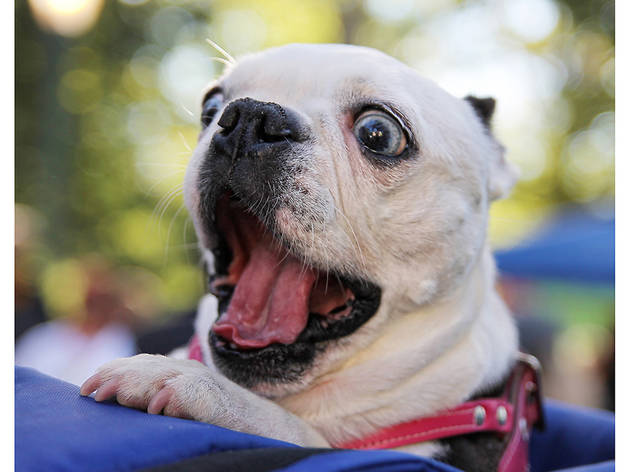 There's something that brings us all together, big and small, and it's not actually pizza. Funny animal videos (jerk animals and cute animals also) bring families together. Check out our ultimate list of the best animal videos on YouTube…you won't regret it!
1–10
1
This Dog Can Dance the Salsa…Can You?
Watch a tiny dog bust some moves by his owner's side.
2
Kitten Rides Tortoise Around the House
Slow and steady wins the race. This cute kitty arrives in style on her very own tortoise.
3
Don't Argue with an Ibex
What is an Ibex? Should you argue with one? Probably not.
4
Fearless French Bulldog Does Backflips
Little Tito loves getting catapulted by his red toy ball.
5
This Cat Says No, No!
Enjoy cat-human speak…it's obviously protesting something.
6
Goat Who Yells Like a Person
There's an old man trapped inside this goat, and he's making a scene…
7
Bentley the Bulldog Puppy Wants on the Couch
This little puppy bundle won't settle for the hardwood. He wants snuggles right now!
8
Rusty Needs Naps Immediately
A narcoleptic dachshund has captured our hearts forever with his napping schedule.
9
Ermagerd, Guinea Pigs Eating Watermelon!
These Guinea pigs aren't saving any of their watermelon slices for you.
10
Dog and Elephant BFF hang out
This dog and elephant may be an unlikely pair, but they're friends for life.
11–20
11
The Ultimate Dog Tease
This dog's owner teases his best buddy in the worst kind of way…with bacon.
12
One Guilty Dog
Denver definitely didn't eat those cat treats…nope.
13
The Craziest Old Goat You'll Ever See
He can't seem to keep his tongue in his mouth, and he looks a little crazy…but he'll be your best friend for some snacks.
14
Maru, the Coolest Cat in Town
Maru's cuteness is undeniable…fortunately, all his best moments have been captured in one video just for you.
15
Fainting Goats
These adorable little goats will fall right over at the littlest scare.
16
Donkeys Flapping Their Lips
These donkeys hope that flapping their lips will bring treats a little closer…but will it work?
17
Dog Eating Food Like a Human
This dog is nomming away at the dinner table in his very own red hoodie, though something is suspicious about the way he's doing it.
18
Sneezing Baby Panda
The cuteness of the SBP will not be surpassed.
19
Goat / Oprah Mashup
We know who this goat's favorite talk show host is…and it's not Ellen.
20
Ridin' Dirty
This little guy is the envy of all of his friends…his Roomba will trump any ride!
21–30
21
Rhianna-Lovin' Corgi
A little corgie breaks it down to Rhi Rhi.
22
Jumpy, the World's Most Obedient Dog
Watch a border collie/blue heeler mix show its epic obedience skills.
23
Jenga Cat
Jenga Cat has mad talent…he may be a better strategist than you are.
24
French Bulldog Puppy Isn't Tired!
A pint-sized French Bulldog puppy says no to bedtime in the cutest way.
25
Great Dane Puppy Needs 10 More Minutes
Opposite from our French Bulldog friend, this sweet pup can't get enough of bedtime.
26
Puppy vs. Doorstop 1
Little labs love to nibble…on doorstops. Who will win?
27
Puppy vs. Doorstop 2
We really can't get enough of this puppy's surprised face.
28
Goats on Sheet Metal
These goats cannot jump on this sheet metal toy enough…who will get catapulted?
29
Buddy Teaches Baby to Crawl
Allie and Buddy the terrier are inseparable, and now he's teaching her some valuable life skills.
30
Corgie Flop
Corgies doing belly flops? We'll say this one has mastered them.
31–40
31
Golden Puppy Falls Asleep
Puppies are cute in general, but this little one is so adorable that he's actually falling asleep before our eyes.
32
Pug Head Tilt
Three pug heads tilt in confusion, and it's ridiculously endearing.
33
Dog vs. Balloons 2
This dog won't sleep until ALL of the balloons are popped. They really didn't stand a chance, anyway.
34
Cat Stalker
Watch this kitty stalk his prey (sneakily, mind you) with excellent kitty-ninja skills.
35
Surprise Kitty
Love surprises? This kitten is surprised…all the time.
36
Buttermilk the Goat
Buttermilk the goat loves her friends, but she doesn't always play nice.
37
Whale Rainbows
This whale may as well be magical…he can make rainbows!
38
Hamlet Loves Oatmeal
Hamlet the mini pig may be about the size of a gerbil, but that won't stop him from trekking down the stairs to his beloved bowl of oatmeal.
39
Dog Mimics Baby
A family dog can't get enough of his baby pal. He even speaks her language!
40
Dog Rocks the Piano
Sure, you and the kids might play piano…but have you ever seen it played like this?
41–50
41
Puppy Can't Get Up!
Why are French Bulldogs so cute, anyway? This little one is stuck on his back like an overturned turtle, and it's too cute to look away.
42
Otters Holding Hands
Friends hold hands, right? These adorable otter buddies are holding hands, too.
44
Talking Husky Says "I Love You"
This dog is man's best friend taken to a whole new level.
45
Baby Goat Flood at Sunflower Farm
This may or may not be the most menacing stampede we've ever seen.
46
Disney's Little Mermaid (The Kitty Version)
We hope that these stylish cats can swim and sing.
47
Fearful Puppies vs. Demon Cat
We're not really sure why this cat is so scary, but by the puppies' reaction, he's nothing but trouble.
48
Dog's Ultimate Dream Comes True!
Look out below…it's a tennis ball storm (of total happiness).
49
Chihuahua Does Yoga
Who knew this little breed was so flexible?
50
Walk on the Wild Side
Alan! Alan! Alan!...Steve! Steve! Steve!