Five healthy food delivery options for kids!
Need fresh food for your family ASAP? Order some yummy munchies for the little ones with these healthy delivery services.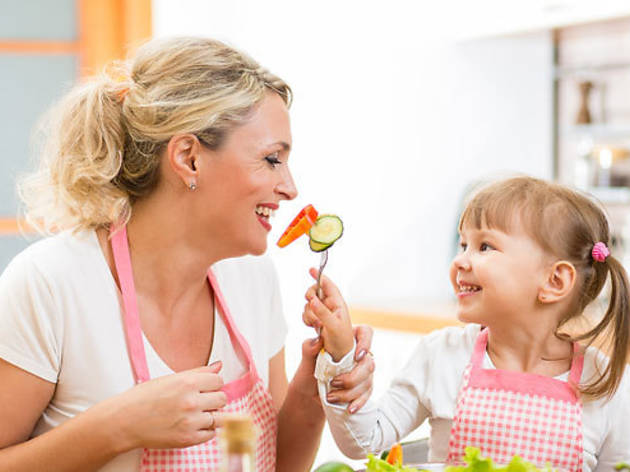 New York City parents lead busy lives, but still want to provide their kids with nutritious food options. Good thing delivery isn't just for adults! NYC has plenty to offer in the way of culinary delights sent directly to your door, including food-delivery services that specialize in healthy meals for kids. Whether you want vegan food for your baby or organic treats for your toddler, these delivery options will fulfill your kids' appetites while remaining healthy.

Petit Organics
Petit provides handmade organic and vegan baby food to families throughout Manhattan. it's free from preservatives, artificial flavors and colors, added salts and sugars, and genetically engineered ingredients. The Petit Pack ($48) contains a three-day supply of baby food in nine four-ounce containers; order online, and choose between a preset variety pack or a create-your-own combination of different purees and blends, with ingredients such as apples, pears, oats and cinnamon. You can pick up the food at any of Petit's five locations, or choose a delivery date and time. You must order at least 48 hours in advance. The food is prepared less than 24 hours before being delivered to your doorstep and arrives in cold packaging—but we recommend refrigerating it immediately.

Little Green Gourmets
Little Green Gourmets produces a diverse selection of healthy snacks, lunches and dinners for children. Using organic and local ingredients, the delivery service aims to help parents raise "smart eaters." By joining its e-mail list, you'll receive menus and selection forms each week. Order meals à la carte and have them delivered directly to your home, or order by subscription for delivery to participating schools. Little Green delivers throughout Manhattan and to parts of Brooklyn; the changing menus include kid-favorite meals such as chicken fingers, mac and cheese, and quesadillas.

Junior's Fresh
Advertising "handcrafted, farm-fresh food for the urban child," Junior's Fresh is committed to making tasty meals with seasonal ingredients from local farms. Eschewing synthetic fertilizers, pesticides, herbicides, artificial colors and flavors, fungicides, preservatives and GMO seeds, meals are made 24 hours before delivery and are good for up to four days. Junior's Fresh makes food for babies four months and older that includes ingredients such as butternut squash, beets and quinoa. It delivers to Manhattan and Brooklyn every Tuesday, Wednesday, Thursday and Friday. Snacks are either $6.99 or $7.99, and meal collections range from $32.95 to $58.95.

Shoogies NYC
Babies and toddlers located in Manhattan or Brooklyn can enjoy Shoogies' all-natural organic meals. Containing no preservatives and nothing artificial, the Shoogies menu includes purees with ingredients such as broccoli, cauliflower and apple for babies five to ten months old, and meals such as hummus and pita or grilled cheese for children ten months and older. Order at least three days before delivery. Each meal costs between $4.59 and $6.59, or you can order a pack for $35.99 to $51.99.

Komi Organics
Komi Organics delivers freshly made meals that include nutrients beneficial to your growing children, such as DHA, B12 and choline. Komi seeks to promote overall health and cognitive development through nutritious food choices. Offering lunch and dinner, this service provides all-natural meals that are low in sodium and do not contain added sugars, preservatives or additives. Komi delivers anywhere in Manhattan south of 145th Street on Tuesdays, Thursdays and Sundays. The menu changes constantly, but currently features bean-and-cheese enchiladas, sesame chicken fingers and grilled arctic char with herbed quinoa.