Heads up! We're working hard to be accurate – but these are unusual times, so please always check before heading out.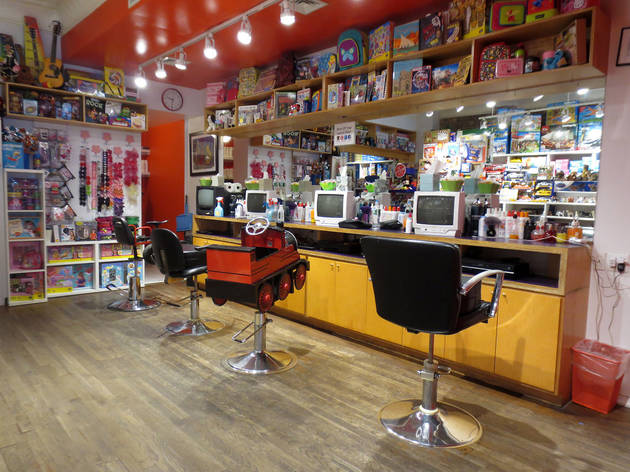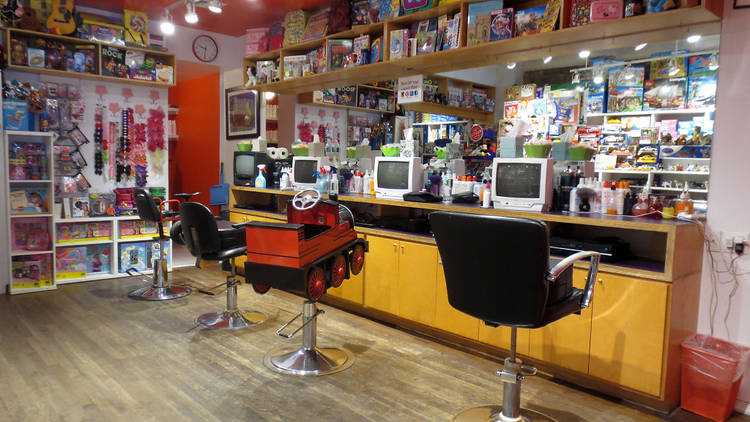 The best hair salons for kids' haircuts
Try these great hair salons for kids' haircuts to get a great new trim or fun styling and temporary, colorful extensions!
Visit the best hair salons for kids' haircuts! Squirmy toddlers, "No haircuts, please!" kids and moody tweens all share a similar loathing for getting a trim, but what if the experience didn't have to be excruciating? These great kids' hair salons offer the works in terms of kid-friendly amenities: think themed chairs, ipads to play with, tiny Tvs and adjoining toy stores.
Some of these great salons also double as spas—and perfect birthday party places! Several offer fun services like manicures, pedicures, facials—even braiding, glitter and styled ponytails with curls.
Best hair salons for kids' haircuts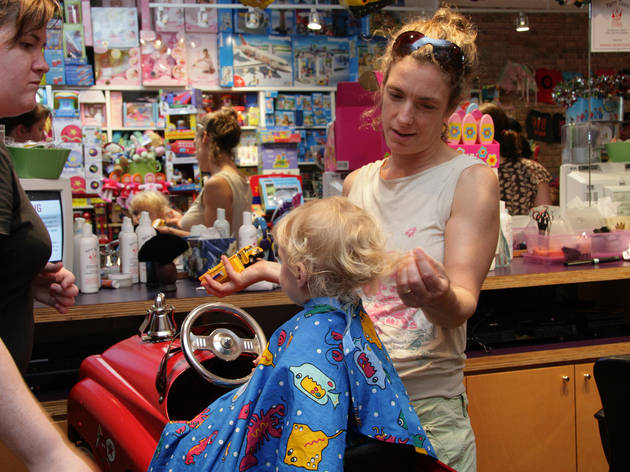 At Lulu's, your kids can snag a picture-day perfect 'do of the fauxhawk, bob or modern bowl cut persuasion. Even better, this salon almost seems like a toy store with a hair salon incorporated as an added bonus—the toy selection is massive! Haircuts for children up to age 12 are $29 and cuts for teens ages 13–19 are $34—little ones can even watch a DVD! 48 5th Ave between Bergen and Dean Sts, Downtown Brooklyn (718-832-3732, luluscuts.com)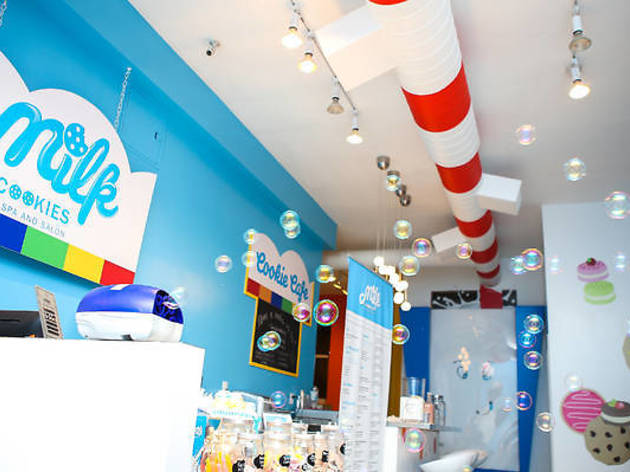 The just-for-kids salon ensures that you'll never have to drag your reluctant little one in for a haircut again. Tots can get everything from a trim to a deep conditioning treatment in the salon—complete with yummy scented "hair topping"—or get pampered with a soak, soufflé and polish during special mani/pedis that let them choose from flavors like chocolate milk or gummy worm mud pie. Kids can even get in on some hands-on fun, making their own treats in the Dessert Lab and Create Your Own station.
Available on Tuesdays only, the hair salon at Apple Seeds offers first-time cuts, back-to-school cuts, styling for ballet recitals and braiding for kids. All kids' cuts will run you around $32, and twins getting cuts together nabs you a 50% discount on the second child. A bonus for sentimental parents: All first haircuts come with a special certificate and a keepsake lock of hair. 10 W 25th St between Broadway and Sixth Ave (212-792-7590, appleseedsplay.com)
Edamama specializes in quick cuts for kids, plus the salon is known for bubbles, kid-friendly videos and—a tried and true pint-size favorite—lollipops. In addition to kids' haircuts, Edamama also offers fun classes and activities for kids including puppet shows, cooking sessions and music programs. 568 Union Ave, Brooklyn (718-388-3663, edamama.com).
At Cozy's Cuts, kids can sit in a car or giant Hulk hand barber chair while watching their favorite flicks on personal DVD players. Cozy's is also full of toys (for play and purchase) to keep antsy tagalong siblings busy while they wait for their brother or sister to get a trim. The shop also hosts kids' parties for birthdays and other special events, with themes like "The Beauty Bash," where kids can get their locks styled, get pampered with mini manicures and dance to lively music, plus regular kids' haircuts come complete with a lolly pop, balloon and a toy from a special goody basket. 1416 Second Ave at 74th St (212-585-2699) and 448 Amsterdam Ave (212-579-2600, socozy.com).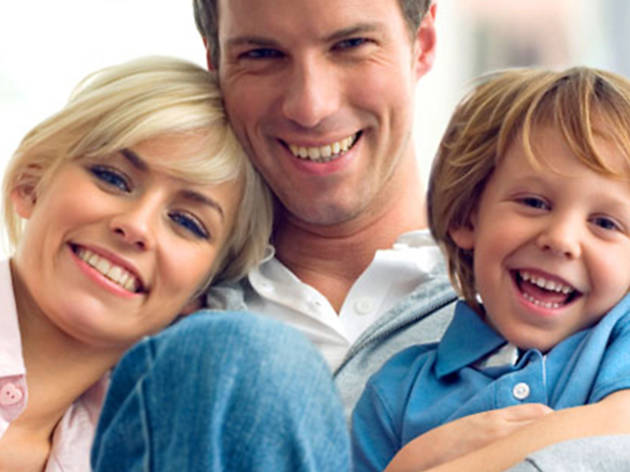 Getting your kids to the salon can be tough, especially if they can't stand sitting still! Lucky for you, Get Coiffed comes to your home to get the job done ($60 for haircuts). Though they don't have a storefront location, they'll do everything a normal salon would, plus they're known for giving top-notch haircuts for children with special needs (917-548-3643, getcoiffed.com).
Mini Max offers kids' haircuts for $25 with discounts for siblings and twins getting cuts together. Besides your usual playful kids' barber chairs (they have a taxi and fire engine), they also offer stylish capes for young patrons to don as they get their new 'do. If kids are fussy and just want to sit in Mom or Dad's lap, Mini Max hairdressers will cut your kids' hair right there. After ten haircuts, you'll also earn a free one. 152 Atlantic Ave between Clinton and Henry Sts, Downtown Brooklyn (718-222-8697, minimaxnyc.com)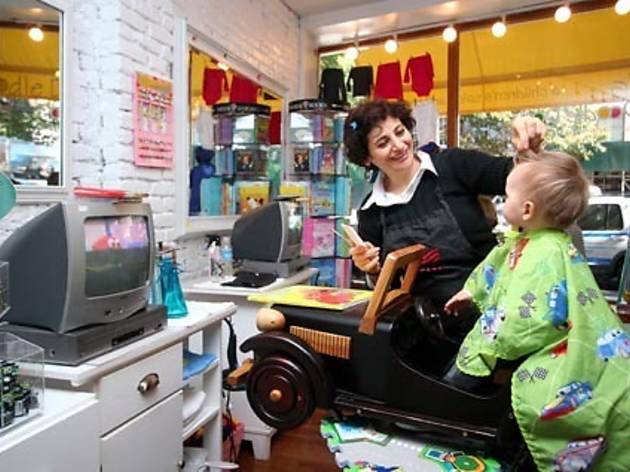 This hair salon was founded by a child development spcialist, and the business is run with children's needs in mind. Friendly staff will help your kids find a seat in a taxi, car or boat barber's chair for a speedy and stylish haircut, though your kids won't be in any rush to leave. Toys from Eboo, Melissa & Doug and LEGO line the shop's walls. Doodle Doo's also hosts birthday parties with themes like "LEGO Manic" and "Princess Palace." 11 Christopher St between Greenwich Ave and Waverly Pl (212-627-3667, doodledoos.com)