Pool halls for kids
Introduce kids to cue balls and break shots.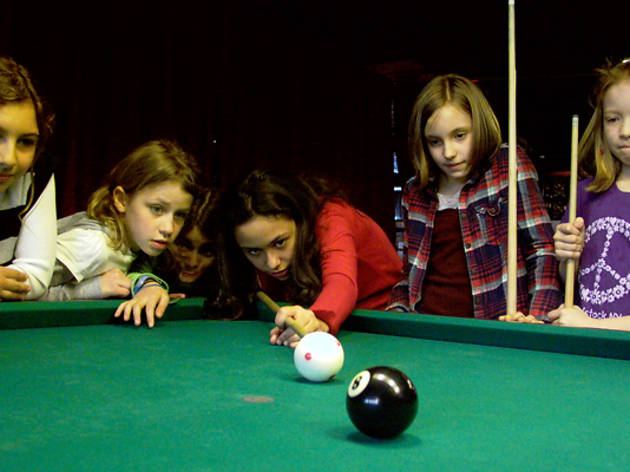 When Mayor Bloomberg banished smoking from bars, a whole new world opened up for New York's hard-to-please tweens: shooting pool. It's fun, educational (they're calculating angles and force!) and a fraction of the price of other city activities. If you hit one of these local billiards clubs before 6pm on a weekend, your well-behaved kids will be warmly welcomed. Just follow two rules: Adult supervision is required, and please, no hustling the tourists.
Amsterdam Billiards
With classic jazz on the speakers and an abundance of dark wood and polished brass, this upscale East Village joint has the vibe of an elegant university club. Even so, the middle-school set fits right in on Saturday and Sunday afternoons. Kids can watch the pros play in tournaments, or host the world's most debonair birthday party (for ages 11 and up).
110 E 11th St between Third and Fourth Aves (212-995-0333, amsterdambilliardclub.com). $5.75--$10.75 per person per hour.
Break
This upscale space just off the N train in Astoria has pool tables, Ping-Pong, darts, air hockey, video games and more. Here's the best deal: Come in for lunch or an early dinner (the menu includes burgers, nachos and fried Oreos—along with one or two healthier choices) and your whole crew can stay and play pool for free.32-04 Broadway between 32nd and 33rd Sts, Astoria, Queens (718-777-5400, break-ny.com). $12 per hour for two players.
Brownstone Billiards
The spacious basement club, with 30 pool tables, six Ping-Pong tables, bowling, air hockey and basketball hoops, has hosted birthday parties for many a Park Slope tween. It's attached to a sports bar with 30 big-screen TVs and a full menu of game-day grub like mozzarella sticks and burgers, so the entire family can stay entertained for hours. 308 Flatbush Ave at Seventh Ave, Prospect Heights, Brooklyn (718-857-5555, oceans8atbrownstone.com). $12 per hour for two players (buy two hours and get the third free).
Eastside Billiards
Located on the second floor of a busy stretch of East 86th Street, Eastside boasts 16 billiards tables, plus one each of Ping-Pong and foosball. Kids can take lessons with a house pro, or just snack on pizza and sodas while setting up their shots. 163 E 86th St between Lexington and Third Aves (212-831-7665, eastsidebilliards.com). $7--$9 per person per hour, or $15 to play all day (except Friday and Saturday).

Fat Cat Billiards
With the shabby look (and smell) of a State U frat house the night after a rush party, the West Village's Fat Cat is definitely down and dirty—what it lacks in class, though, it makes up for in bang-for-your-buck entertainment. On a lazy Saturday afternoon, kids have the run of the place, scooting between pool, Ping-Pong, shuffleboard, foosball, and game tables for chess, checkers and Scrabble. 75 Christopher St at Seventh Ave South (212-675-6056, fatcatmusic.org). $5.50--$6.50 per person per hour; $1 for game tables or foosball.