Heads up! We're working hard to be accurate – but these are unusual times, so please always check before heading out.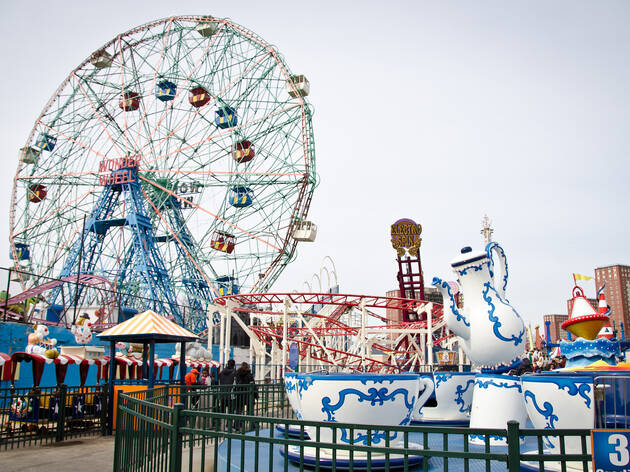 The best Coney Island activities for kids
Want to make the most of your Coney Island adventure? These Coney Island activities are great for kids!
For the quintessential New York (in summertime) experience, head to Coney Island to play the day away at the New York Aquarium, cruise the boardwalk, grab a sizzling hot dog and, if you play your cards right, even catch some beachside fireworks. Needless to say, Luna Park is also by far one of the best kids' amusement parks in town—and newbies, did we mention that it's right on the beach?
See below for our very favorite things to do around Coney Island during the summer months. It tops our list of amazing summer day trips to take with the kids. And never fear: If it's rainy, you can always hit up some of our favorite local indoor amusement parks.
Coney Island activities for kids
The kids will love posting up under an umbrella on this iconic stretch of sand for prime people-watching between dips in the ocean. Expect the three-mile beach and the boardwalk running its length to be packed on nice days, but with enough adult chaperones, the memories are worth battling the hordes. If you'd rather have more space to yourself, make your way toward the eastern end of the peninsula to find a spot in the sand on Brighton or Manhattan Beach—both of which are on the calmer side. During summer months, stop by on Monday nights to watch family flicks like The Goonies and Mrs. Doubtfire playing on a 40-foot, inflatable screen at West 10th St. Don't miss out on great photo ops like the annual Mermaid Parade and Sand Sculpting Contest.
Coney Island's Luna Park offers nothing but good times during the summer season. There's plenty to do for all ages—ranked from "Extreme Thrill" to "Mild Thrill," there are screamless rides for littler ones (like the Seaside Swing and spinning cups at Tea Party), exciting but not terrifying rides like Lynn's Trapeze and Coney Island Hang Glider and totally thrilling (definitely scream-worthy) rides like the Thunderbolt, Sling Shot and classic Coney Island Cyclone. There are also a ton of classic games on offer, ranging from Whac A Mole to Water Racer. As an added bonus, during certain parts of summer, Luna Park also gives out free ride credits for good grades.
There's nothing like a loaded dog and a cold soda at Nathan's after a day of fun in the sun. Scarf a chili cheese dog, a pile of crinkle-cut, cheese-engulfed fries or a double-beef cheeseburger or bacon cheeseburger to fill adult bellies. Kids might prefer the crispy chicken tenders, boneless wings or regular super cheeseburger. Don't miss the Nathan's Famous Hot Dog Eating Contest, which happens at Coney Island's Nathan's Famous every Fourth of July.
Get an up-close look at the creatures swimming offshore at NYC's own aquarium. Curious kids get to see a living re-creation of the Pacific coastline and catch sight of various East River species. Each day, there's a lively sea lion show at the Aquatheater (11am, 1pm and 3:30pm), plus feedings for the sea lions, sea otters, penguins, seals and walruses for families to watch. Visit Glover's Reef, a 150,000-gallon tank stocked with about 35 species of marine life from the coast of Belize, including jawfish and moray eels. Pop into the 4-D Theater to watch Ice Age: No Time for Nuts 4–D, (open daily, shows run approximately every 15 minutes), and get excited for "Ocean Wonders: Sharks!" which will open on June 30, 2018. Please note that a good portion of the aquarium is still under construction and in the process of being remodeled after damage from Hurrican Sandy.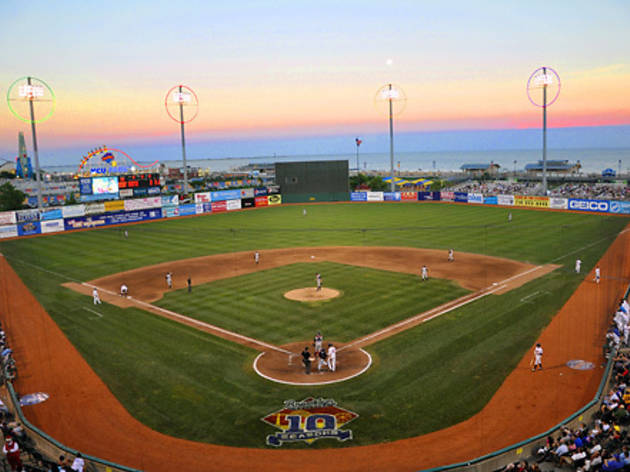 You've made the schlep to Yankee Stadium and Citi Field, but have you enjoyed a ballgame at this scenic stadium, just a stone's throw from the Coney Island beach and boardwalk? Bring young sluggers to watch the Brooklyn Cyclones play other minor-league teams through early September. Make sure to stick around afterward on select days to let the tykes run bases like the pros and to take in a post-game fireworks show from their seats.
Luna Park isn't the only place to get your thrills in Coney Island! Adjacent to its twisting coasters, this classic amusement park boasts adorable kiddie rides like the spinning Dizzy Dragons and the Tilt-a-Whirl for parents and tots tot enjoy together. Older kids can duke it out in their own individual bumper cars or brave the scary sights at Spook-A-Rama. Before you leave, make sure to take a spin on the 1920s ferris wheel, lifting kids 150 feet in the air for stunning views of the waterfront.
This brightly-colored neon beacon captures all the kitsch Coney Island is famous for. Take a break from the sun's relentless rays and take in exhibits like a 3D-printed scale model of the original Luna Park in all last century's majesty by Fred Kahl, or a thought-provoking glimpse into the surrounding area via an installation of paintings, sculpture and photography by the artist Africasso. Peek into funhouse mirrors whilst perusing a collection of coolers and thermoses from the 50s and 60s.
While you're at the museum, you can also bewitch and bewilder your kids with feats performed at "the last traditional 10-in-1 continuous sideshow." A cast of live, professional performers set about the business of swallowing swords, eating fire, and other acts that seem to defy human capability. Plus, every Sunday at noon, illusionists, escape artists, mentalists and close-up magicians from around the world take the floor at a kid-friendly show called "Magic At Coney."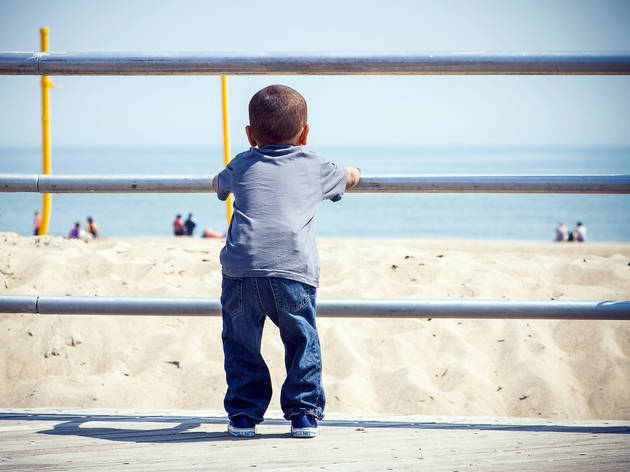 Photograph: Luciana Golcman
Refurbished a few years back after damage sustained by Hurricane Sandy, the pier is back and better than ever. Ogle the awesome ocean views and fishermen looking to score the day's catch. A wooden, wavy seating area mimics the rhythm and flow of the sea, inviting you to recline in its swell while remaining all nice and dry.
The famed Cyclone roller coaster and Deno's Wonder Wheel sponsor a stunning fireworks display every Friday night at 9:30pm (June–the weekend before Labor Day), and the Brooklyn Cyclones shoot off their own after select Saturday games. Plus, expect an Independence Day fireworks display to rival that of Macy's at MCU Park's FourthFest. See the website for an updated schedule.